The Anthony Bourdain Effect: Influencing Street Food Culture
Food writers, documentarists, and chefs owe much to Anthony Bourdain. The man was a force of nature, and there has yet to come someone who could match his magnetic charm, wit, and tremendous talent for storytelling. He broke entrenched ideas about cooking, traveling, and eating. The bare, stripped-down reality Bourdain wrote about and chronicled in his documentaries was thrilling. He had a way with words that could not be taught or replicated. Despite the rough, bad-boy aura, Bourdain did not fall into the tough guy category. His approach was educating, compassionate, inquisitive, and nonchalant. He was one of the cool guys you wanted to be around, and his death still leaves an immeasurable gap.
Rather than just describing food, Bourdain wanted to show us how deeply it related to people. He told these accounts effortlessly and genuinely, sometimes including painful narratives that were difficult to process but essential to learn. Food is fundamental to understanding a nation, which is best reflected in street food.
For Bourdain, street food was also the fun part of dining that was cleansed of all unnecessary glamour and pretense. He deemed it superior and made sure to promote it throughout his career. We've witnessed seemingly countless visits to unassuming street stalls and modest food trucks, and each visit echoed a similar sentiment of appreciation and learning. As it was so seminal for him, street food could not escape the "Bourdain effect." His influence was monumental, and this is how he changed the street food game.
Bourdain was a fervent supporter of street food culture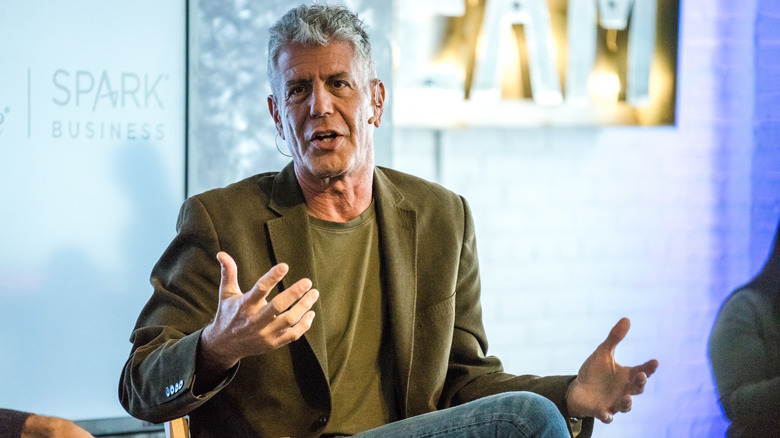 stock_photo_world/Shutterstock
To say Bourdain loved street food would be an understatement. As with many other things, he gladly shared his opinions about street food culture and often commented on its overall influence on local communities. Since the beginning of his career as an author and a TV host, Bourdain was very vocal about his love for the modest street stalls serving unpretentious, no-nonsense dishes that could easily get a five-star rating. He took the viewers with him as he relentlessly navigated through the streets and markets in search of the next best street-side meal. The places he visited and promoted in his shows often became popular, and some gained cult status among the new generation of food-obsessed tourists.
Though Bourdain spoke highly of many places he visited, Vietnam was one of his favorite destinations. In an interview with Condé Nast, he described his first visit as "life-changing," and in one of the episodes featured on CNN's "Parts Unknown" series, he endearingly calls Vietnam his "first love." Unsurprisingly, this is the country where street food reigns supreme, and most dining takes place on miniature plastic stools and tables parked outside restaurants. Bourdain states that many of the greatest meals of his life have involved "sitting on the street," which perfectly sums up how he felt about street food. At the same time, the long lines in front of many street food joints featured in his documentaries speak volumes about his tremendous influence.
Street food took central part in all Bourdain's shows
The content of Bourdain's documentary series was not exclusively oriented towards street food. We've seen him visit numerous fine-dining restaurants, including the Copenhagen-based Noma, the revolutionary institution hailed as one of the best restaurants in the world. As one of his favorite moments, Bourdain often mentioned dining with the legendary Paul Bocuse at his Michelin-star restaurant in the Lyon episode. And though he did not shy away from haute cuisine and elegant restaurants, street food was heavily represented in all his shows.
Throughout his career, Bourdain worked on four major series. In all of them, a large proportion of screen time at most locations was devoted to street food and simple eateries that dish out food for local communities. The Copenhagen episode was perhaps dedicated to showcasing the masterful creations of René Redzepi at Noma, but later in the show, you also see Bourdain happily devouring a hot dog — the unquestionable king of Danish street food.
Bourdain was especially fond of Asian cuisine, which he considered superior in variety and flavor. Unsurprisingly, each visit to the region included a stopover at the night markets, food courts, or just a quick sit down on miniature chairs to slurp down a bowl of noodles. Street food in Bourdain's shows was always labeled as the preferred option and the best way to familiarize yourself with the location and get a deep insight into local culinary traditions.
He believed that street food defines and keeps societies and economies alive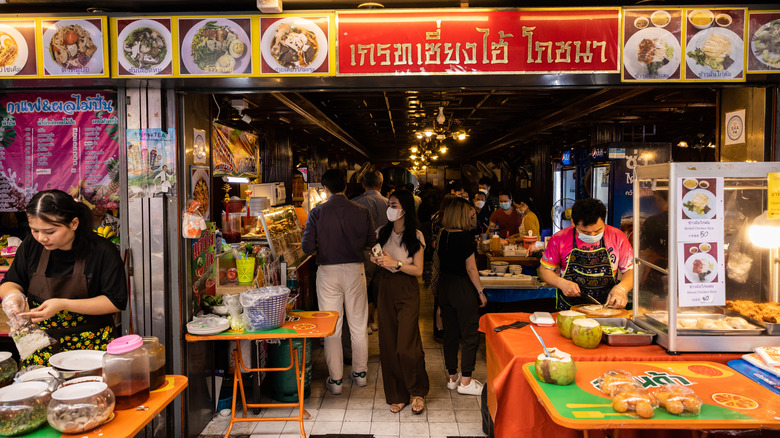 Bloomberg/Getty Images
As street food was so well represented in Bourdain's narratives, we could witness his general appreciation for all those street-side meals that were usually prepared and enjoyed in unassuming settings. Perhaps due to the straightforward, no-frills approach, most of those dishes were executed perfectly and deservingly earned much of Bourdain's praise. Along with the obvious positives, Bourdain did not fail to recognize the important socioeconomic side of street food.
As reported by Bon Appétit, when asked to comment on the street food boom, Bourdain noticed that it was led by a younger, culinary-trained generation "with a few bucks, a little restaurant experience, and a dream," suggesting that it is a great economic opportunity for aspiring chefs. He was all in favor of opening more street food stalls and publicly supported street vendors in NYC who called for more vendor permits. Bourdain thought street food, and food in general, could be the main reason people want to travel to a particular destination. Essentially, it can be a perfect way to attract tourists and food aficionados and, consequently, a great way to bring money.
He thought that the expansion of affordable street food could eventually lead to a "better world." His opinion was that street food could be a great way to implement creativity and, at the same time, save traditional dishes.
Bourdain managed to demystify street food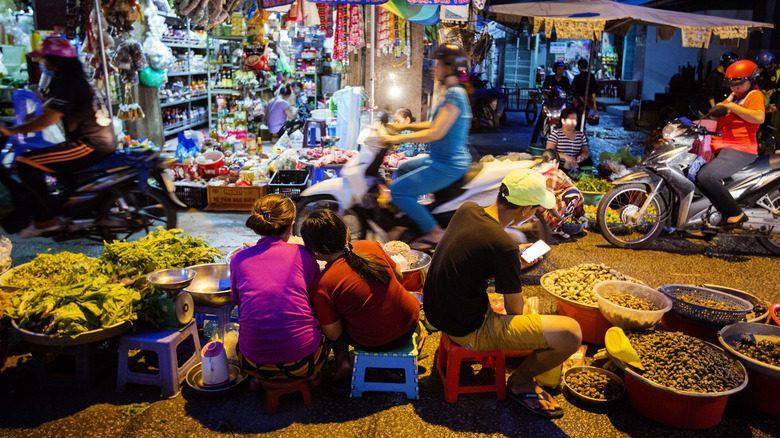 Bloomberg/Getty Images
Bourdain had a significant impact on the world of food travel, but perhaps most importantly, he did thoroughly demystify street food in the long run. Before him, most travel shows did not represent or care to show street food in the best light. Most did not even feature it as a possibility. He changed the approach, shifted the perspective, and immediately removed the stigma that street food was carrying for too long. This primarily applied to all street food outside the Western culinary narrative, which was deemed too different to tackle. In his shows, Bourdain not only tackled the issue, but he made it look attractive and, as it turned out, trendy.
Bourdain made street food look simple. Start at the local market to get familiar with the local food and move on to the street stalls. The easiest advice is to follow the crowd, but not the one filled with foreigners. You want to follow the locals, preferably to a place where the dishes have no English translation. The central postulate of street food is that the stalls make just a few dishes and have a lot of experience, so expect perfectly executed dishes and consistency.
Bourdain introduced street food as a reflection of local culinary practices and taught us that we should all engage and actively protect this valuable heritage. What was once considered overly complicated and sometimes even scary, Bourdain managed to portray as easy, fun, and desirable.
Bourdain inspired new generation of travelers to become adventurous eaters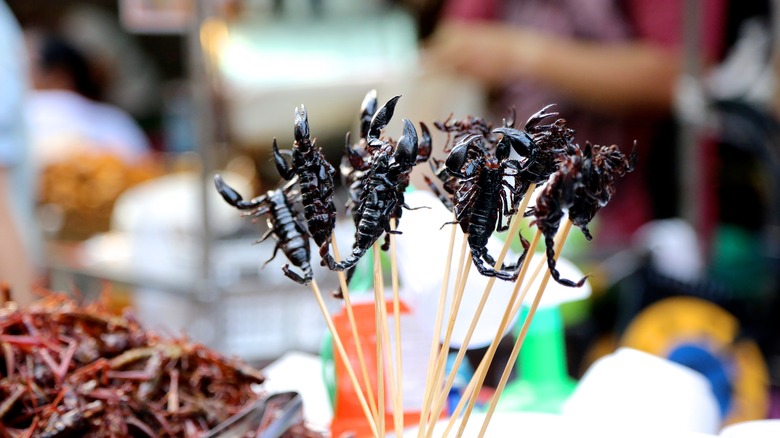 Joka2000/Getty Images
Once Bourdain stripped street food of all the unwanted baggage, people still needed convincing to be more adventurous in their food choices, both at home and abroad. And the best way to do it was to set an example. Bourdain was no stranger to squeamish food — after all, we've seen him eating cobra heart in Vietnam and raw seal in Quebec.
He firmly believed that the best way to approach street food at a foreign location is to have an open mind. If the locals are standing in line to get the street stall specialty, you are safe to do the same, and in reality, you are more likely to have a bad experience with food that is not typical for the region. Sometimes, you will stumble on the best places by accident, and don't be afraid to try something new if the occasion arises. "I want to try everything once," Bourdain stated in "Kitchen Confidential," which truly mirrors how he lived and eventually inspired his fans to do the same.
The adventurous approach was not only related to food choices. Bourdain argued that we must be flexible with whom we decide to share a meal. Sometimes, even the strangest encounters can lead you to the best experience, so always leave room for new acquaintances. Although Bourdain was adventurous, he suggested some research before arriving at the destination and the obligatory chit-chat with the locals about their favorite places.
He also motivated many chefs to look for inspiration in heritage and street food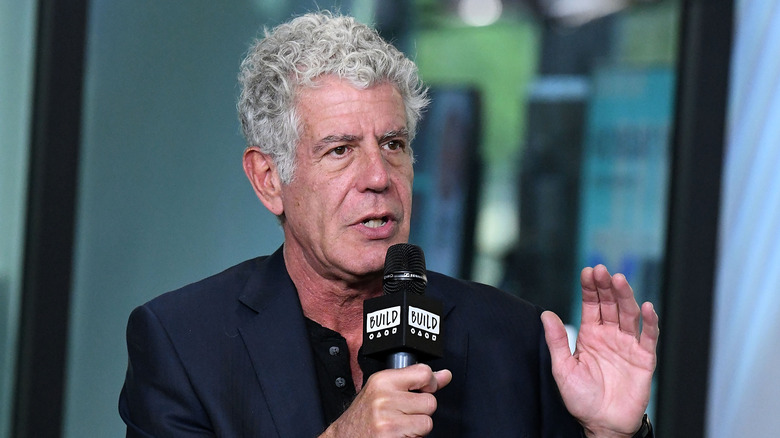 Slaven Vlasic/Getty Images
Bourdain was an inspiration to many. His massive influence long surpassed the classic fan base composed of curious travelers searching for the next food-worthy destination. Professionals from the industry, including some legendary chefs, were inspired by Bourdain's adventures in traditional cuisines and his encouraging approach to simple street food dishes.
Bourdain helped to loosen the sometimes-rigid Western palates. He approved of street food and made lechon, pho, and laksa familiar terms in the gastronomy lingo. Things once considered alien were now a part of the classic culinary canon. This helped everyone to eat better, but it also helped to diversify the entire profession. It encouraged chefs to investigate other cultures and their own heritage to derive inspiration for future culinary endeavors.
Chef Angela Dimayuga credited Bourdain's support as crucial in opening a restaurant where the menu showcases her Filipino ancestry. Following the episode filmed in Louisiana, Toby Rodriguez, who orchestrated a hog butchering depicted in the show, became a sought-after name and eventually made a business out of it. Whether directly or indirectly, we can freely say that Bourdain was a driving force and inspiration for chefs who fueled the modern culinary renaissance that promoted cultural diversity, street food, and a genuine approach to cooking.
Bourdain was an inspiration for many food writers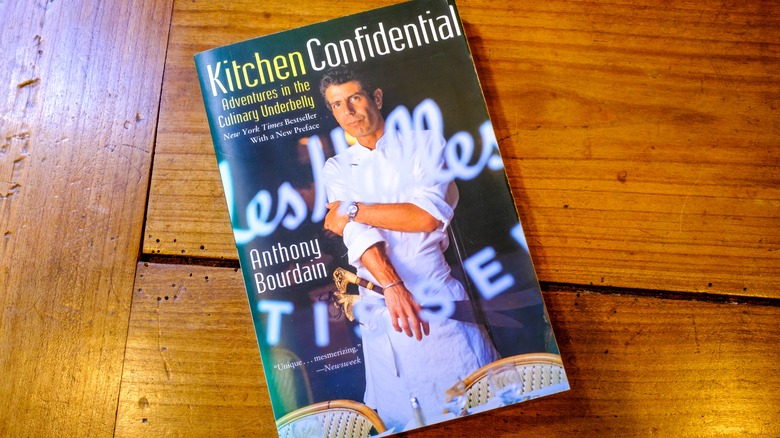 William A. Morgan/Shutterstock
Food writing existed well before Bourdain entered the scene, but as with everything else, he did it differently. His legendary essay "Don't Eat Before Reading This," published in The New Yorker in 1999, launched his career. The text was brilliantly written and soon got him a book deal, eventually steering his career away from restaurant kitchens. Bourdain's tell-all memoir "Kitchen Confidential: Adventures in the Culinary Underbelly" cemented his status, and he became an author for the new generation — the one that valued this raw, brutally honest voice. Though his initial writing was meant for chefs, Bourdain, whether he planned it or not, also gave momentum to a new generation of food writers.
Travel writers, food aficionados, bloggers, or just about anyone interested in food and writing will probably speak of Bourdain in superlatives. He showed everyone that there is an alternative path to food writing. It is not all reserved for upscale restaurants and familiar places. In Bourdain's world, food and travel writing were fun, exciting, creative, and always revolved around people.
As reported by the Esquire, Bourdain's influence was pivotal for many. Illyanna Maisonet credits him for inspiring her to use her voice, while Natalie B. Compton remembers that seeing one episode of "No Reservations" changed her view on traveling, eventually motivating her to move to Bangkok and take up travel writing. These stories are no exceptions; Bourdain single-handedly made a niche for all food-loving, adventurous writers.
His shows paved the way for similar series with focus on street food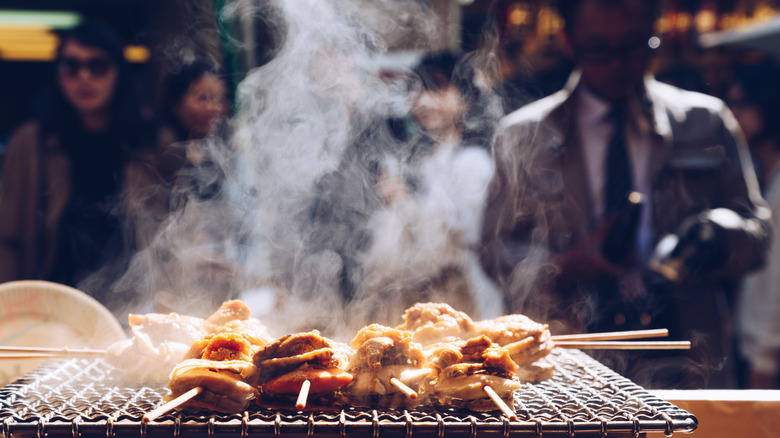 Gumpanat/Shutterstock
Bourdain was a pioneer in many things. "Kitchen Confidential" was the first written account that accurately depicted the realities inside professional kitchens, while his travel shows offered a revolutionary approach to documentary television. Each episode showcased Bourdain's brilliantly creative way of using food to illustrate historical, cultural, and sociological aspects of a particular destination. This approach helped him build a legion of fans, but it also inspired other filmmakers and travel hosts to use it as a framework for their documentary series. As it was regularly covered in everything Bourdain did, street food was not left out.
One of the most prominent examples inspired by Bourdain's reporting style was "Street Food," which premiered on Netflix in 2019. The first season centered on Asia, while the second focused on the U.S. Both mimicked Bourdain's approach as they told stories of the food and the people making it. The fifth season of the wildly popular "Chef's Table" also resembled Bourdain's work. Though the series usually included Michelin-starred chefs who run fine-dining restaurants, in the fifth season, the narrative is less pretentious. It includes modest establishments and street food joints, portrayed in a Bourdain-like fashion. 
But there were many others. As Variety reported, Phil Rosenthal, a man behind the crazy successful "Somebody Feed Phil" Netflix series, claimed that this is a "take on his (Bourdain's) type of show." Essentially, everything that came after Bourdain borrowed some of his distinctive style.
He did not fear to include the complex political side of street food
Bourdain often addressed deeper implications interwoven into food and regional culinary traditions. He felt that food reflects culture and society and usually has a complex background that shaped it into its current form. He believed that food tells a story, and though this was not a groundbreaking conclusion, Bourdain dared to dig deeper into this and tackle the sensitive issues that many deemed too controversial.
He believed that food is political. Every historical event influenced the way people eat. This includes extreme conditions such as war times, sieges, and colonization, and food cannot be discussed in isolation and without this context. The best way to see this codependency is in street food, which is the most common option that feeds local communities.
Bourdain shared with CBC News that one of the most memorable, politically-fueled moments was in the Cairo episode. The plan was to do a piece on fūl — the centuries-old dish made with mashed fava beans. The intention was to show people eating it on the street, as usual, but the fixer, probably appointed by local authorities, did all to prevent filming. Bourdain later explained that the fixer probably didn't want locals to see it and compare their humble dish, which was all they ate, with other delicacies featured in the show as it would make them examine their way of living and, eventually, question and doubt the people who are running the country.
His cookbook included some of his street food favorites
Though we do not usually associate him with cooking, Bourdain was a trained chef and spent most of his life working the kitchen line. As the public got to know him primarily as an author and a TV host, we tend to forget that the man could cook. Perhaps to remind us of his original profession, Bourdain published two cookbooks. "Les Halles Cookbook" was the first, published as an ode to the eponymous French restaurant where he worked before engaging in writing and television business. In 2016, he released "Appetites Cookbook," a massive collection of recipes he usually made at home for his family and friends. The cookbook features a lot of comforting, home-style meals such as meatloaf and lasagne, but it does not lack Bourdain's street food favorites disguised in the home-cooking edition.
Of course, you can find some Vietnamese representatives, such as đồ chua pickled salad, which you can also use to make a mean banh mi, the quintessential Vietnamese sandwich. He also included his recipe for Malaysian laksa, which he calls the "absolute top" in the realm of broth and noodle combinations. Satay, Indonesian chicken skewers doused in a sweet, nutty peanut sauce also made the cut. The dishes are not complicated; if you can't get them at the source, these recipes are the next best thing.
He was the initiator behind the idea to bring hawker-style centers to the U.S.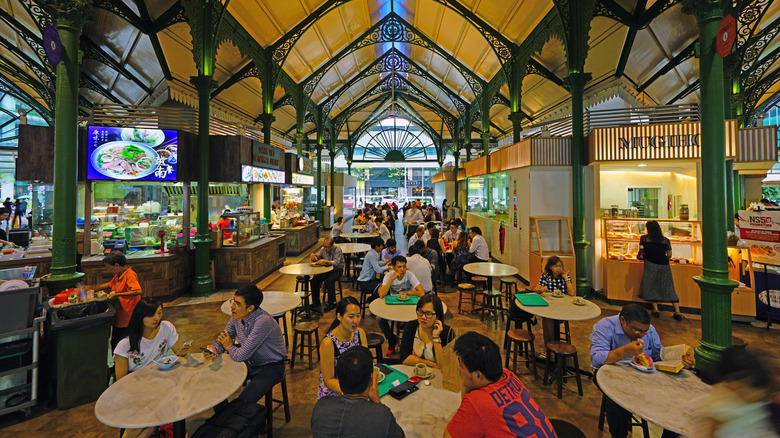 EQRoy/Shutterstock
If you have ever watched one of Bourdain's shows filmed in Singapore, you are probably familiar with the idea of a hawker center. Essentially, this is a large food court nestled inside a building. The stalls are dispersed on the sides, and the middle is organized as a dining hall. When Bourdain desperately tried to bring more street-side options to NYC, he thought this dining style would be a good idea. He considered it ideal for places such as New York that worry about hygiene and proper food handling. Hawker centers are clean and organized but serve all classic street food dishes.
Though Bourdain rolled the project, he did not live to see it. After several failed attempts, the Singapore-style hawker center finally opened in 2022. It is run by KF Seetoh, the man behind the World Street Food Congress. The initial plans were set for Pier 57, but following Bourdain's death, Seetoh had to look for an alternative and eventually found a location in midtown Manhattan. The offer includes food and drinks, and as Seetoh shared with Forbes, all the vendors are authentic so that you can experience honest flavors and a genuine hawker atmosphere. Bourdain would surely be proud to see that his initial idea finally became a reality and that NYC has finally got a place designated for Asian street food.