Honey Garlic And Ginger Cod Recipe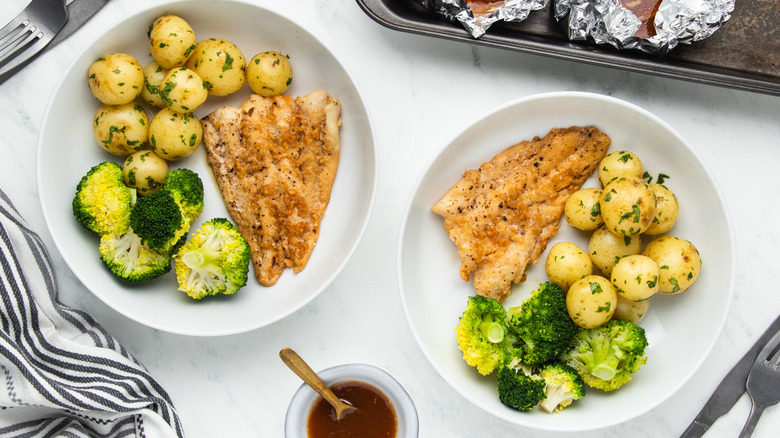 Catherine Brookes/Mashed
Recipe developer Catherine Brookes' recipe for honey garlic ginger cod is a balance of tastes and aromas, bringing together the richness of ocean-fresh cod with the sweet, tangy, and aromatic elements of this savory sauce. Each bite is a tantalizing blend of tender fish, balanced sweetness, and the subtle warmth of ginger and garlic. Whether you're an experienced home chef or a novice in the kitchen, this dish is easy to make and promises to impress even the most discerning palates.
Because of this dish's simplicity, you may have more time to devote to the side dishes you plan on serving with this recipe. Brookes notes, "This is great paired with some herby baby potatoes and steamed broccoli, but you could also serve over rice or noodles with salad or other veg of your choice." The options are endless, making this a versatile recipe to add to your weekly repertoire.
Gather your honey garlic and ginger cod ingredients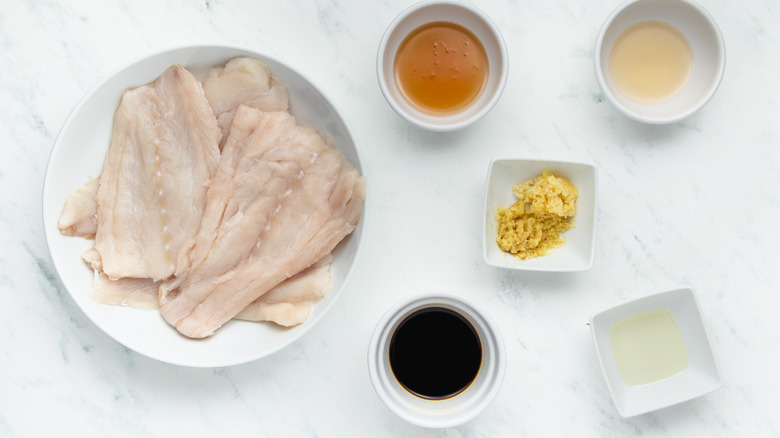 Catherine Brookes/Mashed
To start, you can gather your ingredients. For this recipe, you will need, of course, cod. The sauce is made from ginger, garlic, salt, pepper, olive oil, soy sauce, honey, and apple cider vinegar.
That's it! You'll note that most of these ingredients you likely already have on hand, but should you need to make substitutes, Brookes suggests, "You could sub the honey for brown sugar and the oil for any other type you may have such as vegetable or sesame." Now is also a good time to preheat the oven to 400 F.
Prepare the marinade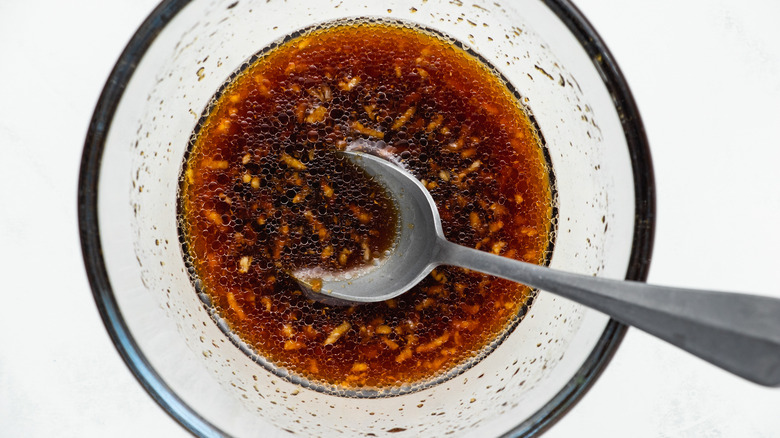 Catherine Brookes/Mashed
In a small bowl, add the garlic, ginger, olive oil, soy sauce, honey, and apple cider vinegar. Stir these ingredients together until they are well combined.
Soy sauce adds a rich, savory, and salty umami flavor to the marinade. This umami component enhances the overall taste of the marinated food, making it more flavorful and satisfying. The sugars in the soy sauce caramelize when exposed to high heat, adding a glossy finish and a sweet-savory crust to the cooked cod.
Season the cod before setting them in foil packs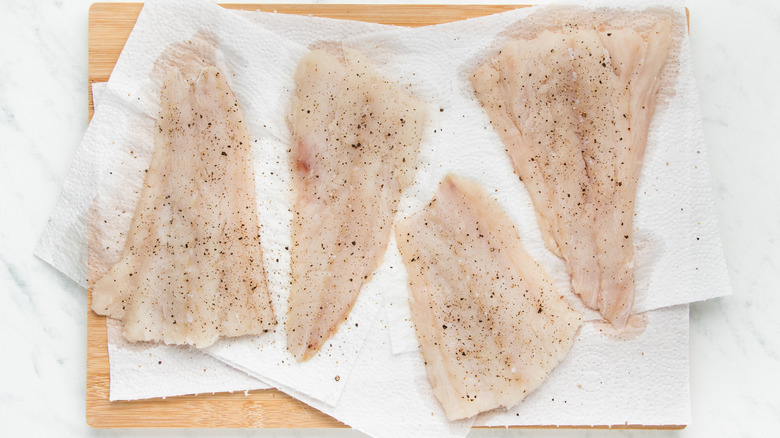 Christina Musgrave/Mashed
Now, pat the cod filets dry before seasoning them with salt and pepper. Then, place each cod filet on top of a large piece of foil. Bend the surrounding foil up and around the sides of each filet, forming a foil packet or boat.
Creating a foil packet for cooking fish is a simple and effective method that helps lock in moisture and flavor while minimizing mess. The marinade will be added to the cod next and this ensures that the marinade doesn't run off.
Spoon the marinade on the cod before baking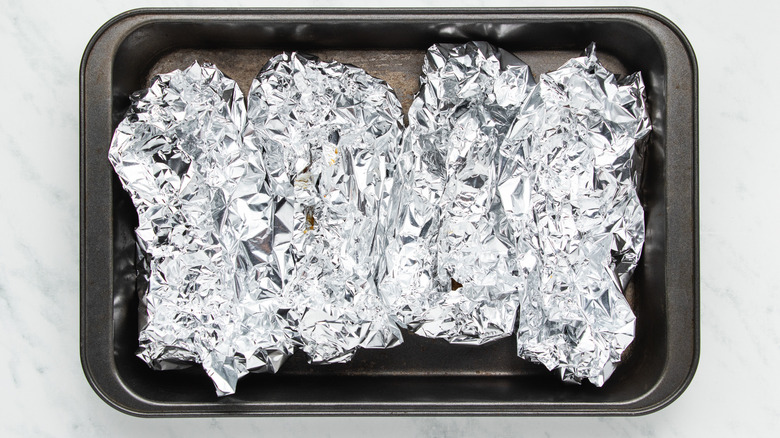 Catherine Brookes/Mashed
Spoon the marinade on top of each filet. Then, close up the foil packs. Place the packs on a baking sheet and bake for 15-20 minutes.
While you may not think to keep leftovers of fish, this dish can last 1 more day, so you may as well wrap it up. Brookes says, "Leftovers can be stored in the fridge to be eaten the next day. Simply heat reheat covered in the microwave."
Honey Garlic And Ginger Cod Recipe
This recipe for honey garlic ginger cod is a balance of tastes and aromas, bringing together cod with the sweet and tangy elements of the savory sauce.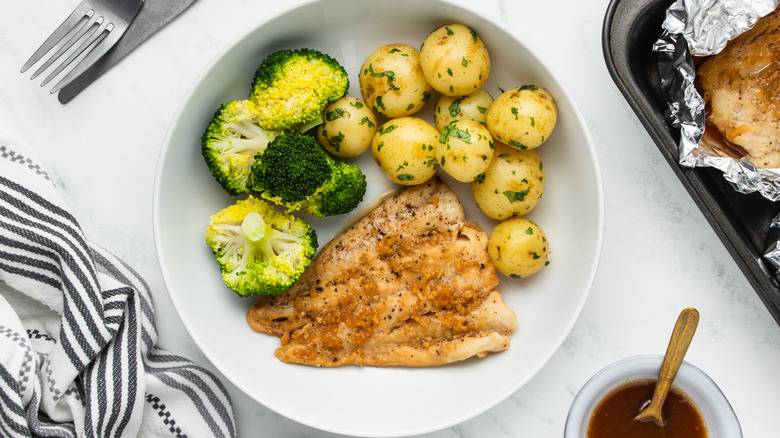 Ingredients
4 cod fillets
Salt and pepper to taste
3 cloves garlic, minced
1 inch chunk of ginger, grated
1 teaspoon olive oil
2 tablespoons soy sauce
2 tablespoons honey
1 tablespoon apple cider vinegar
Directions
Preheat the oven to 400 F.
In a small bowl, mix together the garlic, ginger, olive oil, soy sauce, honey, and apple cider vinegar to make the marinade. Set aside.
Pat the cod fillets dry with kitchen paper and season on both sides with salt and pepper to taste.
Place 4 sheets of foil in a large roasting tin or baking pan. Place a cod fillet onto the first sheet and shape the sides of the foil up so the marinade will be contained in the foil once added. Repeat with the other four fillets.
Spoon the marinade all over the cod fillets, then loosely seal over the foil to make 4 parcels.
Bake for 15-20 minutes or until opaque and flaky.
Nutrition
| | |
| --- | --- |
| Calories per Serving | 245 |
| Total Fat | 2.8 g |
| Saturated Fat | 0.5 g |
| Trans Fat | 0.0 g |
| Cholesterol | 99.3 mg |
| | |
| --- | --- |
| Total Carbohydrates | 11.0 g |
| Dietary Fiber | 0.4 g |
| Total Sugars | 8.8 g |
| Sodium | 607.3 mg |
| Protein | 42.1 g |