Simple White Rice Recipe
Catherine Brookes/Mashed
When it comes to sides that go well with pretty much anything, white rice is one of the best options out there. There are so many reasons to love rice, including the fact that it's super simple to make. All you need to do is set aside two minutes for prep time, and the cooking time? It will only set you back about 18 minutes, give or take a couple minutes. Plus, the serving possibilities are practically endless, pairing nicely with proteins like fish or chicken, as well as a slew of cooked veggies and sauces. 
Recipe developer Catherine Brookes of Blue Sky Eating came up with this quick and easy recipe. "I love that this method is foolproof and results in perfect fluffy rice every time," Brookes shares. "Rice is the perfect pairing for so many dishes. It's great as part of a big spread of Mexican food, with curry, barbecued meats, or [veggies]."
Gather the ingredients for simple white rice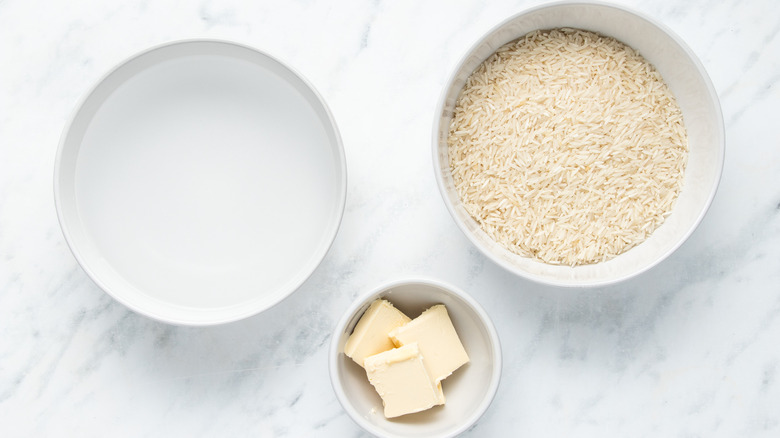 Catherine Brookes/Mashed
Are you ready for one of the easiest recipes ever? This one requires just three ingredients — long-grain rice, water, and unsalted butter (which is actually optional).
Once you have those items, you can make this simple white rice recipe.
Cook the rice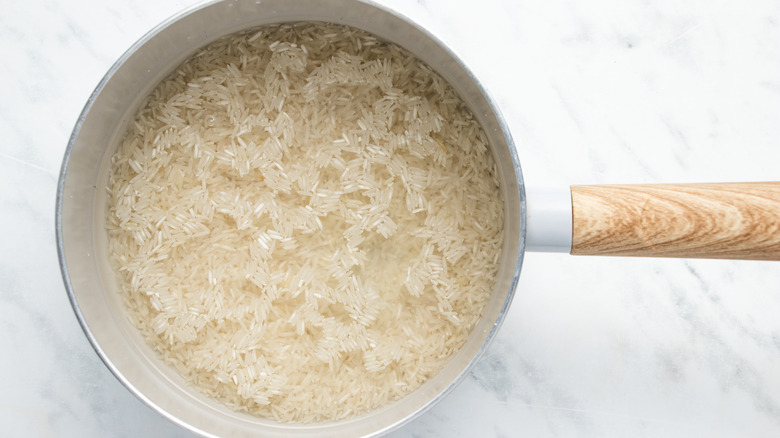 Catherine Brookes/Mashed
Take out a saucepan and place it on your stove. Then, add the water and the rice to the pot and kick up the heat so the water comes to a boil. 
Let the rice simmer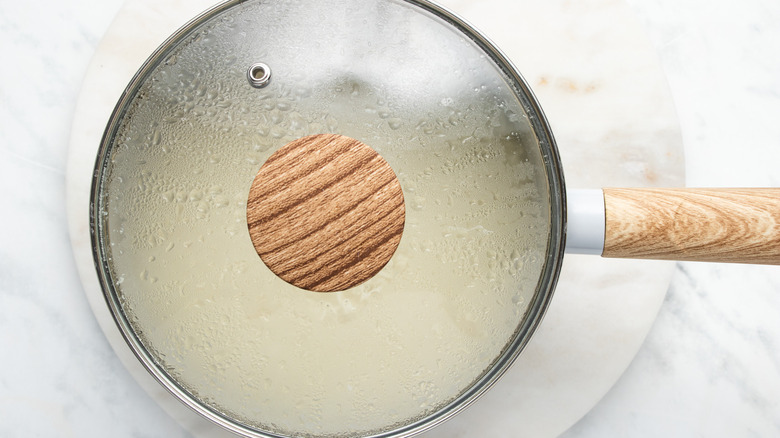 Catherine Brookes/Mashed
Once the water reaches a rolling boil, reduce the heat to a simmer. Place a lid on your saucepan and leave it to cook according to the time on package instructions. Since each brand is different, the cooking time will vary, but it's generally in the ballpark of 15-20 minutes.
Let the rice rest and fluff it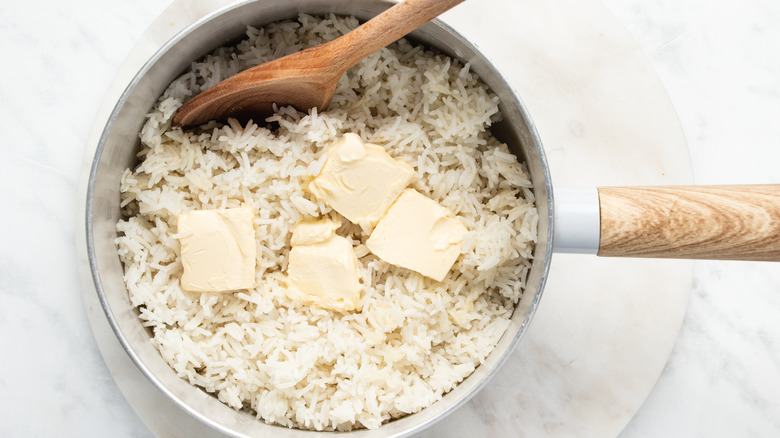 Catherine Brookes/Mashed
Once you see that the rice has absorbed all the water, remove the pan from the heat. Keep the lid on and let the rice rest for about 10 minutes. 
Once the 10 minutes is up, remove the lid from the pan and use a fork to fluff the rice. Add the butter (if desired), and stir until it's fully melted. "Stirring through a bit of butter once the rice is cooked adds a delicious rich, salty flavor," Brookes shares.
Serve and enjoy
Catherine Brookes/Mashed
After you add the butter, you can plate and serve as you wish. White rice goes well with so many things, so feel free to enjoy as you see fit. 
As for leftovers? "You can keep leftovers one day covered in the fridge," Brookes notes.
Simple White Rice Recipe
Simple white rice is one of those staple recipes everyone needs to have in their cooking wheelhouse. This easy guide makes perfect, fluffy rice every time.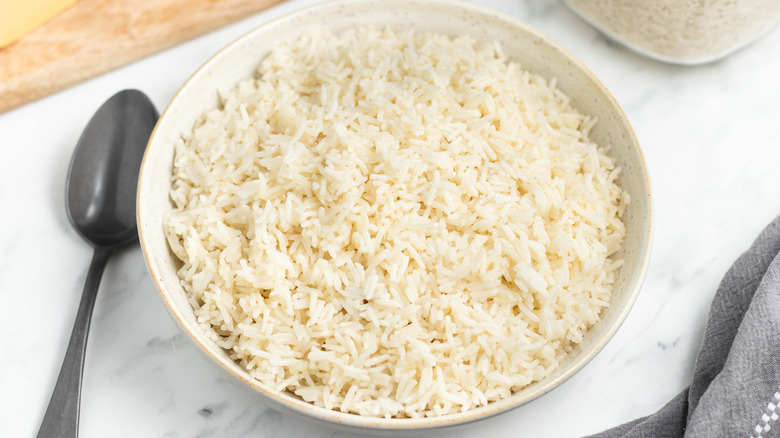 Ingredients
1 cup white long-grain rice
1 ½ cups water
Optional Ingredients
1-2 tablespoons salted butter to stir through
Directions
Add the water and rice to a saucepan. Place on high heat on the stove and let the water come to a boil.
Once bubbling, reduce to a simmer and place a lid on the pot. Leave it to cook for the length of time stated on your rice packaging — usually between 15-20 minutes.
Check that all the water has been absorbed, then remove the pan from the heat and leave to rest for 10 minutes with the lid still on.
Remove the lid and fluff up the rice with a fork. Then add butter and stir through until melted, if desired.
Nutrition
| | |
| --- | --- |
| Calories per Serving | 225 |
| Total Fat | 0.4 g |
| Saturated Fat | 0.1 g |
| Trans Fat | 0.0 |
| Cholesterol | 0.0 mg |
| | |
| --- | --- |
| Total Carbohydrates | 49.3 g |
| Dietary Fiber | 0.8 g |
| Total Sugars | 0.1 g |
| Sodium | 7.8 mg |
| Protein | 4.4 g |