Costco's Butternut Squash Is Being Recalled Over E. Coli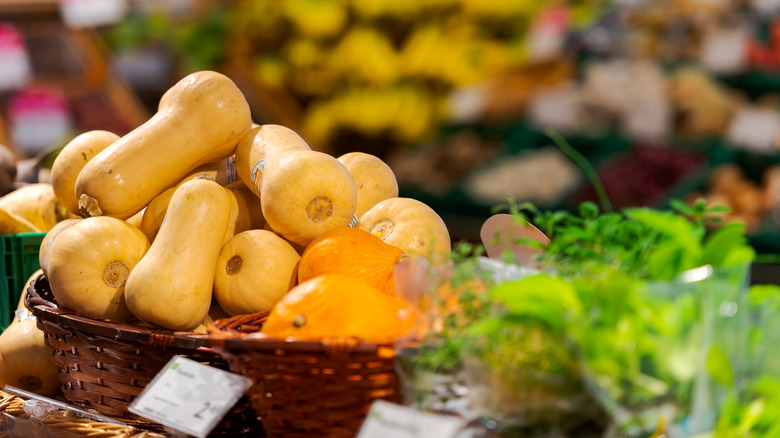 Robert Ruidl/Getty Images
Butternut squash may be one of autumn's best seasonal vegetables, but consumers who recently purchased the item from Costco should think again before consuming it, as the grocery chain recently announced a recall of its butternut squash. Costco's manufacturer, Safeway Fresh Foods, located in Vineland, New Jersey, voluntarily issued the recall after a recent testing by its lab. 
The manufacturer issued the recall over safety concerns of contamination because the lab sample tested positive for a strand of E. coli. The bacteria appeared in a single sample during a routine test, but out of an abundance of caution, the manufacturer is asking consumers to either return the veggie to their local Costco or toss the produce in the bin. As of now, no food-borne illnesses due to the recall have been reported, but you should avoid consuming the veggies due to the inherent risk of food poisoning. 
The recall appears to be localized to the Northeast. Affected batches were sold in Maryland, Virginia, Pennsylvania, and Washington D.C. As of now, if you don't live in one of these states, then you should have nothing to worry about. The affected squash was sold between September 7 and September 15 and has a product date code of September 19.
The dangers of food contamination
E. coli, also called Escherichia coli, carries the potential to make someone sick and can even result in hospitalization. According to the Centers for Disease Control and Prevention, while E. coli can be harmless in some cases, some strands of the bacteria can cause food poisoning. Symptoms include severe stomach cramps, diarrhea, nausea, as well as vomiting. While symptoms can appear a little to a day after exposure, you can start exhibiting symptoms as late as 10 days later. 
If you've consumed any of the recalled batches of butternut squash, it's important to monitor your health over the next week. Seek medical attention if you develop symptoms and they become severe. In particular, produce carries a risk of E. coli infection due to contamination either during or after harvest. For some produce, contaminated water is the likely cause of E. coli spreading. 
Contrary to popular wisdom, washing your produce does not lessen your risk of ingesting E. coli, as it's not a proven way of disinfecting the vegetables. Instead, if you want to be on the safe side, experts recommend roasting your butternut squash and other vegetables to lessen your risk of potential food poisoning. However, in the case of recalls like Costcos, it's best just to throw the vegetables away.