Simple Roasted Butternut Squash Recipe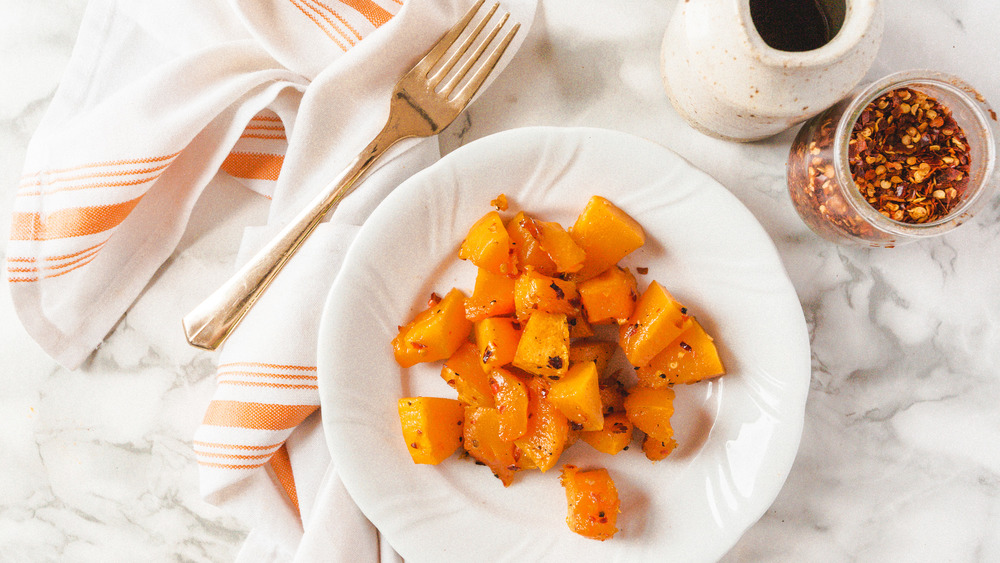 Ksenia Prints
In North America, you know fall is here by three things: the proliferation of pumpkin spice latte snaps on Instagram, the sudden pinning of Thanksgiving recipes, and the piles of pumpkin and squash in the farmer's market.
But what to do with all those mounds of photogenic squash? Other than pumpkin pie, most of us are clueless about squash or pumpkin recipes. And if you actually gather the courage to buy butternut squash, you often find yourself at home, not sure of how to eat it. Do you roast it with the peel? Do you eat the seeds? What are you supposed to do?
Butternut squash is actually as American as it gets. First bred in Stow, Massachusetts, in the 1940s from more ancient breeds of squash, butternut squash quickly became popular due to its sweet taste and pleasant texture. Though the word "squash" comes from the Native American word askutasquash, meaning "eaten raw or uncooked," butternut squash actually requires cooking.
We're here to break down the easiest way to make simple sweet and spicy roasted butternut squash. This recipe is so easy and delicious, anyone can make it — and once you taste it, you'll make it, too — and on repeat. 
Find more recipes by Ksenia Prints on At The Immigrant's Table.
Gather the ingredients for this sweet and spicy roasted butternut squash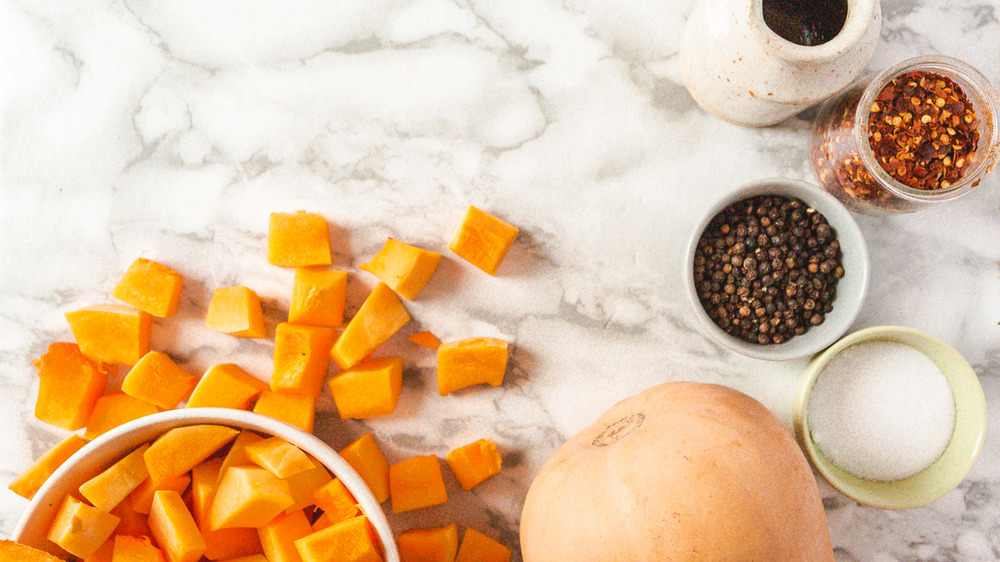 Ksenia Prints
This roasted butternut squash recipe is so simple, it requires very little by way of ingredients. As such, you want to make sure all your ingredients are top notch.
First you need to choose your butternut squash. Butternut squash is so common that you can get it nearly year-round in most grocery stores. If you're shopping at the farmer's market, you'll find butternut squash there from fall until winter.
Choosing squash is similar to choosing a watermelon: you want to look for a squash that feels heavy for its size. The ideal squash has a fat neck and small belly bulge and its shape is more oblong than like a pear. This means it'll have the least seeds and the most meat. It should also have no visible markings or deep cuts on its skin.
Squash is hardy, so it'll last in your fridge for a month — which means you can buy it well ahead of time.
Other than butternut squash, all you'll need for this recipe is salt, olive oil, maple syrup, and chili. The color and type of your maple syrup doesn't matter. This recipe calls for chili flakes, but you can also use ground chili in a lesser quantity.
How to cut butternut squash for roasting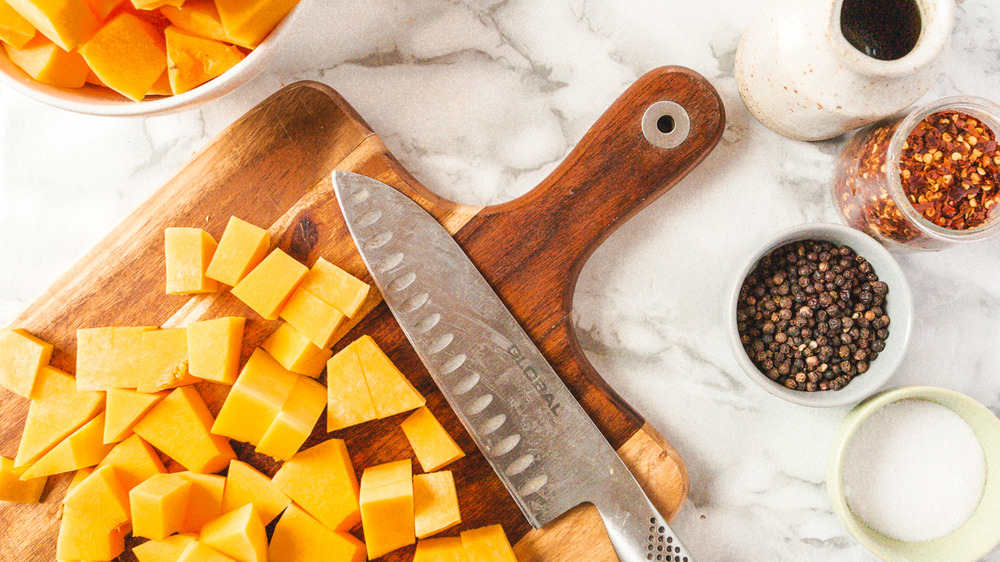 Ksenia Prints
After much poking and prodding at the grocer, you brought your butternut squash home. Congratulations. Now it's just you, a 2-pound squash with extremely thick skin, and a knife. What could possibly go wrong?
Go on, wipe that sweat off your brow. We can't blame you for feeling intimidated — but we're here to make easy work of this mission.
The first thing you need to do is trim the ends of your butternut squash by cutting off its stem and bottom. Then you'll want to cut your squash in half lengthwise — this will make it easier to rest it on the cutting board. Keep your fingers above the knife at all times.
You can't really eat the seed and peel of butternut squash (at least not raw). The good news is, butternut squash is known for having one of the thinnest peels and the least seeds in the squash family.
You can scoop the seeds out with a spoon, it's that easy! Some people like to cook and then roast these seeds, but that's another recipe altogether.
All you have to do to get rid of the pesky peel is peel your butternut squash with a regular vegetable peeler.
Now you're ready to cut! This recipe calls for cubed butternut squash, as do many others. To achieve this, cut your butternut squash into slices horizontally, then cut each slice into even cubes.
And voila! You've cut butternut squash.
Dress your butternut squash with all the delicious flavorings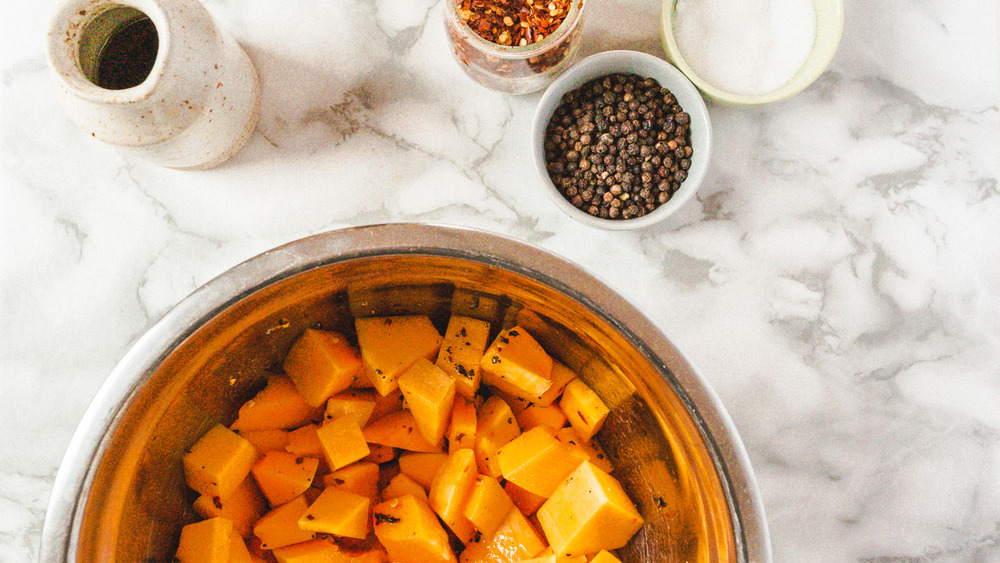 Ksenia Prints
Once your squash is neatly cut, you're almost at the end! Just kidding, there's just a bit more cooking before we can sink our teeth into this sweet and spicy roasted butternut squash.
Transfer all that cut squash into a large bowl. Add maple syrup, olive oil, chili, and salt. We recommend using four tablespoons of olive oil to keep it relatively healthy, but you can use more if you're not counting calories. Olive oil will help deepen the flavor of the squash.
Mix all the ingredients well, ensuring that the butternut squash is neatly and evenly coated in all the flavorings.
Transfer dressed butternut squash to a baking sheet covered in parchment or a reusable silicone mat. Arrange it in one layer, ensuring no overlap. You can also use a roasting pan if you prefer.
Roast the butternut squash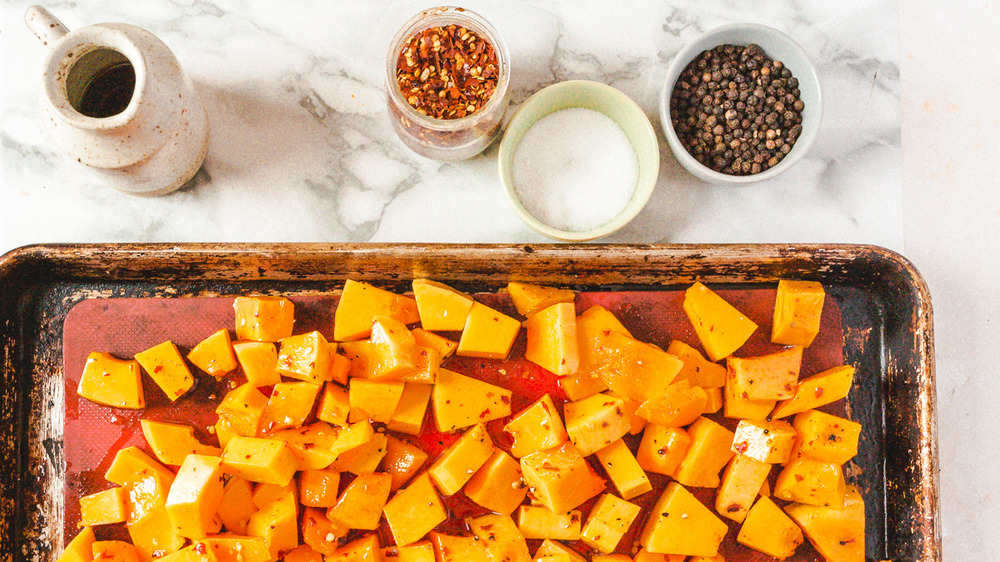 Ksenia Prints
Slide your butternut squash into a preheated oven of 400 degrees Fahrenheit. Let it roast for 45 minutes. Feel free to peek at the squash while it's baking. If your oven cooks unevenly, rotate the pan halfway through the baking (this means to take the baking sheet out, turn it 180 degrees, and put it back in the oven).
You can also stir your butternut squash pieces with a wooden spoon or spatula on the tray. This will help them all brown and cook evenly.
Remove roasted butternut squash from the oven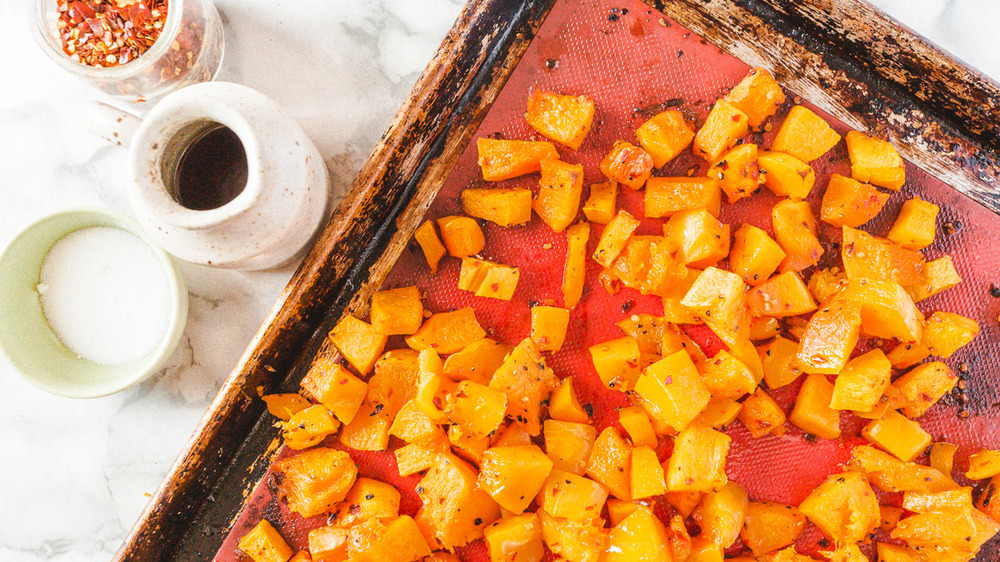 Ksenia Prints
When your 45-minute timer sounds, check your butternut squash for doneness.
Perfectly roasted butternut squash should be easily pierced with a fork, with almost no resistance. The edges should be browned, and the color should be a much deeper orange.
The flakes of chili should provide a nice contrast to the rich color of roasted butternut squash, though their color will also have darkened with the cooking.
Taste your roasted butternut squash. At this point, you may wish to add more salt, maple syrup, or chili flakes. The flavor should be a balance of sweet and spicy, with not too much of any one note coming through.
Serve roasted butternut squash before it gets cold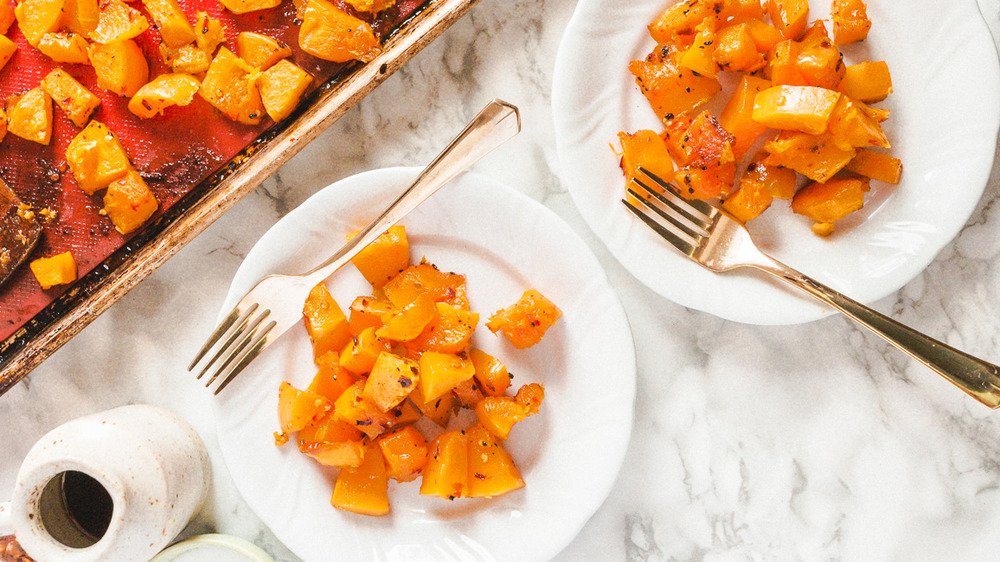 Ksenia Prints
Roasted butternut squash is best served right out of the oven, though you can also serve it warm.
For the perfect pairing, serve roasted butternut squash with rice, roasted potatoes, or chicken. It's also nice on top of pasta, with more olive oil, oregano, and a generous grating of Parmigiano Reggiano on top.
Cold roasted butternut squash is great in salads or grain bowls!
Variations for roasted butternut squash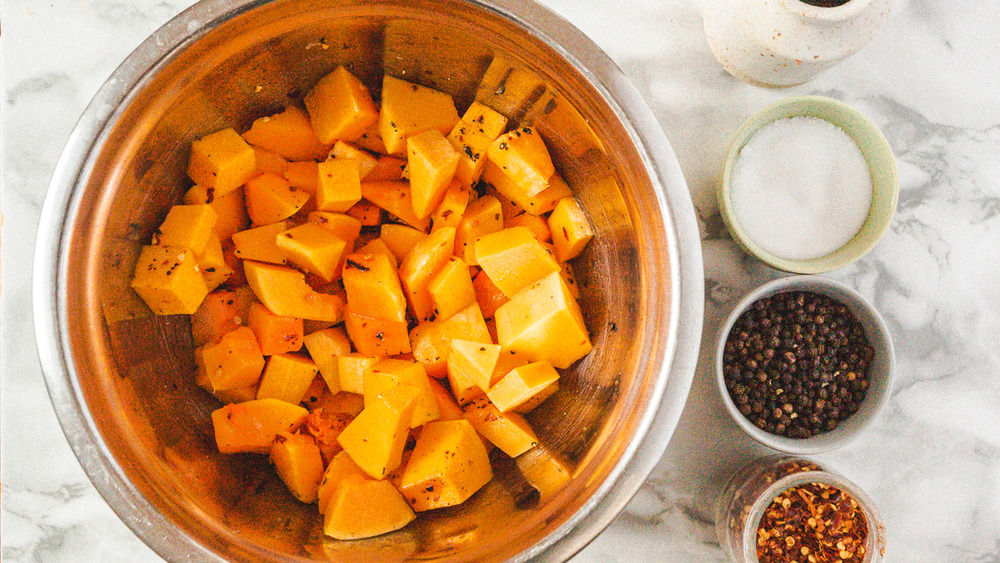 Ksenia Prints
Don't have maple syrup or don't like spicy food? We've got other ideas on how to make easy roasted butternut squash:
Brown sugar and butter: A classic combination that screams comfort for many.
Sage and butter: Similar to the above, but skip the sugar and add thinly sliced fresh sage.
Mexican: Dress butternut squash with fresh cilantro, chili, and lime. Add more fresh cilantro and lime when it comes out of the oven.
Paprika: Use double the sweet paprika as you would chili.
Pepper and lime: Season your butternut squash with salt, pepper, olive oil, and the grated zest of half a lime prior to roasting. Squeeze some lime juice and add more pepper when it comes out of the oven.
Simple Roasted Butternut Squash Recipe
We're here to break down the easiest way to make simple sweet and spicy roasted butternut squash. This recipe is so easy and delicious, anyone can make it.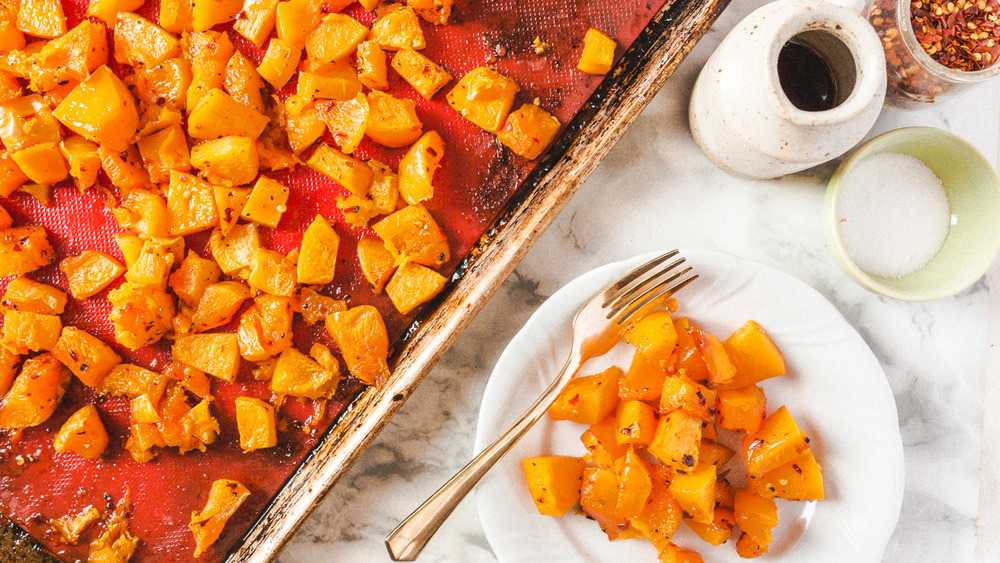 Ingredients
1 small squash (4 cups)
4 tablespoons olive oil
3 tablespoons maple syrup
1 teaspoon chili flakes
2 teaspoons salt
A few grinds of black pepper
Directions
Preheat oven to 400 degrees Fahrenheit. Prepare a baking dish by covering it with parchment paper or a reusable silicone mat.
Peel butternut squash. Dice into 1-inch cubes.
In a large bowl, combine squash and remaining ingredients. Mix well, ensuring all squash cubes are well coated.
Transfer squash to baking sheet.
Roast in oven for 45 mins.
Sweet and spicy roasted butternut squash can be served hot or cold. It can be reheated in the microwave. Squash will keep in a well-sealed container in the refrigerator for 4-5 days.
Nutrition
| | |
| --- | --- |
| Calories per Serving | 127 |
| Total Fat | 9.1 g |
| Saturated Fat | 1.3 g |
| Trans Fat | 0.0 g |
| Cholesterol | 0.0 mg |
| | |
| --- | --- |
| Total Carbohydrates | 12.3 g |
| Dietary Fiber | 0.8 g |
| Total Sugars | 6.1 g |
| Sodium | 207.9 mg |
| Protein | 0.4 g |