McDonald's Reveals 2 New Sauces One Day After Teasing Them Online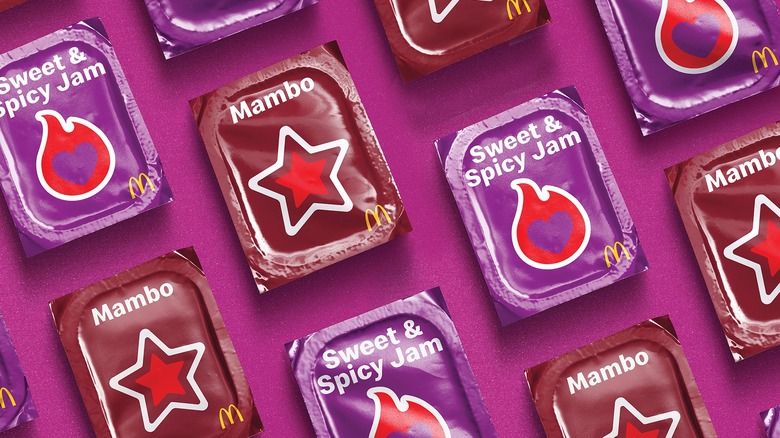 McDonald's
For a limited time only, McDonald's will be adding two new sauces to its menu at participating locations nationwide, starting on October 9. Despite receiving a lukewarm reception when McDonald's originally teased the new sauces just a day ago, fans of the discontinued McDonald's Szechuan sauce may be in for a happy surprise. According to a press release sent to Mashed, the first new flavor will be the red-pepper-based McDonald's Sweet & Spicy Jam Sauce with cayenne pepper, Szechuan peppercorn, and apple cider vinegar. Designed primarily as a breakfast sauce, it has the characteristic tongue-numbing sensation fans love about Szechuan peppercorns, and it's recommended for use on Sausage McMuffins and Egg and Cheese Biscuits, among others. If desired, it can also be used for dipping fries and Chicken McNuggets.
The second sauce is inspired by a wildly popular regional favorite in Washington, D.C. — Mambo Sauce. McDonald's Mambo Sauce is both sweet and spicy with a prominent vinegar and tomato flavor. It is apparently best for use on Quarter Pounders with Cheese and the McCrispy. Actually invented in Chicago and called Mumbo sauce, the original was served as a wing and barbecue sauce in the late 1950s, though its uses have broadened since then; it's become a favorite accompaniment for Asian fare. Though it's hard to pinpoint just when or how this happened, the sauce then migrated to Washington, D.C., taking on the name Mambo sauce and becoming one of the most popular sauces in the area. 
The sauce launch comes with a documentary and influencer campaign
In order to honor the roots that inspired the McDonald's Mambo sauce, the fast food giant plans to launch a documentary on the same day of the sauce's debut — October 9. According to the press release, this documentary will tell stories about sauce creators, fans, and restaurant owners that have propelled the sauce to its prominence. This program will be available on McDonald's YouTube page.
The company will also be pairing up with famous foodie content creators who will taste and review both new sauces for their audiences. One creator, @mr.eats305, hails from Miami and has nearly 140,000 followers on TikTok. His goal is to point those in the Miami area to the best restaurants and local foods. Washington, D.C., blogger and content creator Cornelia Poku (@blackgirlsexploredc) will no doubt have a unique perspective on the D.C.-inspired sauce, in particular. Other creators spearheading the social media campaign include popular food and lifestyle creators @natelovlogs, @sharidyoone, @santanakeish, and @misslegarda.