Mtn Dew's 2023 VooDew Flavor Is Coming Up Candy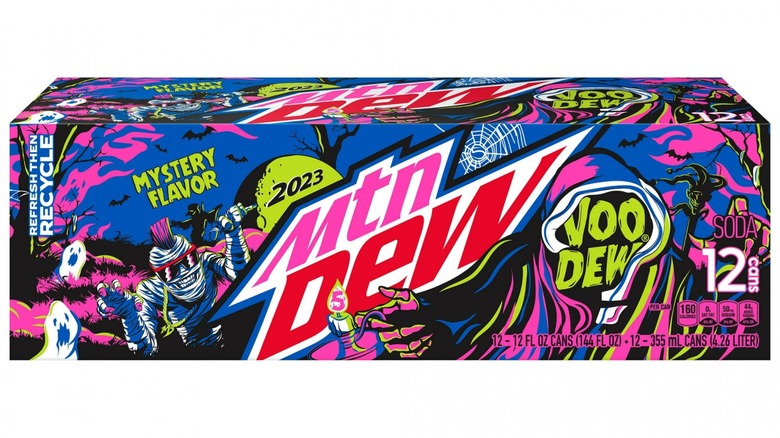 Mtn Dew
Mtn Dew has its lovers and haters, but many of its limited-edition flavors have developed cult-like followings. But one thing most people love is a challenge, and trying to figure out the MTN VooDew Halloween flavor of the year has become a favorite yearly test for many. This year's VooDew's pale pink color threw many people off, but Mtn Dew made the big reveal in an announcement on social media as well as its home page that the flavor is Cherry Airheads.
The VooDew flavor, which comes in regular or Zero Sugar, is a syrupy sweet cherry with a touch of tartness, although not quite as sour as cherry Airheads. But after the disclosure, the similarities became instantly recognizable.
Some took to social media to complain that the company should bring back past VooDew flavors, while others acknowledged their own guesses. "Thought this was bubblegum of some kind lol," one Instagram fan said in the comments. Others were confused as to why the flavor was being revealed on September 26. "How [are] you not even gonna wait till Halloween!" wrote one person, alluding to the date the flavor had been unveiled the previous year.
But for Mtn Dew's Twitter followers, the hint on September 13 — "Our new flavor is scairy good" — gave it away. "Just straight up spoiling it now I guess," remarked a fan.
2023 is the fifth year of the VooDew mystery flavors
Mtn Dew began creating Halloween VooDew flavors in 2019 revealing on October 30 of that year that the flavor was Candy Corn. While some fans loved it, others didn't think the taste was obvious enough. "I can't taste it at all, just tastes like Skittles," wrote one Redditor. "I don't like Skittles, but I like candy corn. And yet, I don't like Voo Dew.
Mtn Dew's 2020 VooDew mystery flavor was revealed to be Fruit Candy Explosion, with a taste that reminded fans of a mashup of all the Skittles or Starburst flavors. VooDew's 2021 flavor was an equally nondescript Fruit Candy Chews, with a video revealed by VooDewGrim's Twitter account that showed him dancing, lounging, and frolicking in a manner similar to a perfume commercial.
2022's VooDew flavor split many fans. Some were convinced it was Pixie Sticks, and others guessed Sour Patch Kids or Airheads. The truth, Sour Candy Flavor, wasn't too far off. To celebrate VooDew drinks, Pepsi Co also revealed a limited-edition Ghosts of VooDew Past, which included two cans of 2019's Candy Corn, three cans of 2020's Fruit Candy Explosion, and one can of 2021's Fruit Candy Chews.
Along with the new Cherry Airhead VooDew release, Mtn Dew fans got an extra treat this year with the announcement that the original Halloween drink, Pitch Black, would be making a limited-time comeback as a 7-Eleven or Speedway Slurpee. Happy Halloween!