For The Viral Cheesecake Swirl Upgrade, All You Need Is A Syringe And Toothpick
It would take years of training and a number of special tools to make a dessert on par with one of Amaury Guichon's chocolate masterpieces. However, that doesn't mean you have to build a state-of-the-art kitchen or put yourself through culinary school to impress your friends and family with a beautiful sweet treat. There are several gourmet desserts that are deceptively easy to make, and if cheesecake is the preferred ending to your meal, you can even give it a restaurant-worthy design using a few common instruments that you may already have on hand.
As it turns out, all it takes to give your cheesecake that beautiful swirl pattern that you've seen plastered on the pages of food magazines is a syringe and a toothpick — who would've thought? TikTok user @gratefulheartcollective demonstrated how they use the tools, and their method might be easier than you think.
They start by filling a syringe with raspberry purée, which you'll want to make sure is strained if you're making it from scratch. The TikToker then carefully dispenses small dots of the purée in a spiral pattern on the surface of an unbaked cheesecake. Finally, they drag the toothpick spirally through all of the dots in a single take, starting with the first one on the outermost edge of the cheesecake, creating a gorgeous heart swirl pattern on the top of the dessert.
Swirls aren't the only design upgrade you can make to cheesecake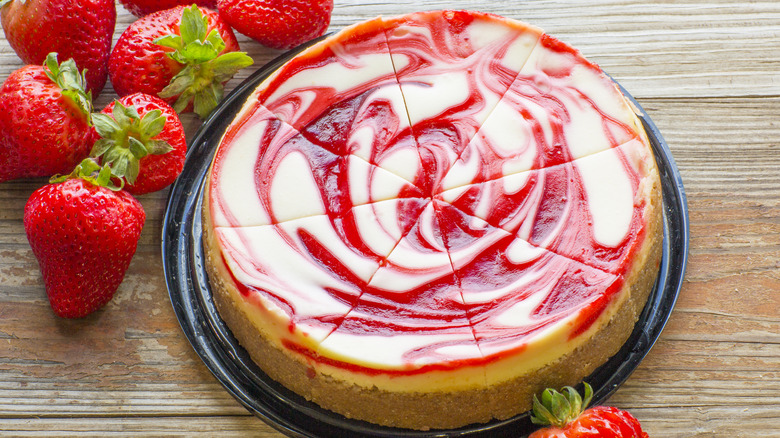 Amanda Steed/Shutterstock
Many people were impressed with TikToker @gratefulheartcollective's "heart cheesecake magic," though some weren't exactly sure if they'd be able to pull it off themselves. However, the TikToker assured a number of apprehensive people in the comments that successfully creating the spiral heart design in a cheesecake is much easier than it may look, especially if you take your time with the design hack. "Knowing myself and how shaky my hands are, I have confidence that anyone could do this. Just go slow," they said in response to one commenter.
A red, heart-shaped swirl is a perfect cheesecake upgrade for an anniversary or Valentine's Day, but it's hardly the only design you can add to the dessert. A spiderweb pattern is a fitting option for the spooky season, which can be done by piping concentric circles of chocolate sauce on the surface of your cheesecake and dragging a toothpick or skewer in straight lines about an inch apart from the middle of the cake to the edge.
You could also simply adjust the color of your fruit purée for the occasion. For example, using a green, melon-flavored purée with the heart swirl pattern can create a festive dessert for St. Paddy's Day. Don't worry if your swirl pattern gets botched, either, as the TikToker has a quick and easy fix. "Swirl it all and make it a marble cheesecake," they told one commenter. "Nobody needs to know."