Our Favorite Bites From Alex Guarnaschelli And Gabriele Bertaccini's Taste Of Italy At NYCWFF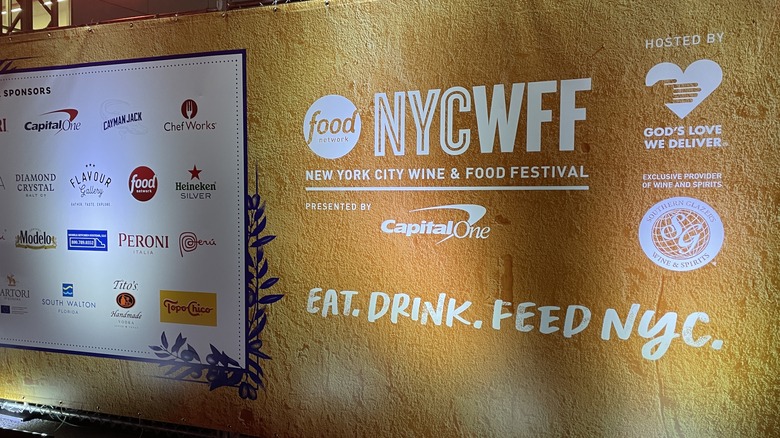 Jenny Kellerhals/Mashed
Regardless of your favorite type of pizza, there's no denying that New York City is known for its iconic pies. From the massive dollar slices to thick square-cut grandma pies, what's important is who's making it and how late into the night you can get it. So at this year's New York City Wine and Food Festival (NYCWFF), we headed to Peroni's Taste of Italy event, presented by Stella Italian Cheese and hosted by Alex Guarnaschelli and Gabriele Bertaccini, to taste a small slice of the city's best pizzas.
The event is part of the greater NYCWFF, a four-day festival put on by the Food Network and a host of sponsors to benefit God's Love We Deliver, a New York City-based organization that prepares and delivers nutritious meals to sick New Yorkers who cannot cook for themselves, as well as to their families and caregivers. In 2022, it generated more than 3.2 million meals to feed nearly 10,000 people. So while we chow down on pizza, some of our neighbors are also getting a much-needed meal.
Di Fara Pizza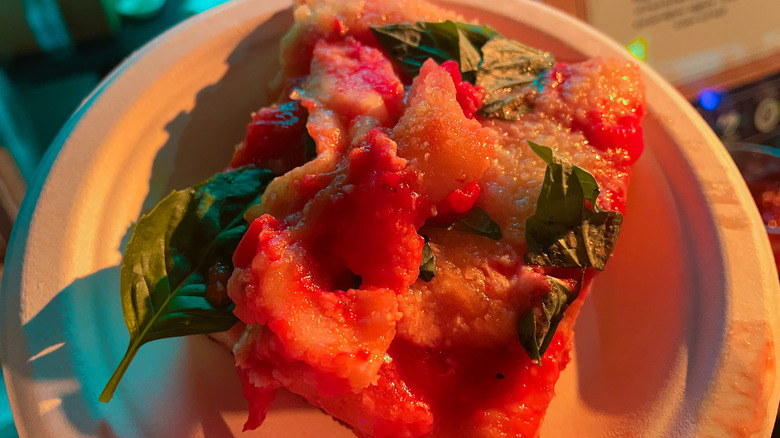 Jenny Kellerhals/Mashed
A bite of the classic square slice from Di Fara Pizza is akin to taking a bite of New York City pizza history. The slices served at the NYCWFF Taste of Italy event kept it simple with a tangy tomato sauce, topped with a three-cheese blend that featured fresh buffalo mozzarella, fior di latte, and Parmigiano Reggiano. And just like it's served in the shop, fresh scissor-cut basil topped off each slice. The thicker crust was perfectly crunchy and caramelized on the bottom, with a well-developed flavor and soft texture throughout the rest of the dough.
Now considered one of the most famous pizza shops in all of New York City, Domenico "Dom" DeMarco founded the original Di Fara Pizza on Avenue J in Brooklyn in 1965. DeMarco opened up shortly after moving to NYC from Italy, and for nearly 60 years he could be found behind the counter at the iconic pizza shop, making the same pizzas that put Di Fara on the map. 
While De Marco passed away in March of 2022, the shop lives on with chef Danny Rella at the helm — even expanding to include a location at Manhattan's South Street Seaport. The Sicilian-style square pie can be ordered at both brick-and-mortar pizza shop locations, as well as online via Goldbelly if you can't make it to NYC for a slice.
Artichoke Basille's Pizza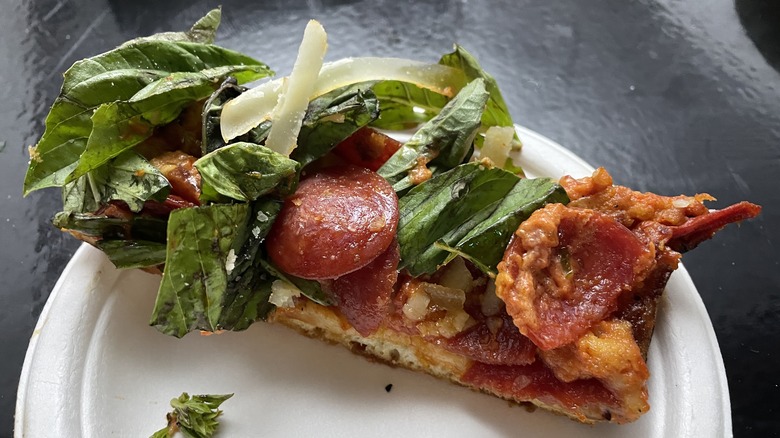 Jenny Kellerhals/Mashed
Artichoke Basille's Pizza showed up to the NYCWFF event sauced and ready to party with slices of its popular thick-cut vodka square pizza. The vodka slices sold at the pizzeria are made with tomato, vodka cream sauce, and assorted Italian cheeses, which this bite clearly included. But the special slices for the Taste of Italy event went a few steps further, including the kind of irresistible small pepperoni cups we just can't get enough of, and pieces of freshly cut basil — both toppings you'll find on other pizzas in the Artichoke lineup.
Founded in 2008 by Francis Garcia and Sal Basille, cousins and 4th generation restaurateurs from Staten Island, the first Artichoke Basille's Pizza opened in Manhattan's East Village to nearly instantaneous success. But you won't find a menu that pulls any punches here, just straightforward slices like pepperoni, meatball, Margherita, and the shop's namesake slice — the artichoke pizza, made with artichoke hearts, spinach, cream sauce, mozzarella, and Pecorino Romano cheese. Since opening the first shop on 14th Street to the delight of late-night pizza lovers, Artichoke Basille's has expanded to include nine locations in NYC, two shops in California, and three shops across the Hudson in New Jersey.
Fornino Pizza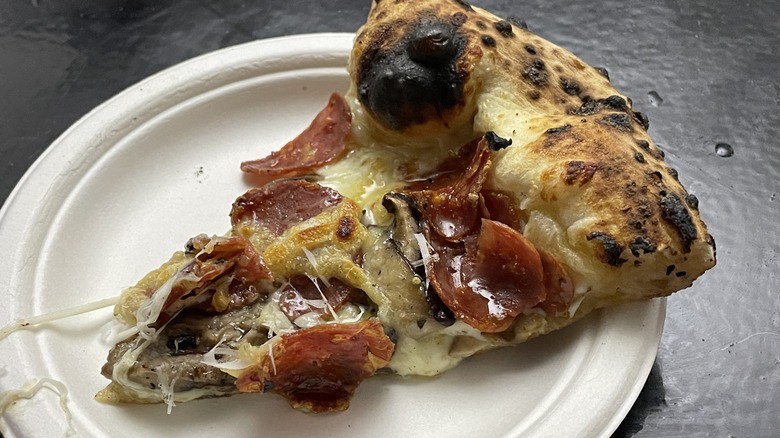 Jenny Kellerhals/Mashed
Fornino rolled up to the NYCWFF Taste of Italy event with a portable brick oven to cook authentic pizzas from scratch on-site, which was impressive enough. But we were even more impressed when the pizzas made it out of the oven and onto our plates. Our slice was made with a thin, crispy, and gorgeously blistered dough, topped with mozzarella and caciocavallo cheeses, wood-fired mushrooms, truffle oil, and slices of sopressata. This particular pizza isn't sold at any of Fornino's shops, but the Funghi Misti pizza on the menu is similar — and we'd definitely encourage you to request sopressata as an extra.
What started in 2004 as a small storefront with a wood-fired oven in Williamsburg, has since been upgraded and expanded to three larger Brooklyn restaurants with locations in Greenpoint, Brooklyn Bridge Park, and the Time Out Market in Dumbo. At the helm is Michael Ayoub, Fornino's chef, owner, and lifelong Brooklyn resident, who opened the restaurant at the intersection of the artisanal pizza boom in NYC and the rapid development of the Williamsburg and Greenpoint neighborhoods. But one bite of this pizza and we know it didn't get its popularity from luck and good timing — it's clearly made with the kind of love and passion for pizza that New York is known for, packed into every bite.