Mistakes Everyone Makes With Veggie Burgers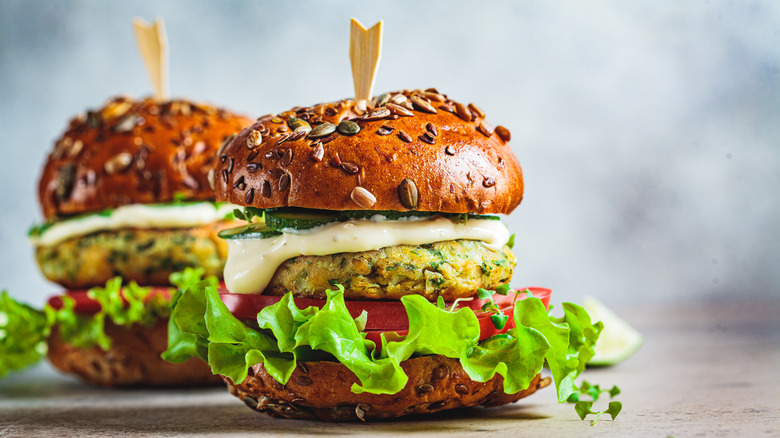 Nina Firsova/Shutterstock
If you've ever ventured into the world of plant-based eating, you'll understand the appeal of a well-made veggie burger. Sure, many great veggie burgers are available on supermarket shelves, but it's still nice to make your own sometimes so you can tailor them exactly how you want them. The trouble is that mastering the art of crafting the perfect veggie burger isn't as simple as it might seem. We've all been there, excitedly whipping up what we hope will be the perfect veggie burger, only for it to fail miserably.
In this article, we will tackle the common slip-ups that almost everyone makes when cooking veggie burgers. Some of the most frequent mistakes revolve around texture. Veggie burgers lack the inherent binding qualities of meat, often leading to patties that crumble or fall apart during cooking. Then there's the seasoning challenge. It's easy to underestimate the power of the right seasoning blend. Too little, and your burger might taste like nothing. Too much, and it can overpower the natural flavors of the veggies.
We'll also discuss cooking techniques and the often-overlooked art of choosing the right toppings and condiments to complement your veggie patty perfectly. So, if you're tired of lackluster veggie burgers, keep reading. Here are some mistakes everyone makes with veggie burgers so you can learn how to avoid them.
1. Using raw vegetables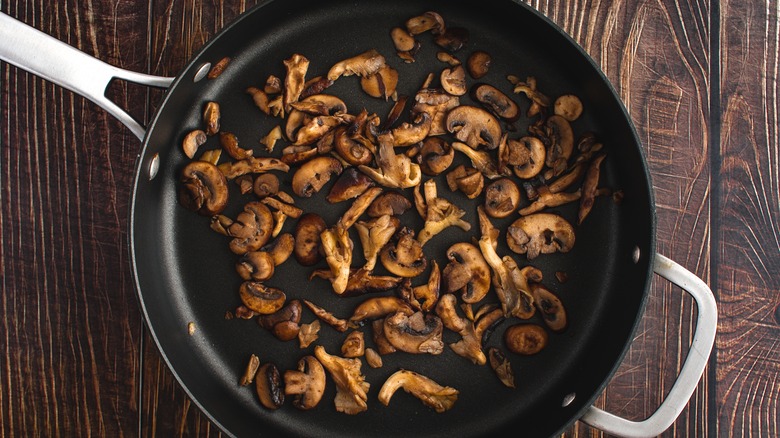 Candice Bell/Shutterstock
Using raw veggies in homemade veggie burgers might seem like a good choice, adding crunch and preventing the hassle of pre-cooking, but it's a common mistake that can lead to disappointing results. Here's why — raw vegetables contain a lot of moisture. If you add your vegetables to your burger patties raw, that moisture gets released during cooking. So, what you end up with is a mushy patty that's prone to falling apart on the grill or in the pan.
You want your veggie burger to have a satisfying, hearty texture, not to be wet and falling apart. So, instead, opt for cooked vegetables. Roasting or sauteing your veggies before adding them to your burger mix accomplishes two important things. First, it removes excess water, allowing your patty to maintain its structure. Second, it enhances the flavors. Cooking vegetables caramelizes their natural sugars, intensifying their taste and adding depth to your burger.
You want actual vegetables in your veggie burgers. They taste great, add texture, and boost the nutritional profile of your finished patties. If you pre-cook them, you'll end up with a patty that's not only delicious but also holds together beautifully, making your homemade veggie burger a success rather than a crumbly disappointment. So, next time you're crafting your veggie burger masterpiece, take the time to cook those veggies. Your burgers will be firmer, more flavorful, and guaranteed to impress.
2. Not thinking about texture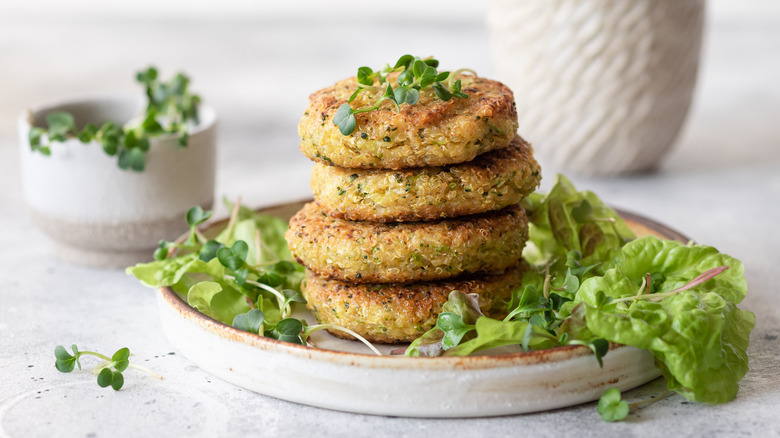 Mila Naumova/Shutterstock
Thinking about texture is crucial when making homemade veggie burgers. The texture of your burger can make or break it. And way too many veggie burgers are disappointingly mushy in the middle. One common mistake is not considering the balance between soft and firm elements. If your veggie burger mix is too soft — perhaps overloaded with cooked grains, beans, or overly processed ingredients — it will lack that satisfying bite.
Therefore, you should make sure to treat your ingredients the right way in order to preserve their texture. For instance, when using cooked grains, fold them into the mixture rather than blending them in. You can also leave some small chunks of vegetables or add chopped nuts and seeds to introduce crunch.
But on the flip side, if your mix is too dry and crumbly, it won't hold together, making cooking and eating a messy ordeal. You need some ingredients that will provide softness and act as binders, such as blended beans or mashed sweet potato. So, when experimenting with your homemade veggie burger recipe, think about the textures your ingredients bring to the table. Aim for a balance that's not too soft and not too dry — but just right.
3. Using vegetables with a high moisture content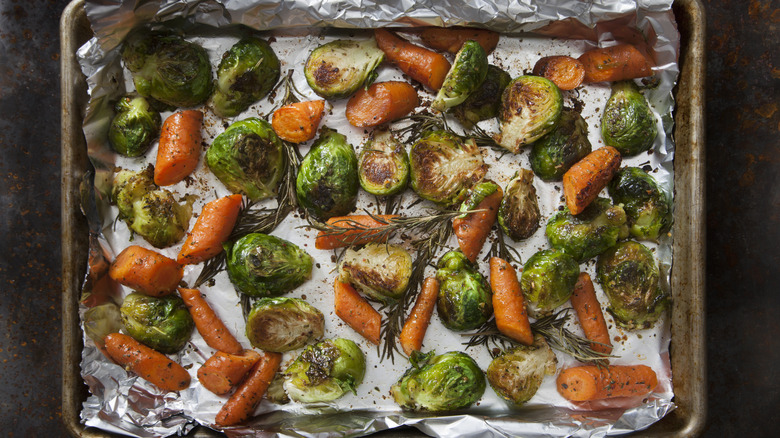 Lauripatterson/Getty Images
When crafting the perfect veggie burger, a critical piece of advice is to steer clear of vegetables with high moisture content. Vegetables like tomatoes, zucchini, and cucumbers are packed with water; when you include them raw in your veggie burger mix, all that moisture wreaks havoc.
Think of it as trying to build a sturdy house on a foundation of wet sand — it just won't hold up. When high-moisture vegetables release water during cooking, your burger mix becomes excessively damp. Then, you end up with a mushy patty that lacks the satisfying texture you want in a burger.
To avoid this pitfall, it's best to either choose vegetables with lower moisture content, such as bell peppers or carrots, or prepare high-moisture vegetables properly before adding them. You can do this by roasting, grilling, or sauteing them, allowing the excess water to evaporate and intensifying their flavors in the process. Once they're cooked, and the moisture is reduced, incorporate them into your veggie burger mix.
4. Ignoring cooked grains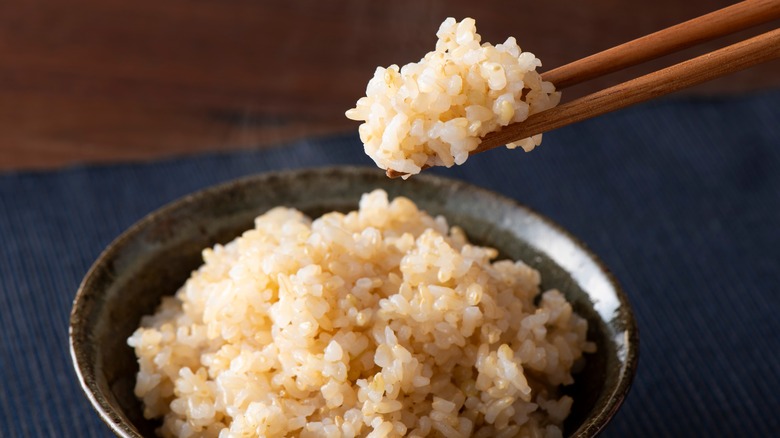 pro ust/Shutterstock
It's a mistake to ignore grains when crafting a homemade veggie burger. Grains like cooked quinoa, brown rice, and millet serve as a sort of backbone for your veggie burger mix. They provide structure and help to bind your burger together. They also bring something to the table in terms of overall texture. They add a pleasant chewiness and help your patty maintain its form during cooking. Without grains, your veggie burger mixture might lack cohesion, making it difficult to shape into patties. It might be hard to cook and, when ready to eat, be unpleasantly soft inside, without any bite.
Not only do grains improve the texture, but they also make veggie burgers taste better. They provide a subtle nuttiness or earthiness, which can add some depth of flavor, particularly if you use whole grains like brown rice, quinoa, or oats. So don't underestimate the power of grains in your veggie burger. They're not just filler — they're the essential ingredient that ensures your burger is both delicious and structurally sound. You'll generally want around one-fifth of your veggie burger mix to be made up of grains.
5. Underseasoning your burgers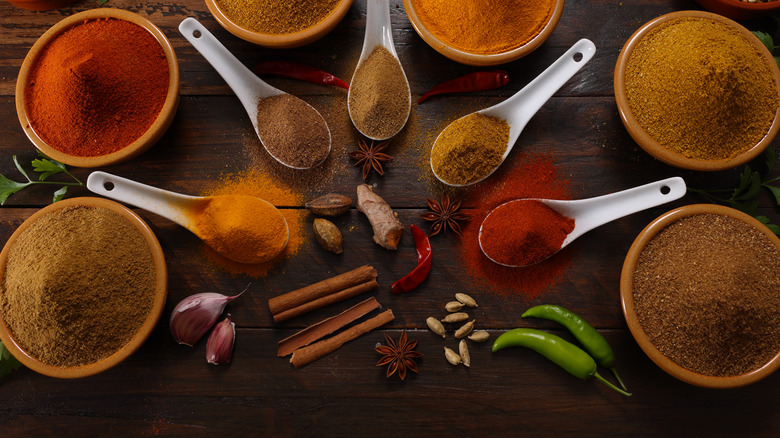 Sgaphoto/Getty Images
Nobody wants a tasteless veggie burger, but it's common for people to not add enough flavor. Underseasoning can render your burger bland and leave you wondering why you put so much effort into making a lackluster homemade patty. Veggies, grains, and legumes — the core ingredients of veggie burgers — have distinct flavors but can be quite subtle. When you underseason, those natural tastes often get lost in the mix. A veggie burger without proper seasoning lacks depth and character, making it taste flat and uninteresting.
Luckily, there are plenty of ways to add flavor to your veggie burgers. First off, always use aromatics, such as onion and garlic, in your burger. Saute or even caramelize them for more flavor. Then there are the seasonings. Salt enhances the natural flavors of the vegetables, while spices like cumin, paprika, or chili powder can add warmth and complexity. Fresh or dried herbs like parsley, thyme, or cilantro contribute a burst of freshness and aroma. Without these seasonings, your veggie burger might lack the vibrant, well-rounded taste you're aiming for.
You can also add more flavor by choosing vegetables with robust tastes, such as roasted red peppers, caramelized onions, or sun-dried tomatoes. These ingredients bring a natural sweetness and depth to your burgers. 
6. Neglecting dry ingredients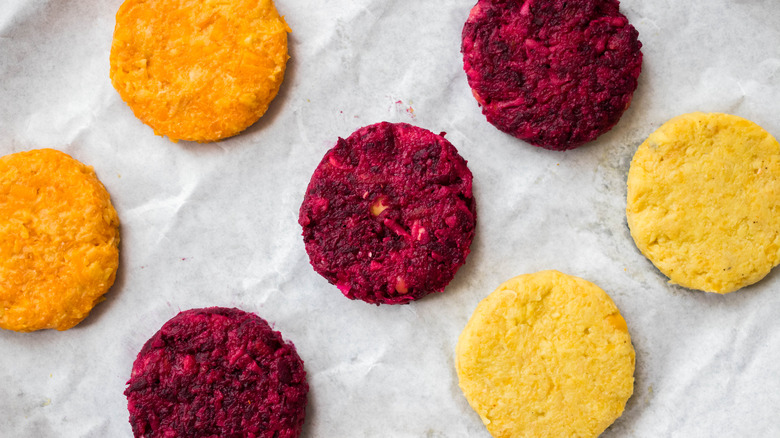 Viktor Kochetkov/Shutterstock
One of the most common problems with veggie burgers made from scratch is that the mixture ends up too wet, so the burgers are soggy or won't hold together. If this is an issue for you, it might be that you're neglecting dry ingredients, such as cornmeal, breadcrumbs, almond meal, or ground oats. These dry ingredients act as absorbers, soaking up excess moisture from the vegetables and other wet elements in your burger mixture. Veggies, especially, release a significant amount of water when cooked. Without something to absorb this moisture, your burger mix becomes wet and sticky. Additionally, they serve as binders, giving your veggie burger the structure and stability it needs to hold together.
If that wasn't enough, these types of ingredients also add texture. They can lend a pleasant body to your burgers, counterbalancing the softness of the vegetables and legumes and creating a pleasing combination of tenderness and firmness. So, whether you prefer the hearty texture of oats or the subtle nuttiness of almond meal, don't overlook these dry ingredients.
7. Not making use of seitan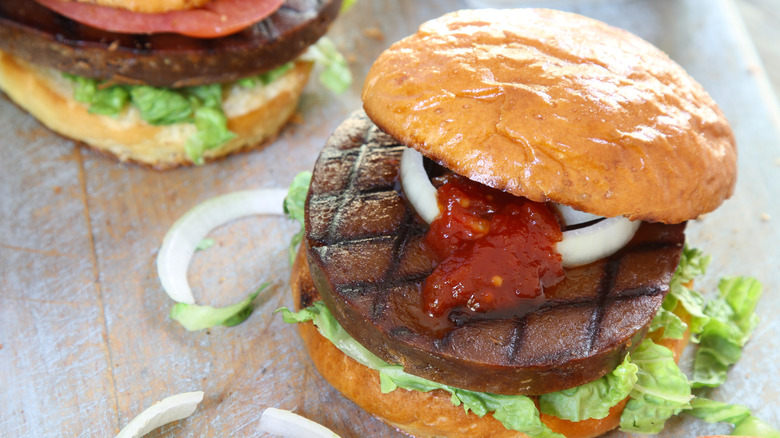 neil langan/Shutterstock
If you're looking to create a more meat-like veggie burger rather than a vegetable-heavy one, you'd be remiss not to harness the power of seitan. But, to do so, you need to learn a little more about vital wheat gluten and its role in making seitan. Vital wheat gluten is the protein extracted from wheat flour, and it's incredibly effective in binding ingredients together. It's also the main ingredient in the meat-replacement known as seitan. When added to your veggie burger mixture, it provides the essential elasticity and chewiness that meat burgers are known for. Without it, your veggie burgers might lack the satisfying bite and firmness many seek in a meat substitute.
In addition to enhancing texture, vital wheat gluten also contributes to the structural integrity of your burgers. It holds everything together, preventing your patties from falling apart during cooking. This is especially crucial if you plan to grill, barbecue, or pan-fry your veggie burgers, as these methods can be less forgiving when your patties lack cohesion.
You can make seitan burgers in a range of ways. They usually use a base of textured vegetable protein. However, you might also blend tofu or beans into the wet ingredients that are mixed with the vital wheat gluten flour. This adds tenderness, so your seitan burgers aren't too tough.
8. Trying to mash the ingredients by hand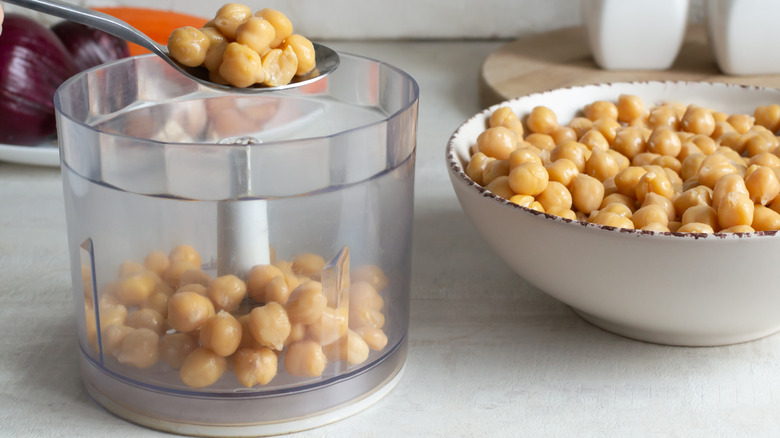 Alkarnasia/Shutterstock
Opting to mash veggie burger ingredients by hand may seem like a nostalgic, hands-on approach, but you might not get the desired results. If you're finding that your veggie burger mixture isn't coming together as nicely as you'd like, using a food processor might help. A food processor also gives you more uniform results. When you process your ingredients, you achieve a consistent texture, blending everything evenly. Hand-mashing, on the other hand, can result in an uneven mix. Some parts might be over-mashed, turning into a paste, while others remain chunky.
A food processor evenly distributes seasonings, spices, and binding agents so that each bite of your burger is flavorful and well-seasoned. Hand-mixing often leads to uneven distribution, meaning some bites might be bland while others are overseasoned. Plus, there's time and effort to think about — a food processor makes the task considerably faster and less labor-intensive. Instead of tiring yourself out trying to achieve the desired texture manually, a few pulses in a food processor gets the job done.
9. Overprocessing the mixture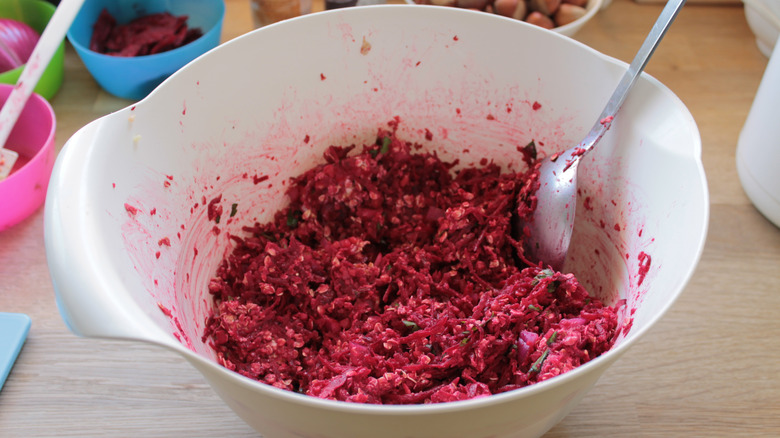 Dan Shachar/Shutterstock
Processing your veggie burger mixture is crucial, but there's a fine line between achieving the perfect texture and overdoing it. When you overprocess your veggie burger mixture in a food processor, the ingredients can become too fine and homogeneous. Veggie burgers thrive on a satisfying combination of chunky and smooth elements. Overprocessing can turn your mixture into a paste, resulting in a burger with a monotonous, mushy texture.
You don't want a veggie burger with the consistency of baby food that squidges out of the sides of the bun when you take a bite, so make sure you don't process the ingredients to oblivion. Try pulsing your veggie burger mixture in the food processor rather than letting it run continuously. This technique enables you to control the texture. Pulse the ingredients until they are combined and hold together, but stop before everything becomes overly smooth.
Remember, achieving the perfect veggie burger texture is about balance. You want a mix of finely processed and chunky elements to create a patty that holds together but isn't too soft.
10. Not cooking your burgers in a hot pan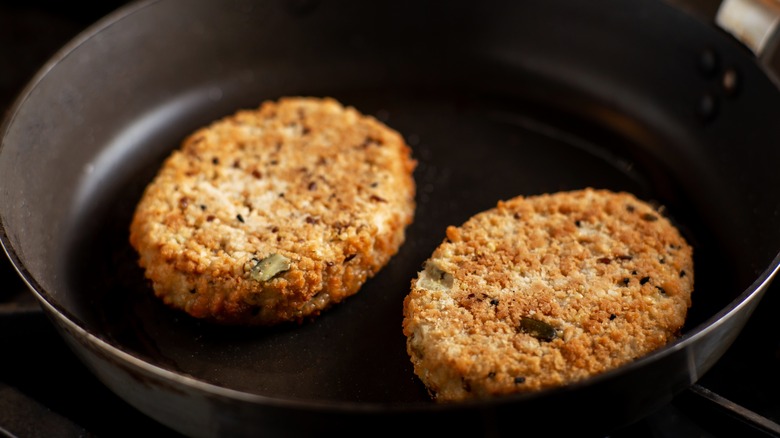 Zapylaiev Kostiantyn/Shutterstock
It might seem like a step you can skip, but if you're pan-frying your veggie burgers, let the pan preheat for a while so the oil gets hot before you add your raw patties. A hot pan ensures that your veggie burger sears properly. When the burger hits the hot surface, it immediately forms a caramelized crust. This helps give the burger structural integrity so it holds together nicely. If the pan's too cool, the burger heats gradually, and extra moisture seeps out, making your burger soggy or causing it to fall apart. The searing process also makes the burger taste better and provides a satisfying crunch when you bite into it.
What's great about using a hot pan is that it promotes the Maillard reaction, a chemical reaction between amino acids and reducing sugars that occurs at high temperatures. This reaction is responsible for the appealing brown color of your burger and adds a depth of flavor that is hard to achieve without proper heat. Maillard browning brings out complex, savory notes, making your veggie burger taste more rich and satisfying.
11. Underutilizing condiments when serving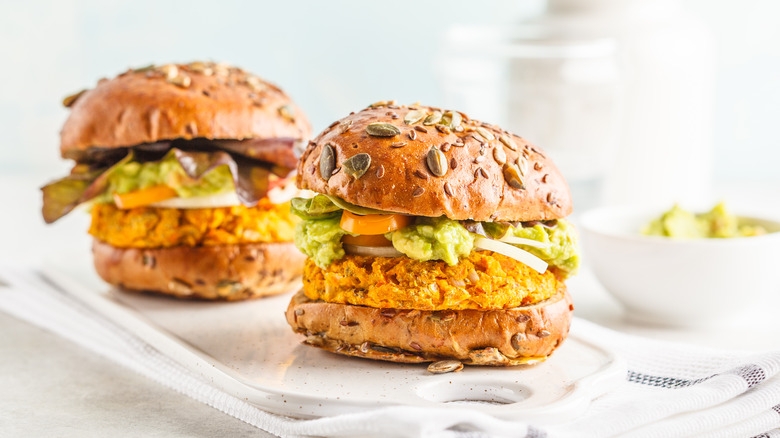 Nina Firsova/Shutterstock
It doesn't matter how well you make and cook the burger mixture — if you're forgetting about condiments, you're making a mistake. Sure, there's a place for basic condiments, such as ketchup, mayo, and barbecue sauce, but it pays to get more creative than that.
For spice lovers, a dash of Sriracha, hot sauce, or your favorite chili paste can add a fiery kick to your burger. You can also mix hot sauce with mayo to make your own spicy mayonnaise. Or, if you like sweet and spicy food, consider topping your burger with chili jam.
Guacamole makes a tasty, creamy condiment for a burger and works especially well for burgers that use Mexican or Tex-Mex spices in the patties. You could also add some salsa and sour cream for a nacho-like condiment mix.
Pesto is a nice choice, too. Whether it's classic basil, sun-dried tomato, or spinach pesto, these herby sauces provide a zesty and aromatic punch. And you can experiment with sweet and savory chutneys like mango, apple, or fig that can bring a complex, fruity flavor to your burger.
12. Making toppings an afterthought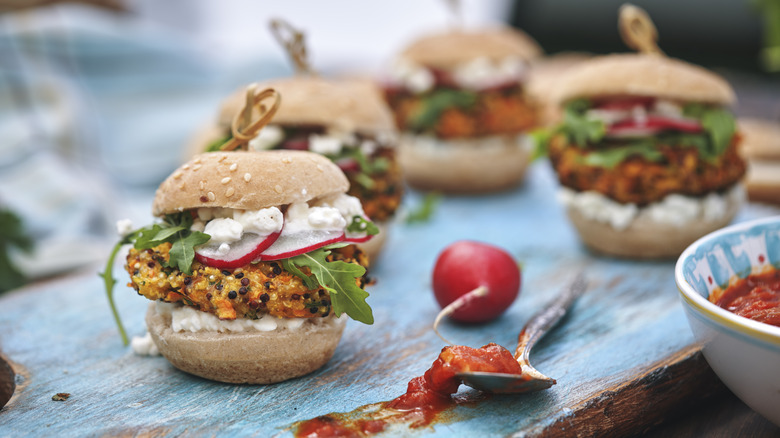 Gmvozd/Getty Images
Your veggie burger's toppings shouldn't be an afterthought. There are so many creative veggie burger topping options that it's a shame to stick to lettuce, tomato, and pickles — even though they're classics. Toppings aren't just an accessory — they're essential components that enhance your veggie burger's flavor, texture, and look. Neglecting them means missing out on an opportunity to elevate your meal.
If you love pickles on your burger, a great upgrade is to use homemade pickles or try pickled produce beyond cucumbers, such as pickled cauliflower or even pears. Roasted vegetables are also delicious on veggie burgers, whether classic options like red peppers and zucchini or more unusual ones such as Brussels sprouts.
Want to add some sweetness? Try topping your burger with sliced fresh figs or grilled pineapple chunks or rings. Or, if it's more texture you're after, you could add crispy onions or even some seeds or chopped nuts. As for greens, you can look beyond lettuce — why not try something more unusual, such as pea shoots or beet greens? You could also add a handful of fresh herbs instead of lettuce, giving your burger an extra boost of flavor.