Satisfy Your Craving For Wendy's Southwest Avocado Salad With An Easy Copycat Recipe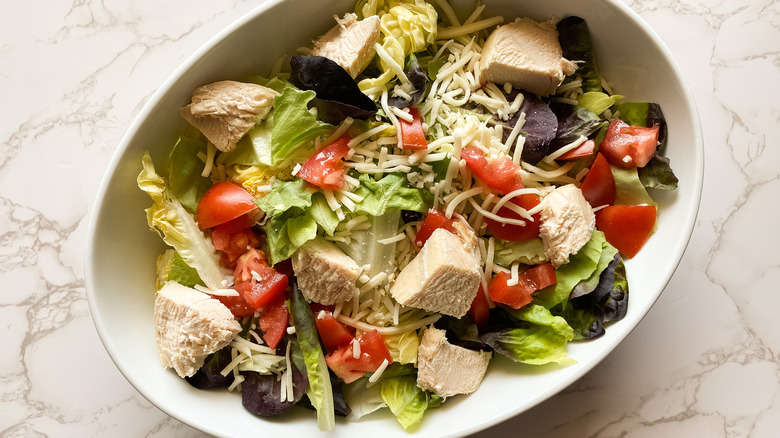 Kristen Carli/Mashed
While fast food salads may not always be the most requested or talked-about choice on any given chain's menu, many of us eat them because we actually happen to enjoy all the crunchy goodness. Wendy's, in particular, always has a great salad selection, but unfortunately one of our old favorites seems to have dropped off the menu: The Southwest Avocado Salad is nowhere to be found. Except, for some reason, in the U.K., where it's alive and well under the name Avocado Chicken Salad. If you can't afford to fly overseas just for a salad, though, the next best thing is Mashed developer Kristen Carli's Southwest Avocado Salad copycat recipe.
This salad is made with avocados and chicken, of course; plus it has cheese and bacon just like the Wendy's version. As a result, it's sufficiently hearty that Carli calls it "a complete meal." If you're of the opinion that salad alone does not a meal make, though, you could always pair it with this copycat Wendy's chili.
What goes into the salad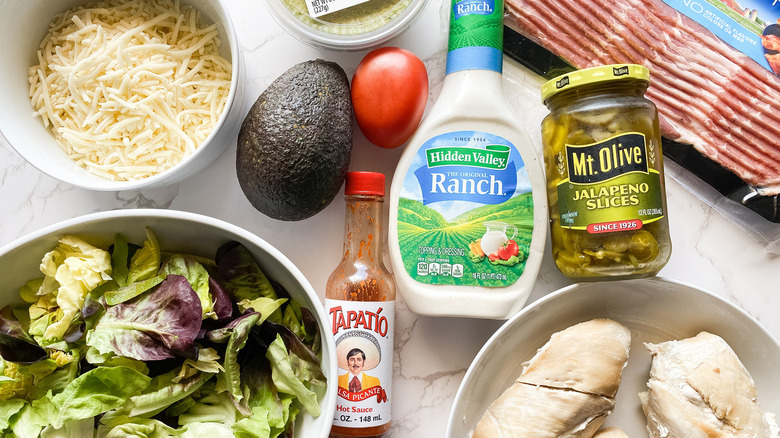 Kristen Carli/Mashed
To make this copycat Southwest Avocado Salad, you'll need some lettuce for the base (Carli goes with a mixture of butter and red leaf). Toppings include cooked chicken, cooked and chopped bacon, shredded pepper jack cheese, a chopped tomato, and some guacamole. The copycat Southwest Ranch dressing used here is made by simply stirring some hot sauce and a small amount of liquid from pickled jalapeños into bottled ranch dressing. If you'd like a less zesty dressing, Carli agrees, "It would be delicious with a little less heat." Her recommendation is to "Omit or take down the jalapeño liquid for a slightly milder taste."
The recipe given here makes for two portions of salad, but if you only want one, you could always cut the numbers for each ingredient in half. Once assembled, the salad won't make for good leftovers since, as Carli puts it, "This one doesn't keep well at all." This is pretty much the case for all salads, but there is one workaround if you don't feel like doing any math: Put the salad together, but only add dressing to the portion you're going to eat right away. This should help to keep the leftover salad from wilting.