Elevate Boring Old Cranberry Sauce By Turning It Into A Festive Salad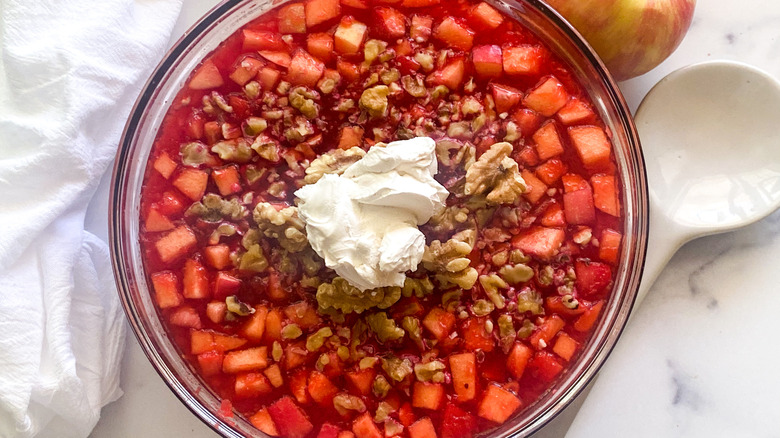 Miriam Hahn/ Mashed
There's plenty to argue with your family about during the holidays, but don't let it be the cranberry sauce. The Thanksgiving table isn't complete without it, but let's face it, this sauce can be one of the most divisive dishes of the season. Some will only eat it if it's homemade. Others won't touch it unless it comes from a can. If your family members have strong, opposing opinions on the best way to enjoy cranberry sauce, save the debate for another day by trying something completely off the beaten path.
Cranberry sauce makes a festive addition to your holiday salad. Cranberry salad has historically been popular around the Thanksgiving table in the South. It's similar to a jello salad from the 1960s, but holiday-themed. The salad includes various fruits and nuts paired with cranberry sauce and is encased in Jello. These salads took off when Jello came out with the first instant gelatin mix in 1897. This product helped families save money on food — they could put their leftover scraps in jello molds to preserve and repurpose them. Now, cranberry sauce can get the gelatin treatment and bring harmony to your Thanksgiving gathering.
Improve upon cranberry sauce with jello, fruit, and nuts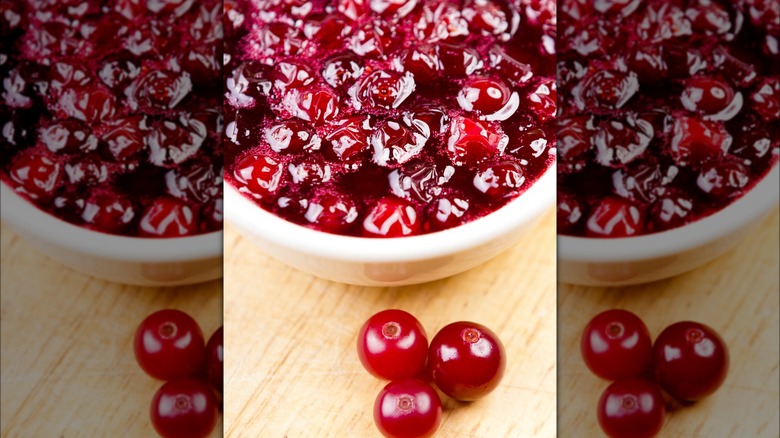 Letty17/Getty Images
There are some dishes that you only see around the holiday season, and cranberry sauce is certainly one of them. If you're bored with plain canned cranberry sauce or just looking to bring something new to your holiday table, whip up a batch of cranberry salad. It's the perfect dish to feed a group at your next gathering, or you could keep it in your fridge to snack on throughout the week.
The best cranberry recipes contain flavors that complement the berry's tartness. In cranberry salad, you'll often see other tart elements like crushed pineapple and finely chopped apples. The fruits get stirred into cranberry sauce with nuts and suspended in jello, most often raspberry-flavored for its signature sourness.
This dish has a touch of elegance when compared to your standard cranberry sauce. And, it's versatile — you can enjoy cranberry salad by itself, spooned over turkey, or even on a cracker. It's also a step above the original canned version because it's not just limited to the holiday season. Enjoy it at a summer BBQ or bring it to your next book club meeting.