Cranberry Salad Recipe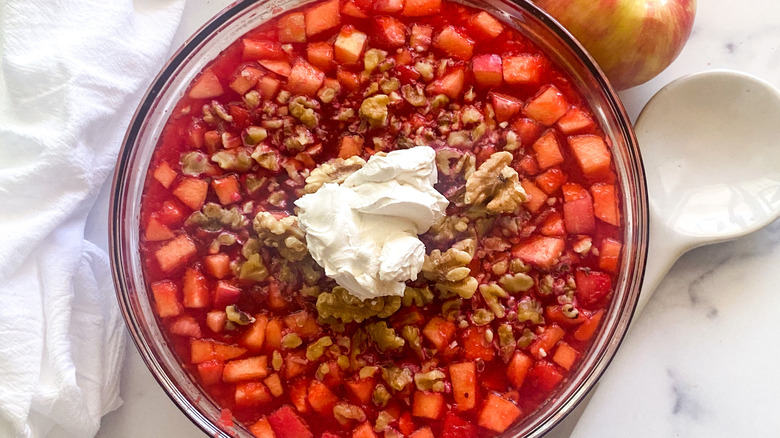 Miriam Hahn/Mashed
You may not think about using cranberry sauce very often outside of your annual Thanksgiving feast, but according to Miriam Hahn, recipe developer and wellness coach at YouCare-SelfCare, with the right mix of ingredients, a chilled cranberry salad actually makes a great summer barbecue addition. Just keep in mind that this recipe features Jell-O, so it does take at least five to six hours to set. You'll want to plan ahead to give it a try. (It's a good idea to make it the night before an event.)
Aside from the extra fridge time (which is included in the overall prep time), you need no special skills to whip up this deliciously refreshing side dish. The prep work requires nothing more than boiling water, chopping apples, and opening a few boxes and cans. Seriously, a tasty side couldn't be easier to prepare and enjoy. And the combination of fresh fruit, nuts, sweet and tart cranberries, and the fun addition of Jell-O makes for a nice alternative to a more traditional fruit salad. So, let's get into how you can make this recipe for your next get-together.
Gather your ingredients to prepare this easy cranberry salad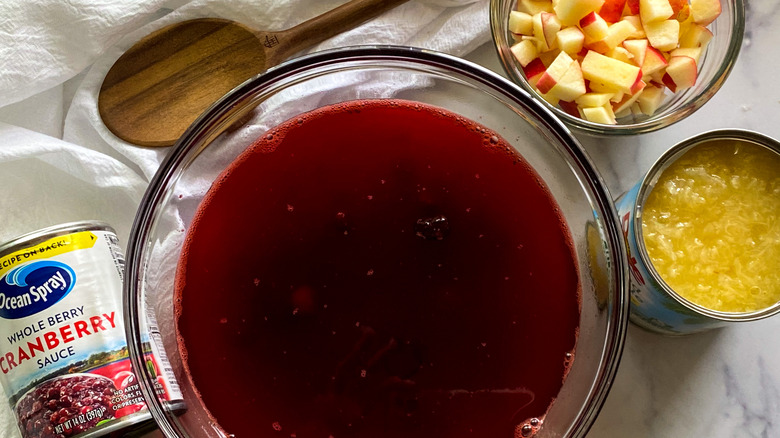 Miriam Hahn/Mashed
Gather up (and prep) your ingredients before you dive into making your salad. Go ahead and start by boiling 2 cups of water. As the water comes to a boil, wash and dice your apples. To get the right crisp flavor, Hahn suggests using Fuji or Honeycrisp varieties. Then, grab your two packages of raspberry Jell-O, a can of whole berry cranberry sauce, a can of crushed pineapple, and ½ cup of chopped walnuts.
Mix up your Jell-O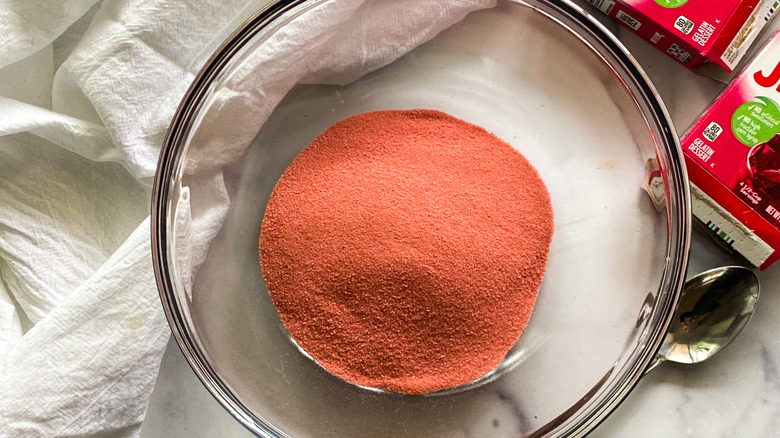 Miriam Hahn/Mashed
Empty your Jell-O packets into a large glass mixing bowl. The bowl should be large enough to fit all of your ingredients when they've been combined. When your water has come to a boil, pour the 2 cups of water over the granulated Jell-O. Stir until the Jell-O has completely dissolved in the water. This step shouldn't take very long — just roughly a minute or so of stirring should do the trick.
Add in the fruit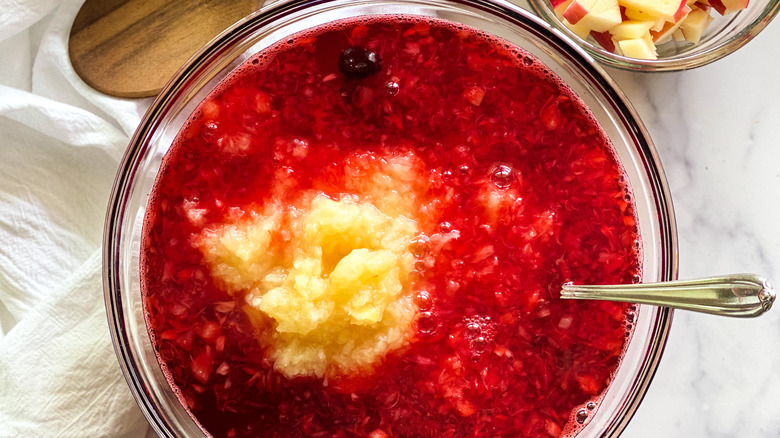 Miriam Hahn/Mashed
When the Jell-O has completely dissolved in the water, add the can of whole berry cranberry sauce. Mix well to make sure the cranberries are well distributed in the Jell-O. Then, empty in your pineapple and diced apple, combining into the liquid.
If pineapple seems like a surprising choice to include with cranberries and applies, Hahn says you shouldn't knock it 'til you've tried it. "The pineapple adds another sweet element and texture — it makes [the salad] super fresh-tasting." But if for any reason you don't like pineapples (or apples, as the case may be), you can always omit one of the fruits and double up on the other one.
Top this refreshing salad off with walnuts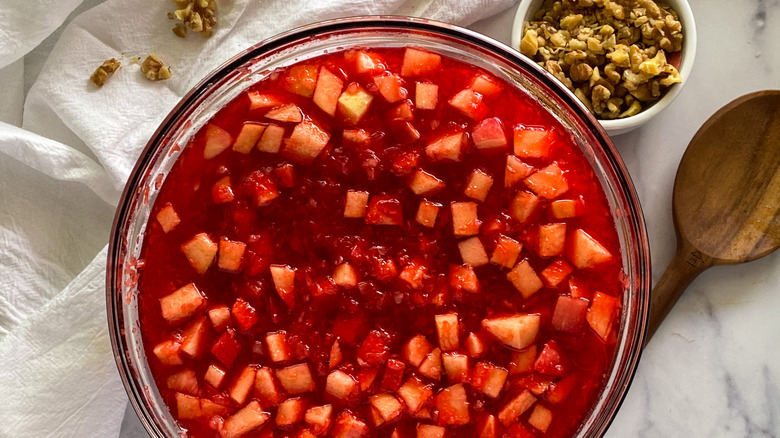 Miriam Hahn/Mashed
Finally, pour the chopped walnuts across the top of your salad. Unlike the other ingredients, you don't want to mix them in, as Hahn says the time spent saturated in the liquid as the Jell-O sets reduces some of the nut's crunch. That being said, if you like your nuts a little less crunchy, by all means go ahead and give them a stir. It really comes down to personal preference.
Refrigerate, then serve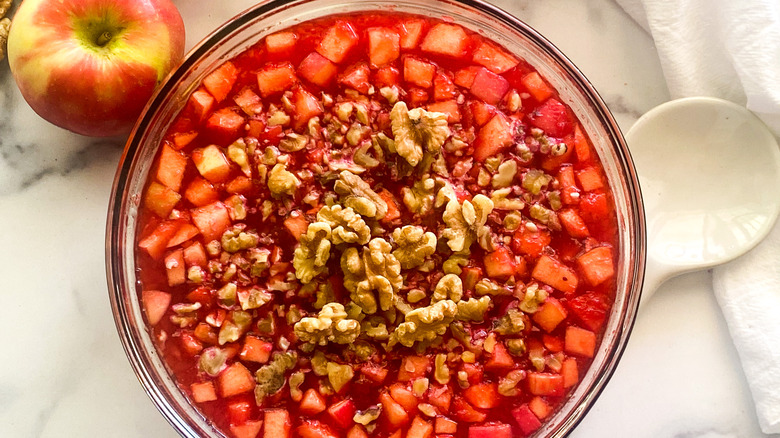 Miriam Hahn/Mashed
With all of your ingredients added to the bowl, cover it and refrigerate overnight. Or, give it at least five to six hours to set and chill in the fridge. (For instance, if you have an afternoon pool party planned, you can make this recipe first thing in the morning and it'll be ready to go by party time.)
When the Jell-O has achieved the correct firm but jiggly consistency, you know it's ready to serve. Pull it out of the fridge, and top with whipped cream and walnuts, if desired. 
Cranberry Salad Recipe
This chilled cranberry salad makes a great summer barbecue addition.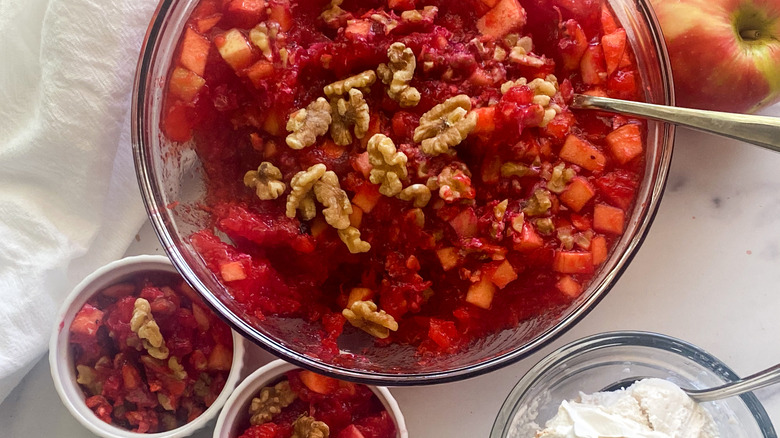 Ingredients
2 (3-ounce) packages raspberry Jell-O
2 cups boiling water
1 (14-ounce) can whole berry cranberry sauce
1 (20-ounce) can crushed pineapple
1 Fuji or Honeycrisp apple, diced
½ cup walnuts, chopped
Optional Ingredients
whipped cream, for serving
Directions
Empty the Jell-O packets into a glass bowl, and add 2 cups of boiling water. Stir well to dissolve.
Add the cranberry sauce, and mix well. Then, add in the crushed pineapple and diced apple.
Top with the chopped walnuts.
Cover the bowl, and refrigerate overnight.
When you're ready to serve, top with whipped cream and more walnuts, if desired.
Nutrition
| | |
| --- | --- |
| Calories per Serving | 392 |
| Total Fat | 6.6 g |
| Saturated Fat | 0.6 g |
| Trans Fat | 0.0 |
| Cholesterol | 0.0 mg |
| | |
| --- | --- |
| Total Carbohydrates | 83.9 g |
| Dietary Fiber | 3.0 g |
| Total Sugars | 76.6 g |
| Sodium | 161.8 mg |
| Protein | 4.3 g |