How Many Pounds Of Turkey Breast Should You Serve Per Person On Thanksgiving?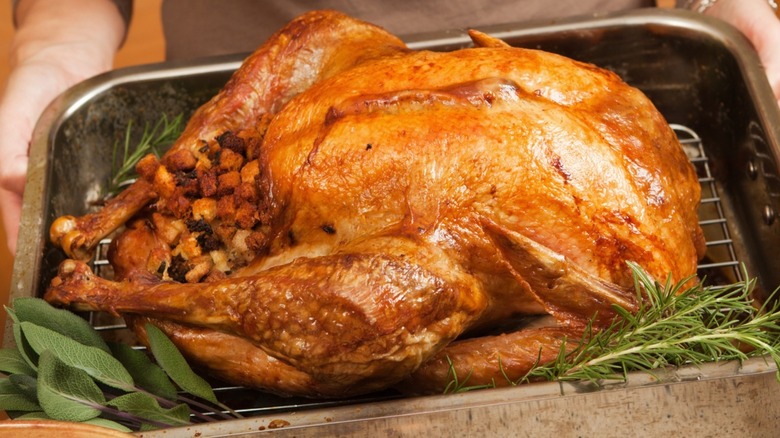 Yinyang/Getty
If you're hosting Thanksgiving for the first time or just hosting a different crowd than you might normally feed for the holiday, you might be wondering how much turkey you'll need to buy to keep everyone fed that day. The last thing a host wants on an important, turkey-focused holiday is to run out of the star of the show. So, how big of a turkey should you pick up? It'll depend on whether you're cooking a whole bird, just the turkey breast boneless, or only the turkey breast bone-in.
While opinions differ, in general, most will tell you that you should plan to serve between 1 and 1.5 pounds of bone-in turkey per person, whether that's a whole turkey or just the bone-in breast. If you're planning to buy boneless breasts, reduce the amount to a half a pound of turkey per person. (This is because, no matter what you buy, you'll want about a half a pound of turkey meat per person, but when buying bone-in or whole turkeys, you have to account for the weight of the bones.) So, if you have a family of eight and want to serve a whole turkey or bone-in breasts, look for a turkey or breasts that weigh eight to 12 pounds. If you want to serve boneless breasts, buy about 4 pounds. If you want more leftovers, skew the number higher. If you know you won't eat much turkey beyond the holiday, skew the number lower.
What if we only eat white or dark meat?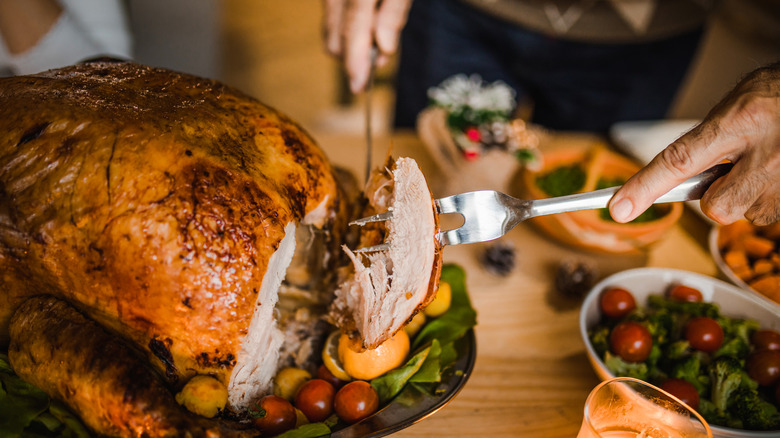 Skynesher/Getty Images
If you and your guests exclusively eat the white meat on Thanksgiving, obviously skip buying the whole bird (unless you're fine using the dark meat in leftover turkey recipes later) and just opt for buying boneless or bone-in turkey breasts. However, if you're a dark meat crew, look for turkey thighs or legs and roast them instead.
Whatever size or cut of turkey you purchase for Thanksgiving, though, make sure you give it enough time to thaw ahead of the holiday, based on the meat's weight. According to the U.S. Department of Agriculture (USDA), the safest way to thaw a frozen turkey is in the fridge. However, if you're thawing a whole turkey, it's going to take longer than just overnight. The USDA recommends allowing 24 hours of thawing for every four pounds your turkey weighs. So, if you purchased that 12-pound whole turkey to feed your family of eight, give it about three entire days in the refrigerator to thaw.