Gordon Ramsay And Wife Tana Welcome Their 6th Child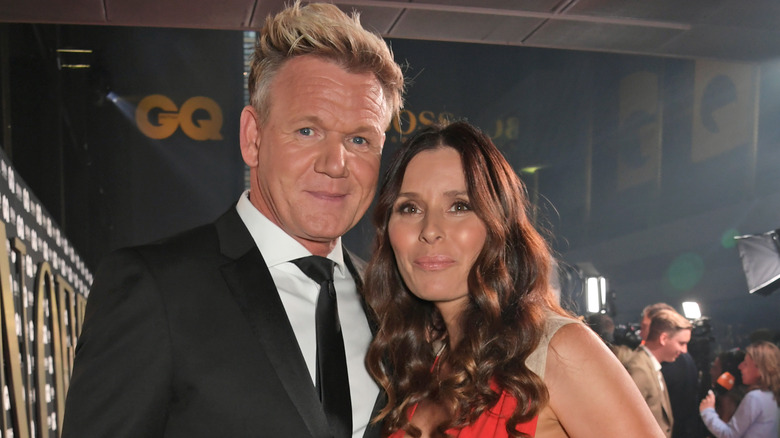 Dave Benett/Getty Images
Despite his gruff and explosive demeanor on "Hell's Kitchen," "Uncharted," "Kitchen Nightmares," and various other cooking shows over the years, Gordon Ramsay has long been described as a completely different person when he's around his family. "He is an absolute puddle when he's around his kids. I think people would be legitimately freaked out if they ever saw him in the company of his wife and children," Ramsay Steak head chef Christina Wilson told Mashed. Given this revelation, it shouldn't come as a surprise that he referred to the birth of his newest child, Jesse James Ramsay, as "an amazing birthday present" on his Instagram.
The sixth child (and third son) the couple has welcomed to the family, Jesse joins Meghan, twins Jack and Holly, Matilda ("Tilly"), and Oscar, who just turned 4. Born four days after the volatile chef celebrated his 57th birthday, Jesse could also be the last, judging by Ramsay's caption of "3 boys, 3 girls... Done," and Tana Ramsay's Instagram caption of "Ramsay family definitely complete." But given Ramsay's comments about fatherhood, especially after welcoming Oscar to the world in 2019, Jesse's life growing up may look somewhat different than that of his three oldest siblings.
He's been more hands on with his younger kids
After Gordon and Tana Ramsay were married in 1996, it wasn't long before the family began to expand. They welcomed their first child, Meghan, in 1998 and Jack and Holly in December 1999. Oscar was born 20 years later, and Ramsay has been vocal about having missed things while his oldest children were growing up because he was so busy working. While speaking to Fred Sirieix on his "Oh La La" podcast, he said that he was "convinced I am going to spend more time with Oscar. I am excited to be more hands-on" (via Mirror).
While newborn Jesse and toddler Oscar may get the soccer dad and time that the older kids may have missed out on, one thing they won't get is his money. Ramsay has made it clear that his millions won't be going to his kids. He and Tana have both agreed that they don't want their kids spoiled and that they need to learn what it's like to earn what they get. And that also goes for where they sit on airplanes with their parents. "At that age, at that size, you're telling me they need to sit in first class? No, they do not. We're really strict on that," he told the Telegraph.