Costco's Premade Thanksgiving Dinners Aren't Big Enough For Some
Store-bought Thanksgiving meal kits are in full swing, as the holiday is just around the corner, and these pre-made meals are convenient for many. They act as a time saver and stress reliever when the holiday headaches come around. Plenty of folks head specifically to Costco to buy their pre-cooked Thanksgiving dinner. Indeed, the chain's spread is complete with all of the Thanksgiving necessities, albeit in what some think is a small-looking portion.
Costco's turkey dinner checks off all of the boxes that a Thanksgiving dinner should. The meal features half of a seasoned turkey breast and its classic accompaniments: Yukon gold mashed potatoes, roasted vegetables, and an herb stuffing. Of course, Thanksgiving wouldn't be complete without poultry gravy and cranberry sauce, both of which also come with the meal. The package claims that the feast can feed seven to eight people, but folks on TikTok seem to disagree. The dinner is priced at $3.99 per pound, and one TikTok creator who gave viewers a tour of the meal, @costcohotfinds, showed the total price to be roughly $36. If this kit does indeed feed eight, that would be a deal worth pursuing this Turkey Day. Unfortunately, this doesn't seem to be the case.
At best, Costco's Turkey Dinner could feed a small family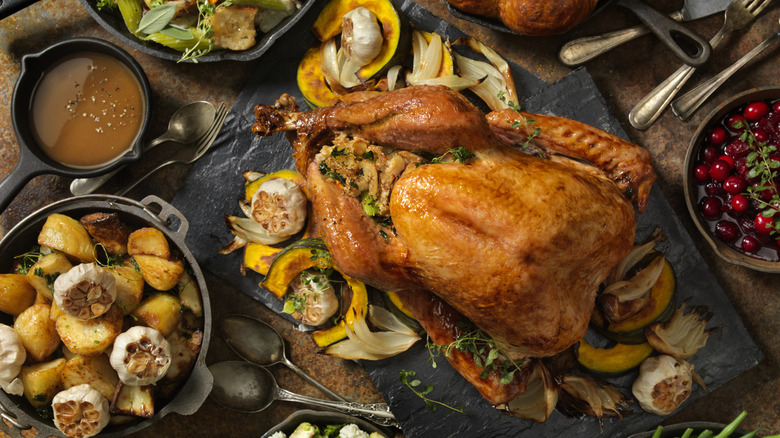 Lauripatterson/Getty Images
Many Costco customers reacting to the Turkey Dinner didn't believe it could feed eight people. Users commented on @costcohotfinds' video saying the meal looked small enough to only feed one person – one user even joked, "Apparently I'm a family of eight." Looks can be deceiving, but there could be some truth to shoppers' concerns. One person could likely finish the meal over the course of a couple of days. Other customers who have bought this meal in the past attested to its small size, noting how it's "great for singles, [a] small family, or just a couple." It's perhaps safe to assume, then, that this meal might not be best for a group of eight.
@costcohotfinds

These premade Thanksgiving meals at Costco are seriously delicious!
For those looking for a Thanksgiving dinner fit for a king, that would have been Costco's $199.99 Thanksgiving dinner feast, also called the Fortune Gourmet Thanksgiving Dinner. This giant meal can feed a large family and then some, allowing for large portions from dinner all the way to dessert. The catch is the preorder window, which has already passed for the year. For next year, however, this might be a good alternative to Costco's smaller Turkey Dinner, which could still be perfect for a low-key Thanksgiving, at least.