How To Hack A Starbucks PSL Into A Cinderella Latte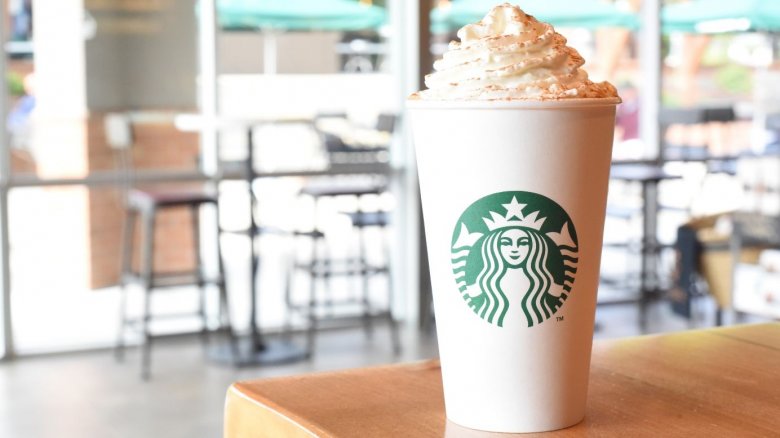 Starbucks
Yes, it's pumpkin spice season, which means everything (even Spam) is turning a bit orange as we prepare to welcome fall back with open arms. If you're a Pumpkin Spice Latte fan, it's already back and ready to order from your local Starbucks barista, along with the new Pumpkin Cream Cold Brew. But if you're over the PSL hype, there's a way to hack one into something even better. You take your basic PSL, and with a little bibbidi bobbidi boo, it turns into a Cinderella Latte (via Bustle).
Bustle points towards an Instagram post from Happiest Tees on Earth, the apparent inventor of this amazing hack that gives you a delicious twist on this fall favorite. Happiest Tees on Earth writes that while they were working as a Starbucks barista around seven years ago, they developed some Disney-inspired drinks — one of which is the Cinderella Latte that is becoming more well known as the years go by.
Unlike some Starbucks hacks which can involve some pretty serious substitutions and additions (and can be a little annoying to put together behind the counter), this one is actually pretty simple. Don't order it by its name, though. Instead, order a PSL (and it can be hot, iced, or a Frappuccino). Tell them to substitute half of the pumpkin spice pumps with white mocha, and... that's it. It features the Starbucks classic pumpkin flavor, but it's not as strong, and it really does blend super well with the white mocha. You've now turned your regular "pumpkin" into a fancy white pumpkin coach and off to the ball you go. 
If this sounds good, keep in mind that the Cinderella Latte can only be made during PSL season, so hoof it over to Starbucks to try one soon before the clock strikes midnight and you have to wait until next fall to give it a try.