The Truth About Pizza Hut's New Round Pizza Box
How much do you think about pizza boxes? Unless you have one in your hands, complete with a hot pizza, probably not much at all, right? Perhaps you've noticed this already, but pretty much 100 percent of pizza boxes are square. Well, not anymore! Pizza Hut is breaking the mold of pizza boxes and is testing a round pizza box in a limited run at one restaurant (via PR Newswire). 
Considering that pizza is usually round, it's sort of strange that a round pizza box hasn't already become a thing. Here's what you need to know about Pizza Hut's new round pizza box, and more importantly, what's inside of it. 
Pizza Hut's round box aims to be more environmentally-friendly
You may not think that coming up with a round pizza box would be an incredibly big project for a fast food giant like Pizza Hut, but this circular pizza box took two years to develop. Pizza Hut's chief customer and operations officer, Nicolas Burquier, told CNN that the box was "the most innovative packaging we've rolled out to date." Unlike the much more common square pizza boxes, the round pizza box aims to be a more environmentally-friendly pizza box because it uses less packaging. Pizza Hut also claims that it's more "industrially compostable" than traditional pizza boxes. 
"The round box was engineered to make our products taste even better — by delivering hotter, crispier pizzas," Burquier said. "This box is a win, win." Pizza Hut didn't go into details of exactly how the box gives customers "hotter, crispier" pizza, but it makes sense that if there's less space in the box for heat to escape, the pizza would stay hotter for a longer period of time.
But wait, there's more! As for what's in this round pizza box, get ready for a meatless meat pizza. Yes, really.
Pizza Hut is testing out a plant-based 'meat' pizza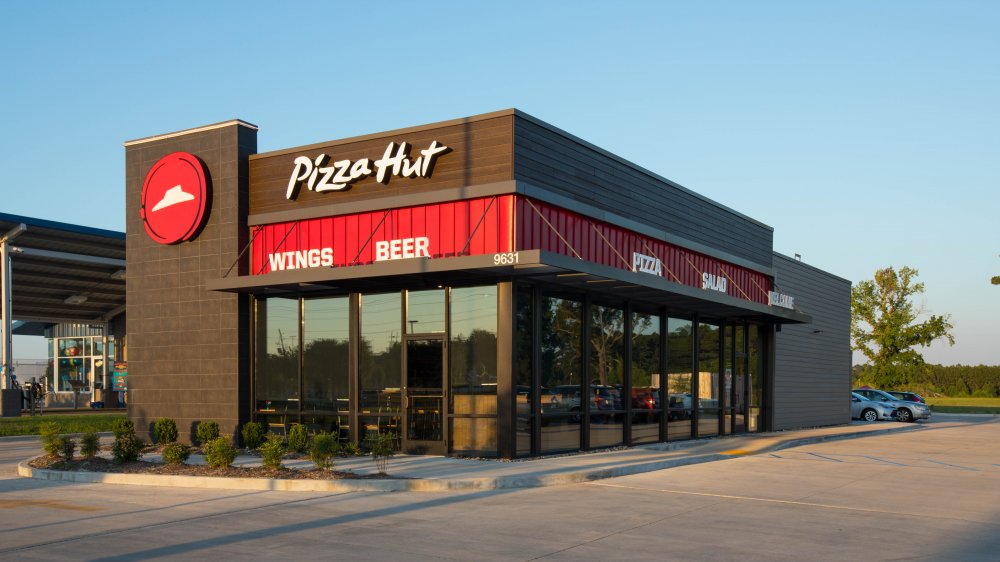 Shannon O'hara/Getty Images
Pizza Hut isn't just testing out a new round box, but they're also including the Garden Specialty Pizza with it. The pizza is topped with Incogmeato, a plant-based protein that aims to mimic Italian sausage. Plant-based proteins have become incredibly popular lately because they require less water to make and produce fewer emissions than animal protein. 
Hot off the heels of Burger King's Impossible Whopper, Pizza Hut is testing out both the round pizza box and Garden Specialty Pizza at only one location in Phoenix for a limited time. The pizza is available in-store only and can be purchased in the Pizza Hut at 3602 E. Thomas Road starting on October 23 at 11 a.m. MT. If you want one you should probably hurry, because who knows how long they will last?