Here's Why Your Local Pizza Hut Might Be Gone Soon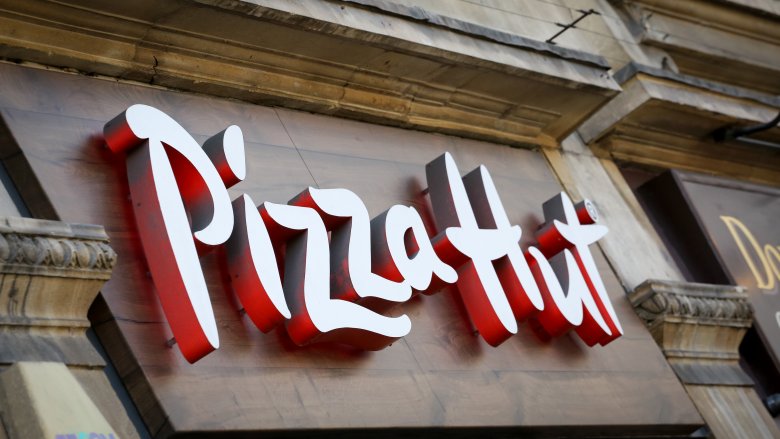 Matt Cardy/Getty Images
If Pizza Hut is your go-to spot when you get a craving for a loaded up, cheesed out pie, then you'd better head to the Hut soon because it may not be around much longer. At least if you plan on eating there. The company recently said its days of serving dine-in customers could be drawing to a close as it plans to shutter almost 500 restaurants over the next two years (via Nation's Restaurant News). People just aren't dinning in at Pizza Hut on the scale that they used to according to Yum Brands' (Pizza Hut's parent company) chief operating officer David W. Gibbs, and the pizzeria must change with the times. 
Pizza Hut is part of the big four pizza chains in the United States, along with Domino's, Little Caesars, and Papa Johns, and has been serving up pies for over 60 years. In 2018, Pizza Hut had 7,482 restaurants in the U.S., but Gibbs expects that number to drop to 7,000 as it works to climb out of its dine-in sales slump. According to Restaurant Business, nearly 3,000 of the stores in Pizza Hut's U.S. fleet are the iconic "red roof" locations, and they'll be primarily the ones getting the ax. In order to bolster the brand, Yum plans to focus on carryout and delivery and will be replacing some of those dine-in locations with takeout/delivery units, so the number of locations would eventually rebound as the new format rolls out.
"We have a lot of stores that were built in the right spot when they opened 30 or 40 years ago," Gibbs said. "But they are not in the right spot today for a modern delivery asset."
According to Pizza Hut's president Artie Starrs, boosting the brand's delivery output has been somewhat of an uphill battle thus far, and some customers aren't even aware the brand does delivery. Over 300 Pizza Hut locations use GrubHub to reach customers, and the company bought online ordering software company QuikOrder in 2018 to help streamline its customer ordering options. So far this has been helpful and sales in the second quarter of 2019 were actually higher than expected (via Reuters). 
One of the more unique aspects that may be coming to some Pizza Hut locations is a new carryout system where customers order ahead and grab their pizza from a warming cubby (via Nation's Restaurant News). That's right, customers will be able to skip human interaction altogether. Pizza Hut is currently testing the employee-less units at one California location, with more cities on the West Coast expected to be added in 2020. 
Basically, Pizza Hut is shifting from dine-in stores where a human waiter takes and brings your order, to stores devoid of any employee interaction. That might seem like a complete 180 for the brand, but when you consider how many of us stare at our phone all day, that lack of human interaction probably won't even be noticed.