Here's When Popeyes' Chicken Sandwich Officially Hits Menus Again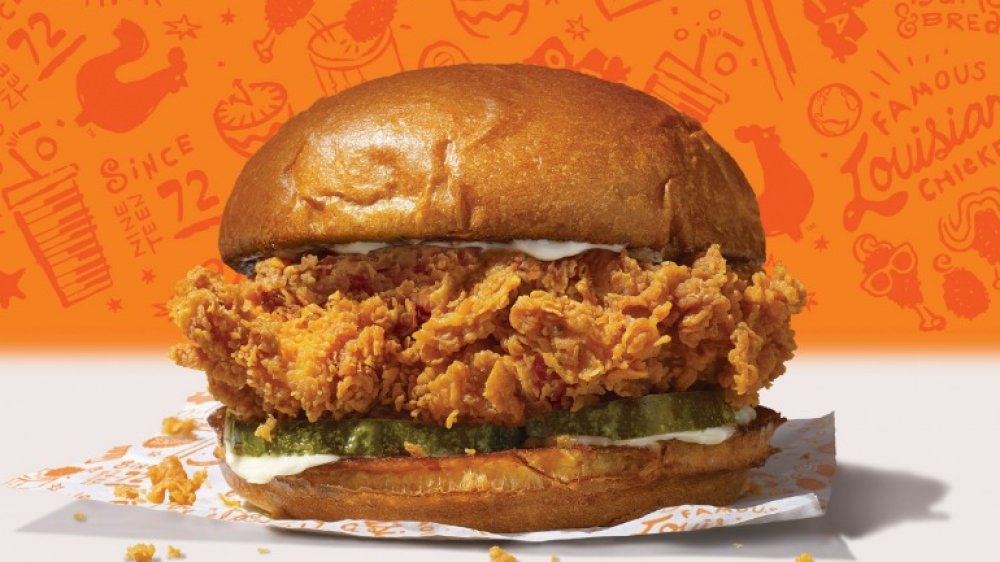 Popeyes
After weeks (and weeks) of asking when the Popeyes Chicken Sandwich is going to be back on the menu, the popular chicken restaurant has answered with good news — and even more good news.
Yep, the Popeyes Chicken Sandwich, which was released to much fanfare in August and almost as quickly sold completely out, is coming back this Sunday, November 3. And even better, this time they say that there will be enough chicken sandwiches for everyone and they will definitely not sell out, as these bad boys will be a permanent fixture on the menu from here to eternity. 
No, this isn't some silly marketing ploy, like the "bring your own bun" idea they tried in September, which instructed customers who were missing that delicious sandwich experience to literally bring in their own bun and assemble a chicken "sandwich" using three of their delightful, crispy chicken tenders. 
Popeyes is ready for you to grab a chicken sandwich
Nope, the real deal is coming back to Popeyes, as the company announced on Twitter with, as usual, a funny video. In it, a person drives up to one of those highway signs that directs weary travelers to nearby businesses, such as gas stations or restaurants. The Popeyes logo is right next to Chick-fil-A on this sign, which notes that it's closed on Sundays. Popeyes, of course, is open every day, and in this video, a person hops up to the sign to paste that fact directly on the sign itself — "Open Sundays," it now reads, in an obvious dig at that other restaurant's point of being closed on Sundays. 
It's probably no coincidence that they're relaunching the popular chicken sandwich on that day either — there will be zero direct competition from CFA that day, so all of the chicken sandwich freaks will be showing up to Popeyes in droves.  
If you've been waiting for six weeks to get a chance to try a Popeyes chicken sandwich (or try it again, if you were lucky enough to grab one the first time around), it's now your time to shine.