What Is A Starbucks Winnie The Pooh Frappuccino And How Do You Order It?
In these troubled times, what is something that can make us all feel better? How about a Bear of Very Little Brain? Pooh Bear is a little bit silly, but oh-so-sweet, and he spreads cheer and happiness wherever he goes. And you know what else is also silly, sweet, and fills us with joy? A Starbucks Frappuccino! So why not put these two things together?
This latest addition to Starbucks' ever-evolving secret menu was actually created by a Starbucks worker — despite the fact that many baristas loathe creating specialty drinks. This accommodating gentleman came up with the drink in response to a customer asking if there was such a thing as a Winnie the Pooh Frap. There wasn't, but now there is. And now not just that one customer, but everybody, can order one, because barista Ryan Gawlik, who goes by the TikTok username @Coffeefanatics, kindly posted a video explaining exactly how the drink is made.
What goes into a Winnie the Pooh Frappuccino?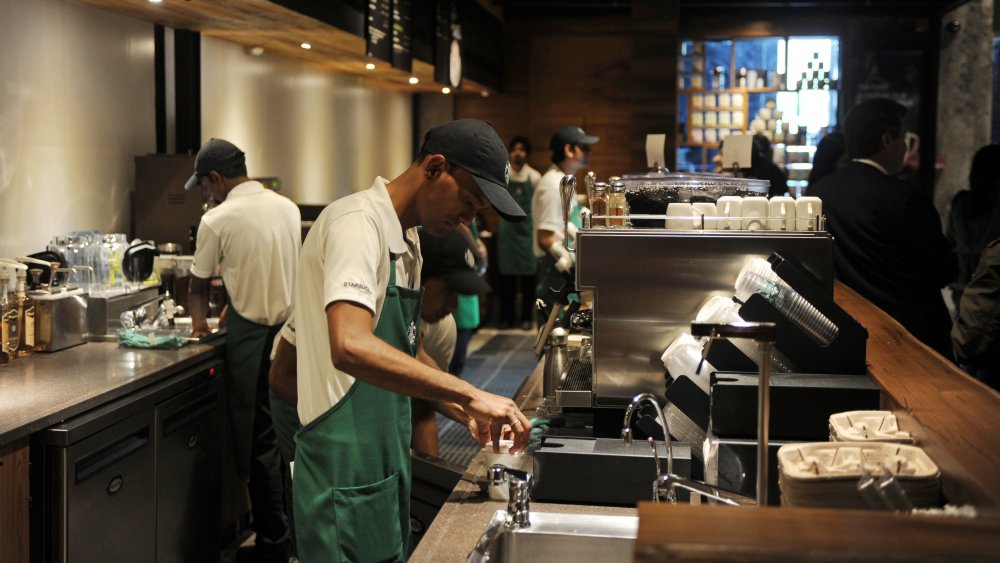 Sajjad Hussain/Getty Images
The base of this Pooh-themed drink is the Vanilla Bean Crème Frappuccino. Honey is then added in, of course, because, as Winnie himself said in The House at Pooh Corner, "Eating Honey [is] a very good thing to do." Along with the honey, Gawlik's creation also includes cinnamon dolce, cinnamon powder, and caramel, and there's an extra caramel drizzle that runs down the sides of the cup and over the top of the drink. The whole thing is topped with a generous amount of whipped cream, since why hold back now? According to Gawlik, the Pooh Bear Frap "tastes just like a graham cracker."
Gawlik adorned the drink cup with a cute little drawing of Pooh Bear's face — and, if that wasn't adorable enough, made what appeared to be a Mini Strawberry Frappuccino to accompany the drink, since "you can't have a Pooh Bear without a Piglet." Aww.
Can you still get a Winnie the Pooh Frappuccino when all the Starbucks are closed?
But wait, you may be asking, hasn't Starbucks gone to all delivery or drive-through for the duration of the coronavirus pandemic? Pretty much, but they'll still allow walk-in takeout ordering, in case you want to show your barista the phone so they can see the ingredient list for this Frap. It also looks like you can order all of the extras online or in-app, and you can even add a toasted honey topping for an extra hit of Pooh Bear's favorite flavor.
However you order your drink, though, please remember to tip your barista generously. Not only was it one of their own who came up with this yummy and cheery new secret menu item, but the barista who just prepared it for you is still on the job during this scary time when we all need to pull together and show a little kindness. Pooh Bear's seen — and seen us through — some tough times in the past, but as his old pal Eeyore said in Winnie the Pooh (the book, not the movie): "A little Consideration, a little Thought for Others, makes all the difference."