The New Chick-Fil-A Meal That Has Everyone Talking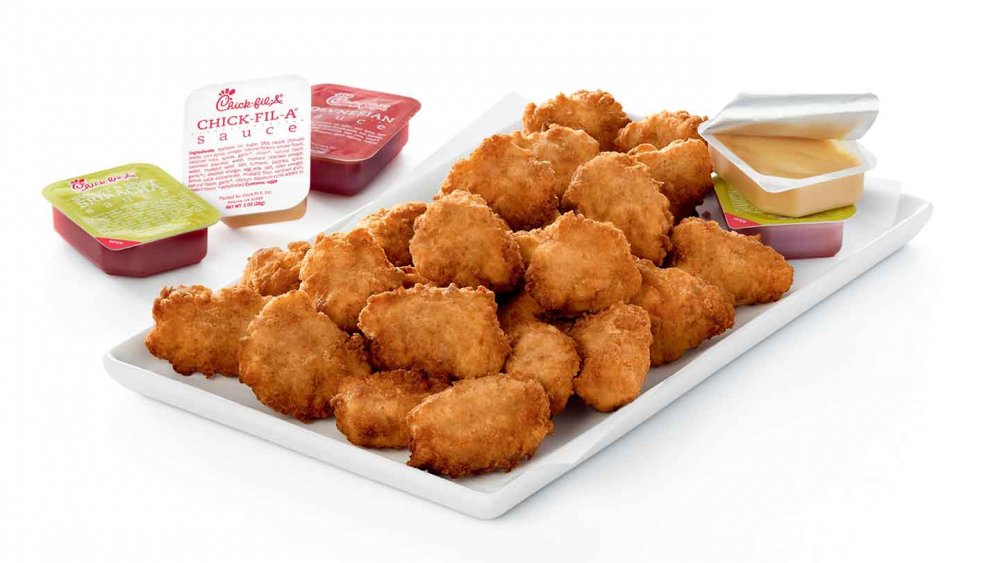 Chick-fil-A
Worried about what to make for dinner? Chick-fil-A has got you covered. Just saying the name of the chicken chain makes you think of their mouth-watering, crispy, juicy, fried chicken and those oversized crisscross fries. The coronavirus pandemic caused the restaurant to close its dining rooms to customers in mid-March in an effort to enforce social distancing and help prevent and slow the spread of the disease, leaving customers with only delivery and takeout options (via Fox News).
But Chick-fil-A is stepping up its game to get you to eat more chicken with their newest offering called Family Meals. Family Meals are bundles of menu items designed to feed a family of four. Families can mix and match from a variety of menu options, and hungry eaters have their choice of an entrée which includes 30-count Chick-fil-A nuggets, four Chick-fil-A chicken sandwiches, or four spicy chicken sandwiches. Side options include four medium waffle potato fries, four medium mac & cheeses, or four chocolate chunk cookies. And did we mention you also get a gallon of freshly brewed iced tea, sweetened or unsweetened (via Chick-fil-A)? 
How to order Chick-fil-A's new family meal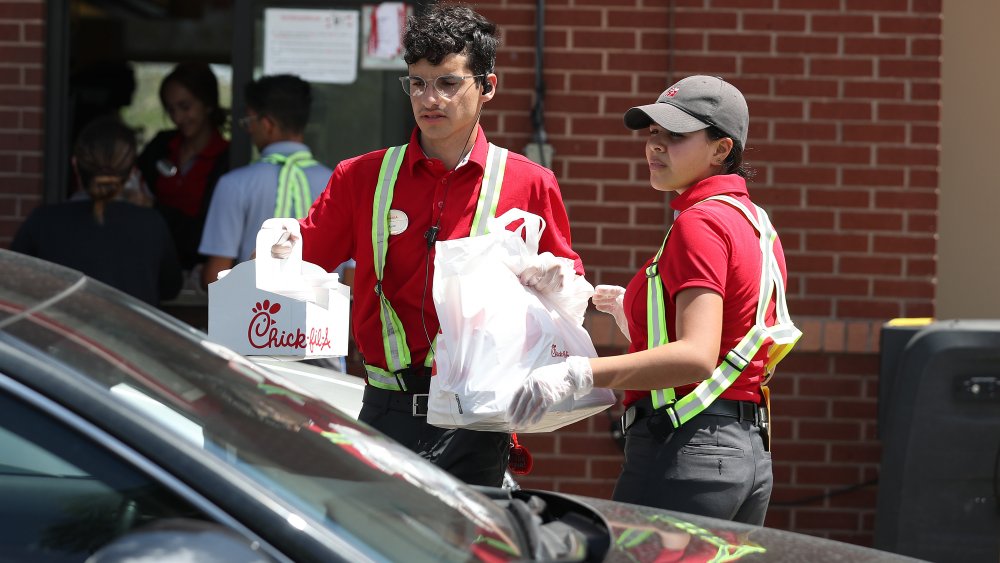 Joe Raedle/Getty Images
More than 800 Chick-fil-A restaurants across the U.S. are participating to provide these convenient meal options to families. Feeding more than four? You can easily increase the quantity to fit your group size. Additionally, Chick-fil-A has made it pretty simple for customers to customize their orders using their app and are providing plenty of options for getting it from their kitchen to yours. You can pick it up by way of the drive-thru, curbside pickup, or save the gas in your car and have it delivered to your doorstep via DoorDash, Grubhub, or UberEats (via Delish).
Worried about germs? Chick-fil-A also recently announced that in accordance with the Centers for Disease Control and Prevention's guidance that hand washing with soap and water is the most effective way to reduce the risk of infection of COVID-19, they will be installing outdoor hand washing stations at all drive-thru and curbside locations by April 11. Chick-fil-A employees who serve customers outside will be required to wash their hands a minimum of every 30 minutes and every time they interact with cash (via Fox News). So order up a meal for the family, and go ahead and air high fives all around for how great it tastes.