Why Buffets Might Not Survive The Pandemic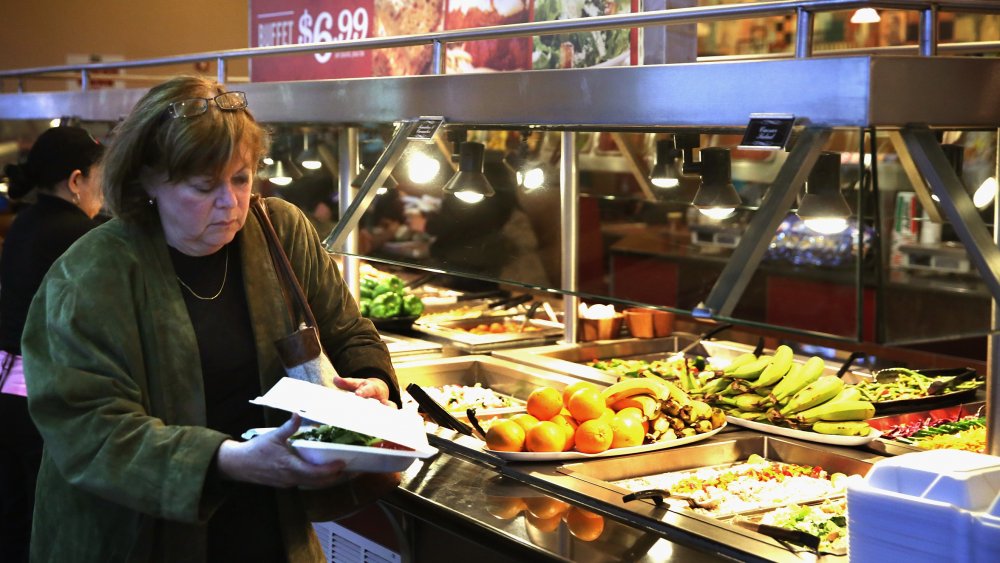 Alex Wong/Getty Images
Shelter-in-place orders and enforced business closures during the COVID-19 pandemic have hobbled the U.S. economy, with one of the biggest impacts hitting the restaurant industry. Only a handful of chains turned a profit during the first quarter of 2020, which is when most restaurants were reduced to takeout and delivery, or closed altogether (via Eat This, Not That!). While business has been okay for pizza delivery outlets and even McDonald's, the news has been especially grim for buffet-style restaurants. The permanent closure of all 97 Souplantation and Sweet Tomatoes eateries may just be the tip of the iceberg. People in the restaurant trade are wondering if there's any future at all left for buffets.
Restaurant dining rooms have already reopened in some states, but federal guidelines published by the Food and Drug Administration prohibit buffets and anything where customers might serve themselves, including drink stations. Buffet patrons touch the same utensils, and it is difficult to maintain the recommended six feet of social distance on a buffet line (via Restaurant Business).
75 percent of restaurants may not survive COVID-19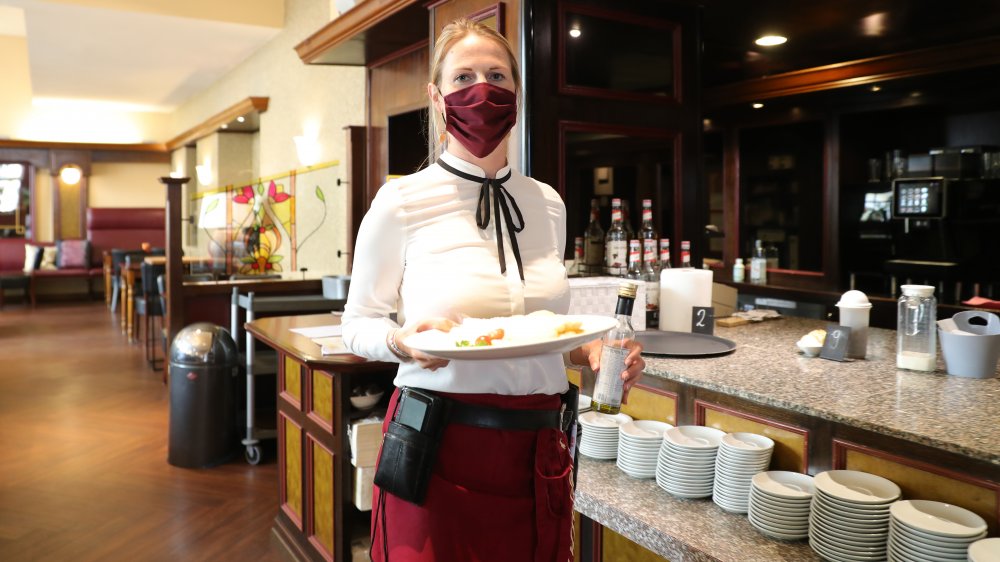 Andreas Rentz/Getty Images
Specialty buffets such as Pizza Inn have found some success by offering a takeout menu during the quarantine, but buffets with a wider range of food choices are finding the transition more difficult to pull off, according to Restaurant Business. Proprietors of some buffet restaurants in Florida are retraining their kitchen staff to cook smaller batches for takeout, and they may try to refashion their spaces into traditional restaurants in order to survive (via the Miami Herald).
No one can say for sure when buffets will be allowed to reopen. As Restaurant Business noted, the industry as a whole won't return to anything like normal until a vaccine is available for the virus that causes COVID-19. Buffet-style restaurants probably can't wait that long. For that matter, people in the industry believe that most independent restaurants won't survive the quarantine. TV personality and chef Tom Colicchio told The New York Times that he agrees with an often-cited 75 percent failure rate of independent restaurants due to COVID-19. "This is going to take a year," Colicchio told the Times. "The world just changed. The enormity of the problem here is so big people can't wrap their heads around it."