This Is Chrissy Teigen's Secret To A Perfect Tuna Melt
Chrissy Teigen is goals in so many ways. Sharing her life with us on Instagram, users are drawn to her unique combination of glamour and humility. Equally at home on the red carpet, as she is sharing a photo in her postpartum mesh undies, one consistency across her online presence is Teigen's love of food and home cooking. As part of that love, her Cravings cookbook has become a staple in many households. Says Instagram fan Nora "When you can't have people over for dinner because of quarantine, make @cravingsbychrissyteigen Mac and cheese and hang out with @chrissyteigen instead." Adds another fan, "TG for this cookbook @cravingsbychrissyteigen. Don't think I'd survive another night of cooking for myself without it. Pass me the wine," (via Instagram). 
While Teigen's recipes provide quite a large variety, from eggs to banana bread, the idea is that all of the food is centered around a theme, as the title says, Cravings: Recipes for All the Food You Want to Eat. And when it comes to the food we want to eat, her tuna melt tops the list.
Chrissy Tiegen knows her tuna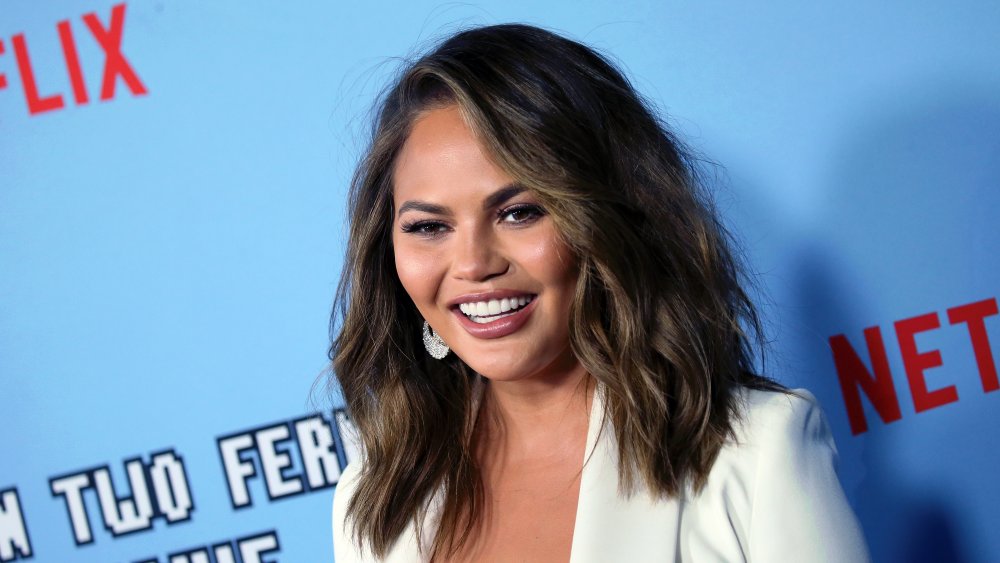 David Livingston/Getty Images
As quoted from her Cravings cookbook in Self, Teigen has a specific take on this homemade classic. "I butter the bread to within an inch of its life and then fry the whole thing in a skillet until the cheddar melts into a cheesy river and the bread is basically a giant buttery cracker," says the cook and author. Alongside butter, cheese, and bread are ingredients including white tuna, mayo, finely diced onion, sweet pickle relish, Dijon mustard, and vine-ripened tomatoes. 
The preparation for this savory comfort food is similar to a grilled cheese. Toss the bread butter side down in your heated pan, add fillings, and then flip until melty on the inside and crispy on the outside. Yum!
Meanwhile, Teigen's love of cooking is inspired by her Thai mother, while her simple preparation techniques are driven from an understanding that there's more than one way to do things, and it's easy to make mistakes. Before creating her signature cookbook she studied different recipes extensively. "I wanted to know every mistake before I made it," says the influencer (via Self).
If taste is proof, then Teigen's recipes are surely a success.