The Real Reason Necco Wafers Disappeared For 2 Years
Did you miss Necco Wafers? The classic disks, invented in 1847, had the longest production run of any candy in America until Necco's Massachusetts factory was closed in July 2018 (via New England Today). Necco's previous owner had declared bankruptcy just two months prior, but the new owner, Round Hill Investments, was known for saving popular but troubled brands such as Pabst Blue Ribbon and Chef Boyardee. But Necco Wafers would not be another Round Hill success story. The investment firm cited sanitation problems in closing the Necco factory, according to New England Today.
Necco fans tried to stockpile the candy earlier in 2018 as rumors of its demise spread, but they were probably in it more for the nostalgia than the taste (via CBC). The wafer frequently topped "worst Halloween candy" lists, a dubious distinction it shared with the circus peanut. BuzzFeed even said it was OK to "TP" the houses of people who handed out Necco Wafers at Halloween. "Cops won't stop you," BuzzFeed promised. 
The wax-paper rolls of wafers contained eight flavors: lemon, lime, orange, clove, cinnamon, wintergreen, licorice, and chocolate. But haters describing the candy's flavor tended to use words like "chalk" (via Reddit) or "drywall."
Necco Wafers return to store shelves soon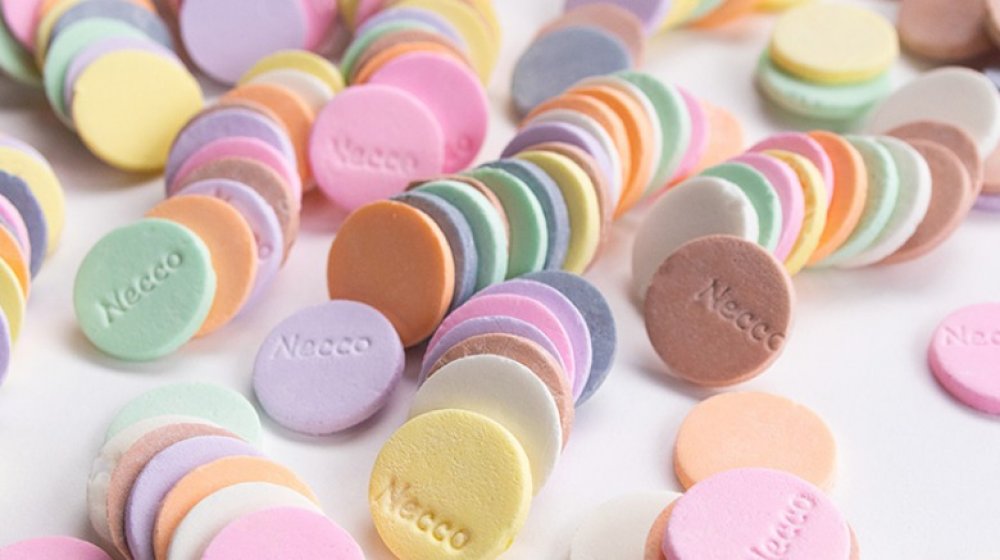 Spangler Candy
If you did miss Necco Wafers, you'll be happy to hear that the candy is making a comeback. Spangler Candy Company bought the Necco brand and a few others held by the previous owner, and the wafers should hit drugstore shelves any day now (via Today). Spangler already revived the similarly hard and chalky Sweethearts Conversation Hearts in time for Valentine's Day this year.
When announcing the return of Necco Wafers, Spangler's CEO made an indirect reference the COVID-19 lockdown, going so far as to say Necco Wafers belonged in the "comfort food" category. "Necco Wafers is back with that very kind of familiar, comfortable feeling we all seem to be craving," CEO Kirk Vashaw said (via KMBC).
Not all are comforted by news of Necco's return. "Just when I thought I couldn't handle any more bad news today, I find out Necco Wafers are back," @zacharyhuber tweeted on May 28. 
Can Spangler succeed where its predecessors have failed, and help Necco Wafers endure another century — or more? On the upside, the candy was persistently popular. Despite its former maker's financial troubles, candy consumers were buying 4 billion wafers a year before production ceased.