The Game-Changing Bacon Recipe You're Not Making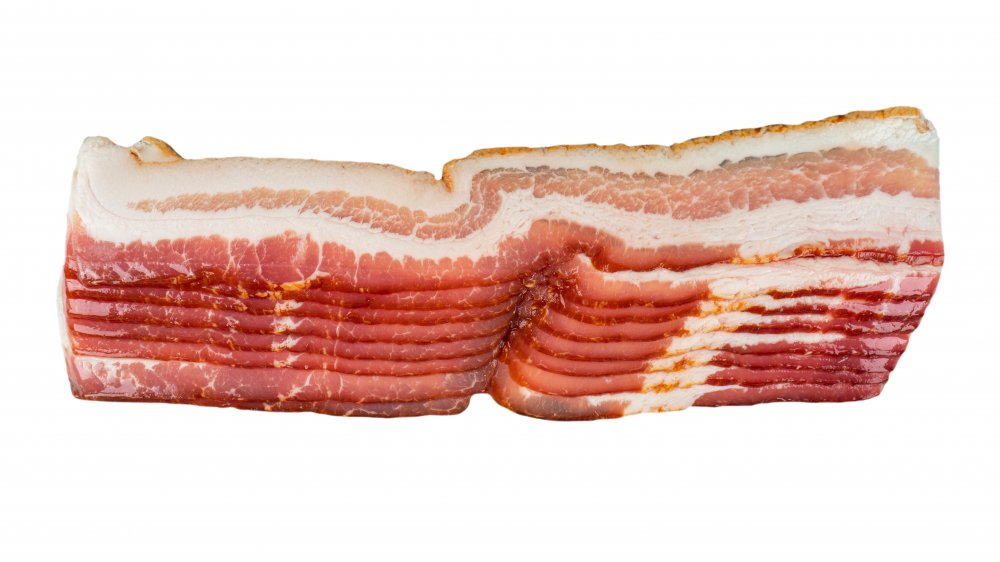 Shutterstock
Bacon, the food delicious enough to survive becoming a fad. While it did get a bit embarrassingly overplayed as the anti-superfood of the twenty-teens, one thing we all learned is that bacon really is a food for all meals: breakfast, lunch, and dessert. And also cocktails.
If bacon does have one flaw (besides the fact that it's maybe not the most nutritious foodstuff known to humankind), it may be that it's kind of insubstantial and tends to be more of an accent than a main dish. Well, this new way to cook bacon is about to change all that. If you want to know how to beef up your bacon, it turns out the secret lies in giving it the old chicken-fried steak treatment. Yes, this recipe for chicken-fried bacon will make your mouth rejoice — though it might not be so kind to your cholesterol levels, so it's only a special occasion indulgence and not meant to replace those kale smoothies and egg-white omelets on your regular breakfast roster.
How to make chicken-fried bacon
According to Delish, you're going to want to start with thick-cut bacon, since this will hold up better to the coating. For 12 slices of bacon, make an egg wash of 2 eggs beaten with 1/3 cup of milk, then season 1 cup of flour with a generous sprinkle of black pepper. Dip each slice of bacon first into the peppered flour, then the egg mixture, then once more into the flour.
Fill a large skillet with about one inch of vegetable oil, then heat it until you can drop in a pinch of flour and the flour gets all bubbly. Add the bacon strips a few at a time (over-crowding the pan is never a good idea), and fry them for about two minutes on each side or until they're a nice golden brown. As each strip finishes frying, remove it from the pan to drain on a dish lined with paper towels to absorb any excess grease. Once the bacon is slightly cooled, you may serve it as is, although Delish also suggests a side of gravy for dipping. Miss in the Kitchen uses it to make what can only be described as the most drool-worthy BLT known to man, or you could maybe even puree some bananas and peanut butter and go Full Elvis. Dress it up or eat it plain, chicken-fried bacon is bound to be amazing either way.