The Irish Potato Dish You Should Have For Dinner ASAP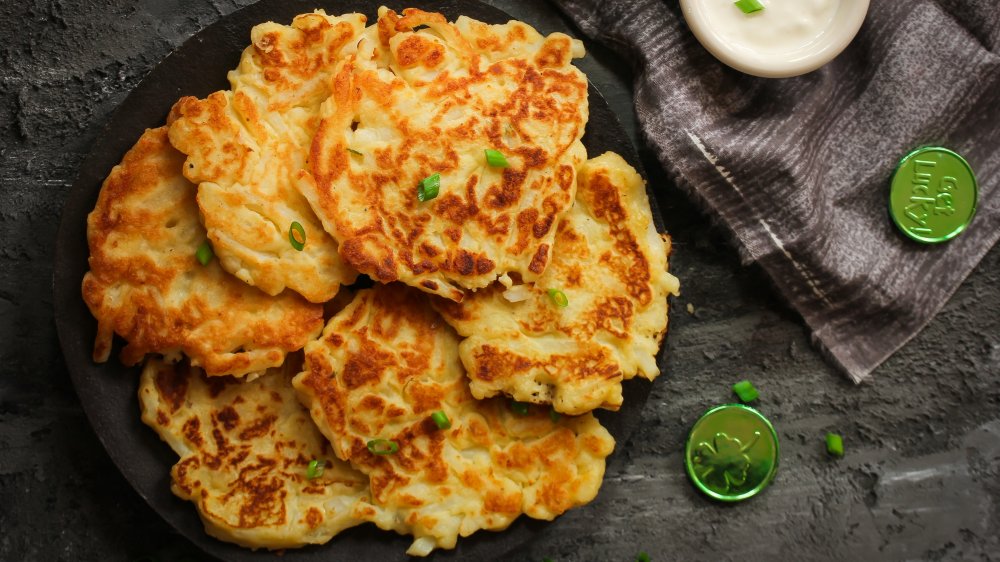 Shutterstock
In 1844, the average Irish adult normally ate about 13 pounds of potatoes in a single day (via Slate). That comes out to roughly 65 potatoes every 24 hours. All of that's to say, trust the Irish to have come up with what are hands down the best potato dishes around. You try it. If you've got to stomach 65 potatoes every day, creativity will keep you from going insane. 
There's no question about it. The Irish excel at potato-related innovation. Mashed potatoes, roast potatoes, french fries, potato gratin, potato coddles, and colcannon (a hearty, starchy, mixture of potatoes and cabbage) are all firmly in the Irish' wheelhouse (via the Spruce Eats). There's one dish, however, that stands above the rest. It's believed that around the time of the Irish Famine (Via Irish Central), people used to go mad for a sort of pancake hybrid called boxty — a mix of mashed and grated potatoes bound with eggs and dairy (via Chowhound). 
"Boxty in the griddle, boxty in the pan, if you can't make boxty, you'll never get a man," goes an old folk rhyme. Sexist? Sure. Then again, we can't think of a more convincing reason to make this pancake-hashbrown hybrid than the promise of romance. And even if you're all romanced-out, what sane person can say no to potatoes fried in butter? To make some, you'll need equal parts grated potatoes and mashed potatoes, flour, baking powder, salt, eggs, milk, and butter or oil. We're off to the races!
How to make boxty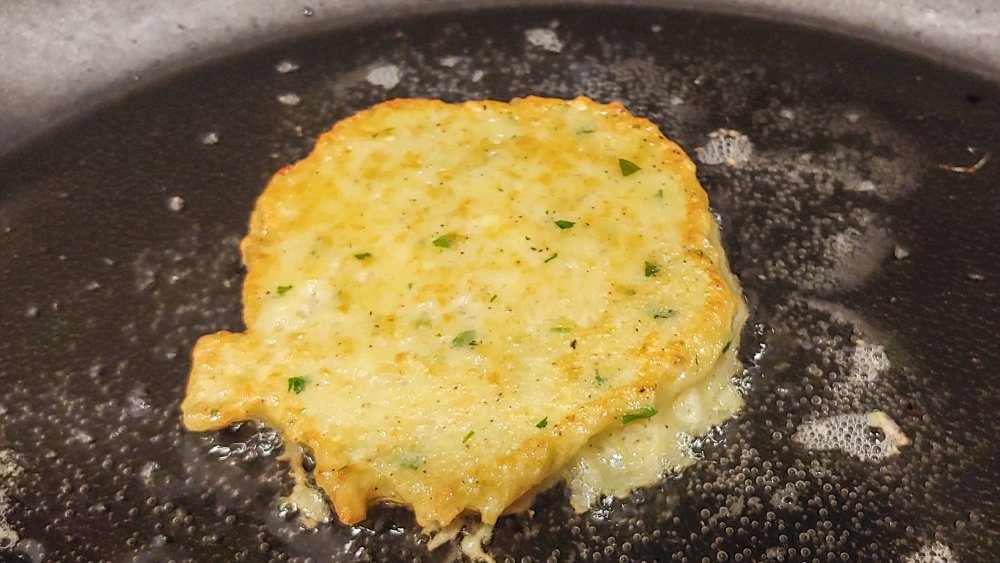 Shutterstock
Darina Allen, author of Irish Traditional Cooking, doesn't peel the potatoes that she grates (via The Guardian). Unpeeled potatoes will add flavor to your pancakes, says Guardian contributor Felicity Cloake. What kind of potatoes should you use? Floury potatoes, which are also referred to as mealy, work best. If the recipe you follow calls for additional fat, margarine or butter will do. You might, of course, want to consider using buttermilk to achieve blissful levels of rich, tanginess. Or, do it the Tallahassee way, and add a bit of mayonnaise (via Tallahassee Democrat). The more flour you add, the more bready your pancake becomes. Feel free to experiment.
Here are the basic steps. Grate your potatoes. You'll want them as moisture-free as possible. To do so, toss them in salt. Then, Irish Central suggests you twist them in a cloth to wring out excess moisture (just as you would if you were making latkes or hash browns). 
Mix all your ingredients together into a thick batter. If you're cutting down on fried food, bake your boxty, like food writer, Elisabeth Luard, does. Otherwise, cook them generously with butter or oil in a hot pan. You'll want to cook your patty for about four minutes on each side. The goal, here, is to get them golden brown. The more patience you have when cooking your boxty, the more likely it'll come out crispy on the outside and soft on the inside. Cook it too fast, and you risk eating boxty with raw insides.
What can you eat with boxty?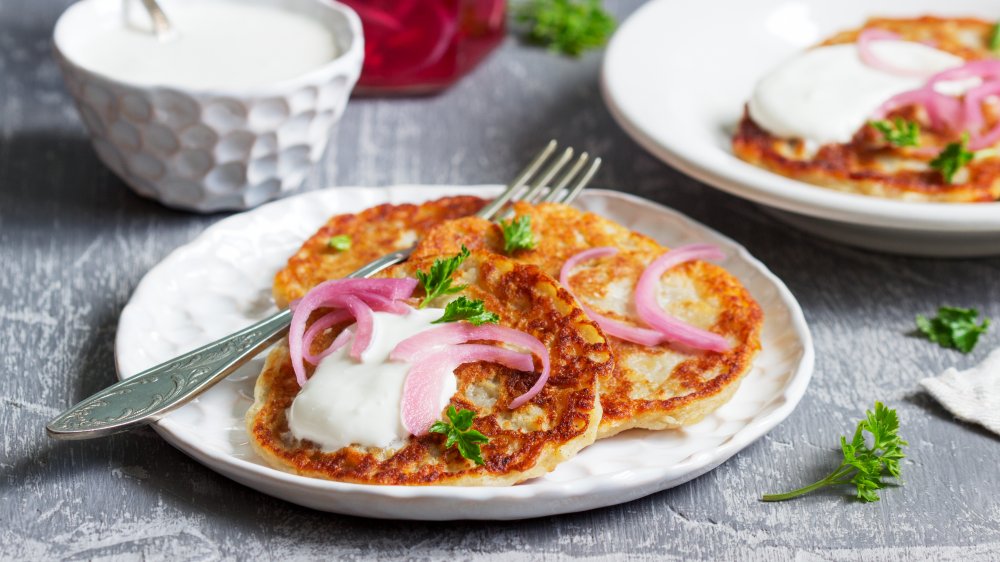 Shutterstock
Our biggest piece of advice? Don't hold yourself back. In Ireland, boxty is so big that there are entire restaurants dedicated to it (via Irish Central). There are annual festivals celebrating it filled with exhibitions, talks, tastings, music, dance, and boxty (via Lovin IE). There are boxty-making competitions to earn the title of "best boxy maker" (via The Times).  Indulge yourself. Try boxty for breakfast, lunch, and dinner, like the Irish in the 1800s consuming 13 pounds of potatoes a day undoubtedly did. And then, just for kicks, eat some for dessert, too. 
For breakfast, pair your boxty with bacon and poached eggs, or bacon and melted cheese, or with butter, smoked salmon and creme fresh (via The Telegraph). For lunch, maybe try eating it with some sausage, or topped with chili, or Irish beef and Guinness stew, or hearty chicken noodle soup (via Delishably). For dinner? Try a corned beef, cheddar, and potato boxty with sauteed cabbage and creamy mustard sauce (via Star Tribune). Or, you know, eat it with steak (via 7 News Miami).  
For dessert, you'll want your boxty on the sweeter side, of course. In that case, try cooking them up with dried fruits, sprinkling them with sugar, and serving them alongside a good, rich custard (via The Guardian). Or, if you prefer, cook them up with sweet potatoes in lieu of regular potatoes, and serve them with a bit of honey and creme fraiche (via Town Crier). 
Boxty is just the baseline. Your imagination is the limit.