The Famous Chef That Wants To Create The Next Chick-Fil-A
The perfect chicken sandwich is a thing of beauty. Hot, juicy chicken breast coated in crispy breading on a soft and toasty bun. So good that Chick-fil-A made a restaurant empire based on this simple formula. In addition to the big chicken chains like Chick-fil-A, KFC, and Popeye's, a number of well-known independent chefs have tried their hands at creating a killer chicken sandwich. Danny Meyer's burger chain, Shake Shack, has both traditional and spicy chicken sandwiches on its menu and Michael Solomonov's Federal Donuts in Philadelphia offers a sandwich of chicken fried in a buttermilk ranch breading and topped with American cheese.
But one chef, David Chang, seems determined to give reigning chicken sandwich champ, Chick-fil-A, a run for its money with a chicken chain of his own: Fuku. Chang is already famous for his Momofuku restaurants and his Netflix show, Ugly Delicious. At the 2015 SXSW music festival, he announced the launch of his new NYC chicken sandwich concept and hinted at bigger things to come, telling the crowd, "We're going to try to make the best fried chicken sandwich possible, and work with [the] smartest people out there to make the best tech stuff for it" (via Eater). He also hinted that Fuku would be a "bigger concept" that would reach the suburbs.

A different approach to the chicken sandwich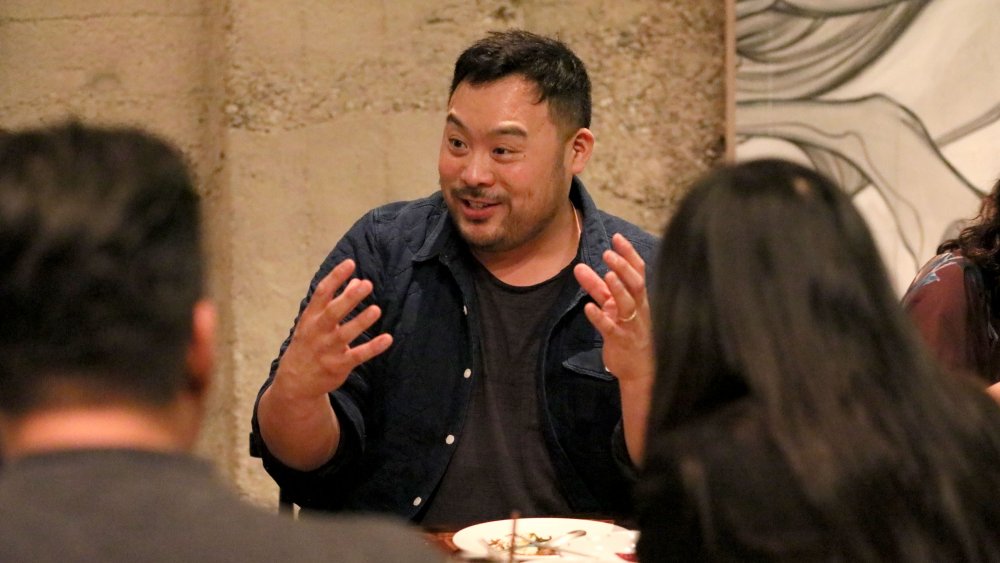 Rachel Murray/Getty Images
Fuku's approach to the chicken sandwich is unique. Rather than using the breast, Chang uses thighs that are brined and marinated in habanero puree. The thighs are dunked in buttermilk, dredged in spicy flour, fried, and served on a potato roll with housemade pickles and Fuku butter, which is a mixture of pureed pickles, butter, and garlic (via Food Network). Currently, the locations include four Fukus in NYC as well as restaurants in Boston, and Los Angeles. Fuku sandwiches have also been offered in a handful of sports arenas in different cities. The restaurant's chicken sandwiches even popped up at Coachella (via Eater).
Fuku opened a Miami delivery-only business in the spring of 2020, utilizing a ghost kitchen and fulfilling orders through Uber Eats, DoorDash, and Postmates (via Miami New Times), and a similar launch was attempted in Portland as well (via The Oregonian). Unfortunately for Portland chicken lovers, there was a backlash from local restaurateurs and citizens, citing recent layoffs and lost business due to the Covid-19 pandemic, and the Fuku team backed out (via The Oregonian).
But was the Portland cancellation a pause or full stop for Fuku? It seems temporary, given the recent and determined words of Chang himself. In September 2020 he told NPR, "The idea of it was born out of Chick-fil-A and the fact that I don't agree with the politics at all. And I was like, we can do it better."