The Secret Menu Items You Need To Try At Torchy's Tacos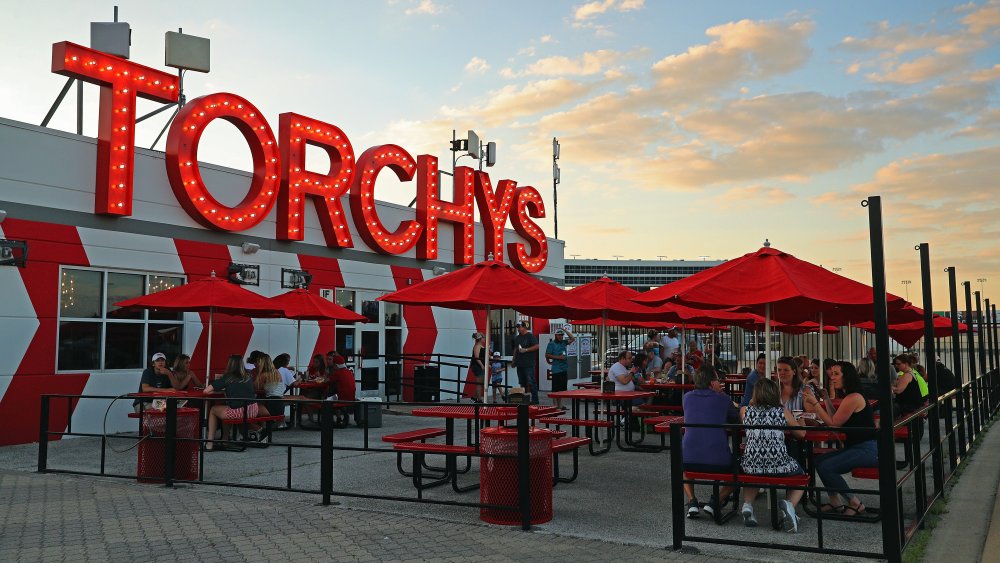 Richard Rodriguez/Getty Images
When it comes to chain dining, there are those that are content to order off of the regular menu and those who fancy themselves fast food sleuths. These intrepid restaurant detectives have uncovered everything from the outrageous double grilled cheeseburger at Five Guys to stoner burritos at Del Taco to the aptly named purple drink at Starbucks. Secret menu items tend to be highs that elevate the fast food eating experience or lows that fall exceptionally flat (looking at you, MacDonald's Land, Sea, and Air Burger), but regardless of how they perform, they're never boring.
Fans of Austin-based taco specialists Torchy's Tacos have been singing the praises of the chain's green chile-filled queso and Tex-Mex tacos for more than a decade (via Food and Wine). While purists might be happier sticking to more traditional tacos like the regional chain's carnitas and shrimp offerings, Torchy's highlights tend to skew a bit more creative. The regular menu is packed with out-of-the-box tacos filled with everything from Jamaican jerk chicken to fried avocado, all piled high with bespoke garnishes. And the secret menu? Well, that's where things get really wild.
Torchy's regular menu is a lot to handle, but their not-so-secret menu takes things to the next level
For those who prefer their tacos topped simply with chopped onion and cilantro, Torchy's regular menu is a lot to handle, but the secret menu takes things to the next level with overstuffed tortillas filled with a laundry list of ingredients and some memorable names to boot. The secret of Torchy's classified menu is that it is really not a secret at all! A quick Google of "Torchy's secret menu" will take you straight to a page on the company's website where you'll find four "secret menu" offerings hiding in plain sight. Let's start with the not-so-secret secret menu items.
First up is the Matador, a hearty combo of chopped brisket with jalapeños, pickled onions, jack cheese, avocado, sour cream, cilantro, and tomatillo sauce, all piled high on a double shell of a corn and flour tortilla.
Their Green Chile Pork Missionary Style offering is another double tortilla taco. This one comes with green chile carnitas, pickled onions, guac, jack cheese, cilantro, and a chipotle sauce.
The Trailer Park Hillbilly Style taco mixes three meats — fried chicken, bacon, and chorizo — with Torchy's signature green chile queso, pico de gallo, cheddar jack cheese, even more green chiles, and poblano sauce, all atop a flour tortilla.
The last item on the advertised secret menu is the Naughty Santa, a flour tortilla filled with grilled shrimp, chorizo, pickled onions, avocado, cilantro, jack cheese, and poblano sauce.
Four additional menu items are available to those who know how to ask
Overstuffed tacos like those featured in both the regular menu and the "secret menu" were enough to keep Torchy's loyalists full for a while, but that's not the end of the chain's elusive offerings. According to Austin.com, there are four additional items on a second, actually secret "secret menu" at Torchy's available to those who know what to ask for.
Fans of Torchy's a.m. offerings will be thrilled to find out that this menu features two breakfast tacos. The Jack of Clubs brings together potatoes, black beans, crispy tortilla strips, cilantro, cheese, sour cream, and diablo sauce, all topped with a fried egg and served on a flour tortilla. For those who like things a little meatier in morning, the Ace of Spades heats things up with one fried egg alongside jalapeño sausage, grilled brisket, green chile queso, cotija cheese, cilantro, sour cream, and diablo sauce wrapped in a flour tortilla.
After breakfast, in the know customers can order the Mad Cow, which features fajita beef stuffed in a flour tortilla and topped with grilled corn, black beans, creamy chipotle, jack cheese, and cilantro.
Last, but certainly not least, is the Hipster, a likely nod to Austin's Keep it Weird culture. This flour tortilla taco comes with panko fried tuna garnished with cilantro, green chiles, bacon, cotija cheese, avocado sauce, and black bean relish, plus a wedge of lime.
With a secret menu like that, there's a good reason why Torchy's earned a rightful place on our very own list of regional chains that we wish were everywhere.