Regional Fast Food Restaurants We Wish Were Everywhere
One of the highlights of any U.S. road trip is getting to hit up rest stops and fast-food joints along the way. You never know what culinary delights you'll discover when pulling off the highway to fill up at the gas station, or check out a quirky roadside attraction. Maybe it's a burger from a colorful drive-thru that reminds you of something from the 1950s. Or maybe it's an icy, fruity treat to beat the heat on a hot summer day. These grab-and-go food stops are built in and around their core communities, founded by people who wanted to change the way we eat, and staffed by locals who know their hometown wouldn't be the same without them.
Regional fast food restaurants make traveling in the U.S. worthwhile (and delicious). But chances are, those flavors can only be found in certain parts of the country — which totally is not fair, especially when some foodie favorites only have a handful of locations on offer. Here are a few of the most uniquely regional fast food restaurants we wish were available in every state.
Friendly's
What began as a simple ice cream parlor has become one of the Northeast's favorite family dining establishments. The Blake Brothers opened Friendly's (called, "Friendly" at the time) during the Great Depression, when they were barely older than 20 years old. The restaurant went on to be so popular, they were able to expand within Massachusetts and beyond, and offer a dinner menu (starting off with an interesting take on the classic hamburger) to compliment their ice cream bar.
Today, you'll find Friendly's on the east coast, mostly concentrated in New England and New York (a few also exist in Florida and South Carolina). Menu items can be as inexpensive as $5.55, which, according to MassLive, has been a source of pride for the company from the time when a double-dip cone cost 5 cents. While their SuperMelts and Bottomless Pancakes remain a hit, the real magic comes from their ice cream selection, including the Jim Dandy Sundae, the Cone Head Sundae, and the Wattamelon Sherbet Roll, which is only available in the summer.
Torchy's Tacos
Travel to Texas and the craving for queso hits hard. Torchy's Tacos provides that relief, with 11 locations in Texas, and a few in Oklahoma and Colorado. Their green chile queso is such a fan favorite that it was specially selected to be sold at the 2018 NFL Draft Experience, according to the Star-Telegram. But could you really expect anything less from a place whose slogan is, "Damn Good Tacos"?
What started out as a food truck in San Antonio has become a beloved staple for Texans and those visiting the state. Their menu includes a variety of taco choices (including breakfast tacos), but the chip and dip options are what make hungry customers come back for more. Even the staff at Visit Austin break the rules: "The green chili queso and homemade chips at Torchy's are so good that I sometimes skip the tacos completely and just order the queso and chips." Luckily, you can grab some queso-y goodness on a flight out of Austin; a location opened at the Austin-Bergstrom airport in 2017, according to the Austin Business Journal.
Runza
Not quite a Hot Pocket, not quite a Philly-style cheesesteak — the runza sandwich is entirely a meal of its own design. The dish itself dates back to 18th century Russia, and was carried to America by Volga German immigrants, according to The Chicago Tribune. The first Runza shop opened in 1949 and is still family owned-and-run today. But you'll have to visit Nebraska, Colorado, Iowa or Kansas to try one.
So what is a runza exactly? Spiced ground beef is combined with minced cabbage and onion, then baked into a loaf of bread. It's the perfect grab-and-go meal option. The Runza website lists a variety of runza combinations, including a cheeseburger and southwestern-inspired version. Regular burgers, chicken sandwiches, and crinkle-cut fries are also available. The restaurant is so beloved by customers that some even choose it as a post-wedding-pit-stop. Runza aims to maintain that local vibe by keeping operations small and local, so nationwide expansion plans are not totally in the works. It gives you a good excuse to visit Nebraska though, right?
Ted's Hot Dogs
Nathan's is usually what comes to mind when it comes to New York and hot dogs, but Upstate New York has a sausage stand all their own. Ted's Hot Dogs dates back to 1927, when Greek immigrant Theodore Spiro Liaros bought a shack next to Buffalo's Peace Bridge. According to the company's website, he first sold a combo of a hot dog and a drink for 22 cents. His sausage shack didn't even have a cash register; his staff used cigar boxes to store the cash.
Today, Ted's runs nine successful restaurants with a menu that includes burgers, sandwiches, onion rings and a Homemade Teddy Bar (a delicious treat consisting of ice cream, fudge and peanuts). Customer favorites include hot dogs with bacon and cheese, chili dog footlongs, and signature dipping sauces to make your dogs even more salivating. Can't swing up to Buffalo? A single location exists in Tempe, Arizona, for a Western take on a New York hot dog gem.
Taco Cabana
Decked out in neon colors and giving off a retro feel, this Mexican-inspired chain found only in Texas makes for an Instagrammer's dream. Taco Cabana's tacos, burritos, quesadillas and flautas consistently rank high in customer ratings, according to Market Force Information's annual consumer study of America's favorite quick-service restaurants. But would you really expect less from a place that offers $3 margaritas, in an effort to combat the Monday blues?
The electric vibe may partially be inspired by the night clubs co-owner Felix Stehling used to own, before he opened the "patio style" taco stand in 1978. But really what makes this place leagues better than other fast food taco places, is the quality products and the care that goes into each menu item. Taco Cabana has a research team that travels to Mexico in search of the freshest flavors, and to figure out how they can bring the tastes of the country back to the U.S. In an article for the Houston Chronicle, Corporate Chef Walter "Smokey" Waters states, "When [the research and development] team heads down to Mexico, we often find that the most progressive areas in terms of food are on the outskirts of places like Mexico City ... [Chefs] need to learn in the field as well."
Pal's Sudden Service
Driving by this drive-thru, you may think you're on the way to Pee Wee's Playhouse, but it's likely just a Pal's Sudden Service. The architecture of each location makes it known what's on the menu: huge burgers, hot dogs piled high with toppings, shakes, sodas, and thin-cut fries. According to a profile on the Junior Achievement of Tri-Cities TN/VA website, Pal's founder, Fred "Pal" Barger, opened his first location in Kingsport, Tennessee in 1956, influenced by what Ray Kroc was doing with his own fast food restaurant, McDonald's.
You'll have to visit Tennessee or Southwestern Virginia (on the Tennessee border) to try some, but don't let the distance deter you — their website touts Pal's as being "the first restaurant chain in the country to earn the Malcolm Baldrige National Quality Award," which is definitely a big deal. Pal's is so serious about customer service, efficiency, and providing a nice place for people to work, that it's developed its own intense training system for Pal's employees. A 2005 case study from Chain Leader noted that "a Web-based system tracks employee progress, while timed and pop quizzes, observations and constant measurement keep tabs on performance." This dedication to professional development has resulted in a low-turnover rate, which keeps Pal's customers happy too.
Eegee's
Eegee's (written 'eegee's') has been an iconic southern Arizona fast food joint since 1971, when it's founders first sold frozen lemonades from trailers parked outside of local sporting events. It's now the state's go-to chain for frozen fruit drinks and grinder sandwiches. In a city like Tuscon, where the average high temperature is 83.7 degrees Fahrenheit, it's good to know an icy eegee is always close at hand.
The rest of the world however, will have to travel to Phoenix or Tuscon in order to try eegee's Flavor of the Month. Past flavors include prickly pear, lime, and blue raspberry, which join the ranks with original standards lemon, strawberry, and piña colada. Can't decide which flavor to sip on? eegee's even offers a half and half option. The company prides itself on serving customers, and helping their neighborhoods in progressive, sustainable ways. The restaurant even went as far as to release their watermelon eegee drink ahead of its normal schedule, in an effort to combat unusually high temperatures in 2017. If that's not an act of generosity, what is?
Shake Shack
Newbie on the fast-food block (its origins date back to 2001, when it was a simple hot dog cart), Shake Shack is swiftly becoming the home of America's most coveted greasy burger. Shake Shack has grown out from an improvement plan proposed by the Madison Square Park Conservancy Effort, and into an iconic eatery that's never without a line outside the door. Locations are highly concentrated in the New York metro area, and while a new Shake Shack has sprung up in almost every major city in America (and some pretty big cities around the world), it's still not as widely distributed across the map as its competitors.  
But this is definitely a fast food restaurant worth traveling for. According to its website, its burgers are 100% all-natural Angus beef and free of hormones and antibiotics. The chain also specializes in frozen custard, flat-top hot dogs, and it even has a special menu for dogs dining with their owners. If you're bummed there's not a Shake Shack near you, no worries: according to an article on CNBC, "By the end of 2018, Shake Shack is slated to open 32 to 35 domestic company-operated locations, with about 20% of the new "shacks" expected to open in new markets." That's definitely something to line up for.
Burger Time
If you're in North Dakota, you'll likely pass the red awning drive-thru known as Burger Time. Since 1987, this fast food restaurant has made its focus simple: burgers — and big ones —because why mess with anything else? Menu items are inexpensive — for $3.50, customers can get a 1/3 pound burger, large fries and drink. That's a real deal, and it shows. Sam Black, staff writer at the Minneappolis/St. Paul Business Journal, reported that their "Bigger Burger" combo accounts for 80% of their sales.
There's an advantage to not expanding far beyond the state (Burger Time has only four other stores outside of North Dakota, three in Minnesota, and one in Indiana. Another location is set to open in St. Louis, Missouri): supply and demand. Burger Time is the answer to a void other fast food restaurants have yet to fill in North Dakota. In an article for The Bismarck Tribune, General manager Sean Marconi notes, "There is such a scarcity of food up there," Marconi said. "Everywhere you do go up there is slammed." When it's too cold to do anything else in North Dakota, it's good to know it's always Burger Time.
In-N-Out Burger
Is there such a thing as the perfect California burger? In-N-Out Burger seems to think so. The chain has been immortalized in pop culture, especially with the celebrity set, and its cult following spans around the world, according to Smithsonian. But what is it about this West Coast burger joint that makes it so good? In an article for USA TODAY, Larry Olmstead stated that, "Freshness is a big part of their fans' passion, and the chain makes it a point to emphasize that its stores have no microwaves, heat lamps or freezer. Every burger is cooked to order, one at a time." The fresh ingredients for their burgers, fries, shakes and more certainly pay off: the restaurant's revenue is estimated to be about $870 million, according to Forbes.
The humble beginnings of In-N-Out Burger began in 1948, when Harry and Esther Snyder opened their first location in Baldwin Park, California. According to the company's website, Harry would visit the meat markets every day before the restaurant opened, in search of the freshest ingredients. Today, hungry travelers can find a Double-Double (with "spread," In-N-Out's secret sauce) in California, Arizona, Nevada, Utah, Texas, and Oregon. An article in the SF Gate explains states that there are no plans for expansion on the East Coast, which is a major bummer for the rabid fanbase, but if you're going to travel for food, at least In-N-Out Burger has your back.
Waffle House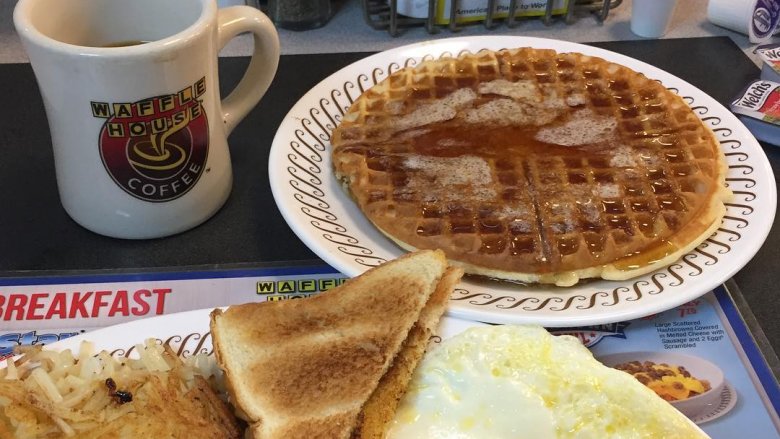 Instagram
It's nearly impossible to drive through the south or midwest without hitting a Waffle House along the way. It's not quite a diner, but not quite a typical burger restaurant. It's just familiar food, at a decent price, and readily available — if you're in the right area, of course. According to the company's website, Waffle House opened on Labor Day, 1955, in a suburb of Atlanta. The restaurant is open 24 hours, seven days a week, 365 days a year, serving up waffles, hashbrowns, eggs, coffee and more, and while it's sometimes the butt of jokes, it hasn't stopped the company from opening over 2,100 locations in the U.S. 
The menu is a bit of its own language, especially the hashbrowns, which you can order "smothered" (with onions), "covered" (with cheese), "chunked" (with ham), and more. Ordering at a Waffle House can be complicated, but the friendly staff are happy to explain. And customer service is one of the many reasons people come back for more. "I've been frequenting Waffle Houses for decades, at all hours of the day and night, and I don't recall ever walking into an empty restaurant," says Lang Whitaker, in an article for GQ. "I love the staff shouting 'Hello!' as I walk into any Waffle House." 
Culver's
One of the best parts of eating at a regional restaurant is getting to try a food from that area, that you can't normally get back home. Take Culver's, for example. This Wisconsin original sells fried cheese curds as part of their fast-casual offerings, a kind of food that the state can't live without. On top of that, customers also love their frozen custard, and "ButterBurgers," which are their version of a hamburger, set between a lightly buttered, toasted bun. The recipe is apparently based on Ruth Culver's own, and the way she used to cook burgers for her son, according to the Concordia University Batterman School Of Business.
Culver's is currently found in 24 states, mostly concentrated in the Midwest, Southeast, and a few stretching towards the West in Idaho, Utah and Arizona. Expansion plans aren't out for debate right now, but other states could see a Culver's sooner than later; Chicago just opened up their first locations, and a few other major cities have already benefited from the Culver's experience. They seriously need to share the love around: it's cruel to keep over 80 flavor combinations of frozen custard all to one part of the country.