Aldi's New Pumpkin-Shaped Pizza Has People Talking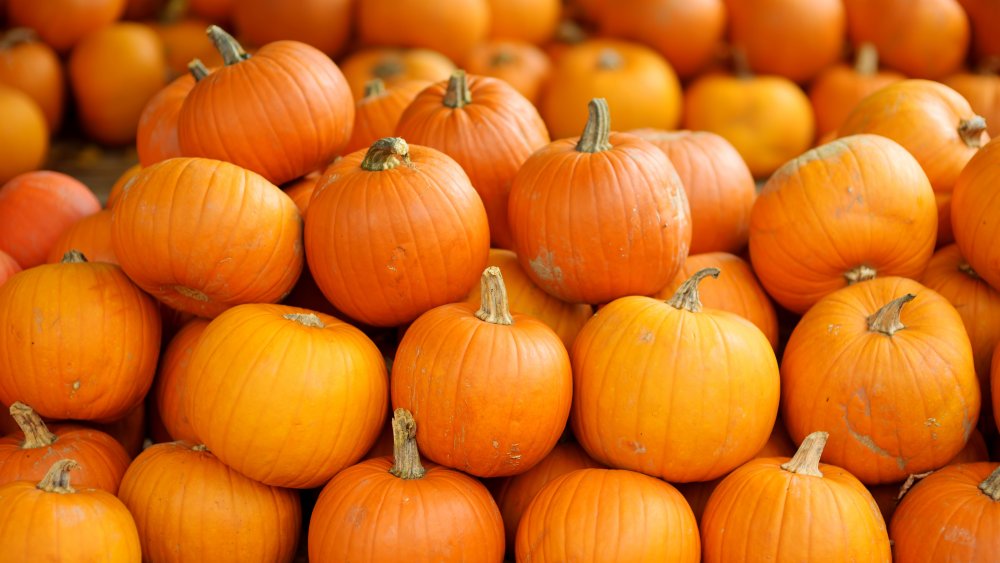 Shutterstock
With its innovative and delicious products, Aldi might be one of the best budget grocery stores out there. And while they have festive foods and other items on their shelves for all kinds of occasions ranging from German Week to Halloween, one of the best, must-try items this fall will cost you less than $5, making it even more of a bargain. This item is actually a pumpkin-shaped pizza, and it's certainly attracting attention (via Delish).
Not only is this festive pizza adorable, but it has to be one of the easiest meals you could make when you need something fast. Better yet, this is not your average frozen pizza. The pumpkin-shaped pizza includes elevated flavors that will magically transform your dinner into much more than a cheesy pizza. 
Even though many Aldi fans haven't been able to get their hands on this pizza yet, they're pretty excited about it, according to Delish. They've already taken to Instagram and left comments like, "I want it! I want it!" Another Instagrammer said, "This is so cute!" A third person isn't wasting any time and announced they'd go get this pizza the next day. So, you might want to know everything you can about this pizza so you can decide if you need to stock up before the cooler is bare.
Here's what you need to know about Aldi's pumpkin-shaped pizza
The jack-o'-lantern pizza has a crisp crust that is cut in the shape of a pumpkin. It's then topped with a creamy butternut squash sauce, which gives the whole pizza a nice light-orange hue. The sauce is topped with cheddar cheese and it has mozzarella eyes and a jagged smile made out of a creamy mascarpone cheese sauce (via Red Tricycle). 
Each 8.11-ounce package includes one personal pizza that is priced at just $3.99. So these are definitely cheap enough to pick up several for your freezer. It's worth noting each pizza is 660 calories too. You'll definitely want plenty of these Mama Cozzi's Pizza Kitchen Halloween Pumpkin-Shaped Pizzas to have on hand for the month, and probably Halloween night as well. They hit Aldi's cooler section on Wednesday, October 7th (via Yahoo!). So add them to your list and make a grocery run soon before they're all sold out.