Aldi Finds You Can Get For Under $5 In October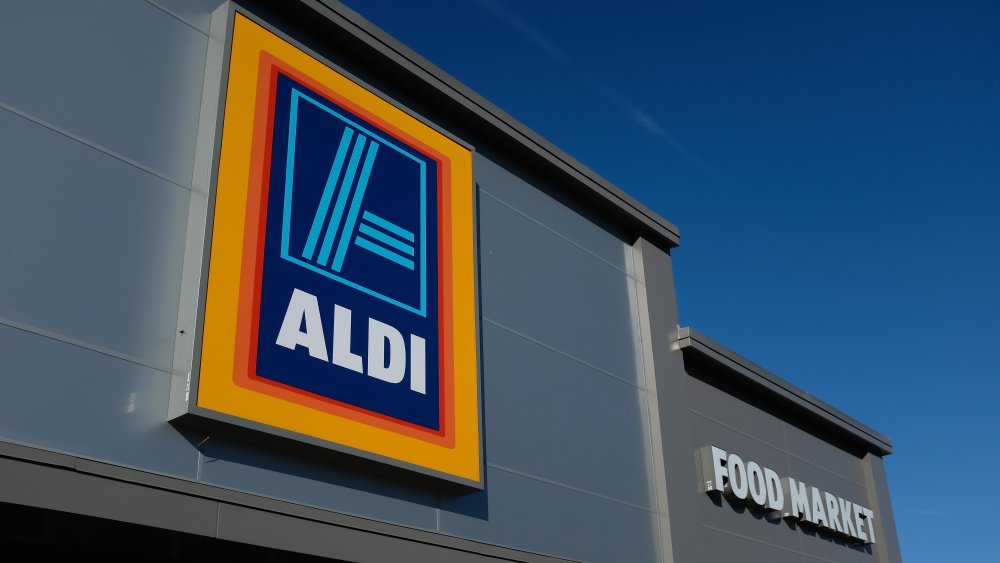 Sean Gallup/Getty Images
Your favorite budget-friendly grocery store is filling its shelves with tons of items perfect for fall. Some of Aldi's best picks this autumn are only $5, making them not only cheap enough to stock up on, but many of these items are perfect for Halloween too. From pizzas and other bites to hauntingly good kitchen items like coffee mugs, Aldi has really stepped up the fall- and Halloween-themed items (via Insider).
Fortunately, you won't have to pick and choose between these items, thanks to their low price tags. And if you're planning to have a few friends over to celebrate Halloween — or you just like to keep the spooky party rolling all month long — these items are perfect to have on hand. The food items are cute and easy to make, so there's nothing holding you back this fall. You'll definitely want to head to your local store soon to pick up these Aldi finds.
Pumpkin sauces for your Halloween-shaped pasta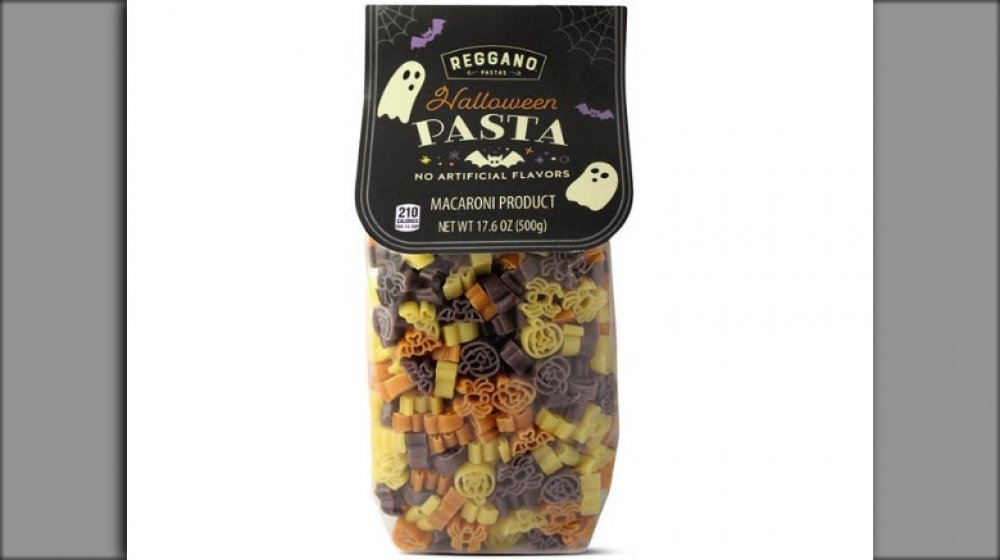 Aldi
On those initial crisp, cold nights of fall, there is nothing cozier than snuggling up with a bowl of hearty pasta. But Aldi has made it even better for the month of October, thanks to the Halloween-shaped pasta and pumpkin pasta sauces that are stacked on the shelves. A 17.6-ounce bag of pasta includes tri-colored noodles shaped like spiders, pumpkins, and bats for just $1.99 (via The Kitchn). It doesn't get much spookier than that for the Halloween season, but you'll have to wait until the 14th when they launch to pick up a couple of bags.
Don't forget to grab a jar or two of Aldi's pasta sauces which come in two flavors. There are pumpkin and butternut squash or pumpkin chipotle flavors. Both 24-ounce jars are just $2.49 and will also debut on October 14th. You might even want to pick up one of Aldi's Halloween-themed cheeses to top your pasta with, too. 
Pizzas for everyone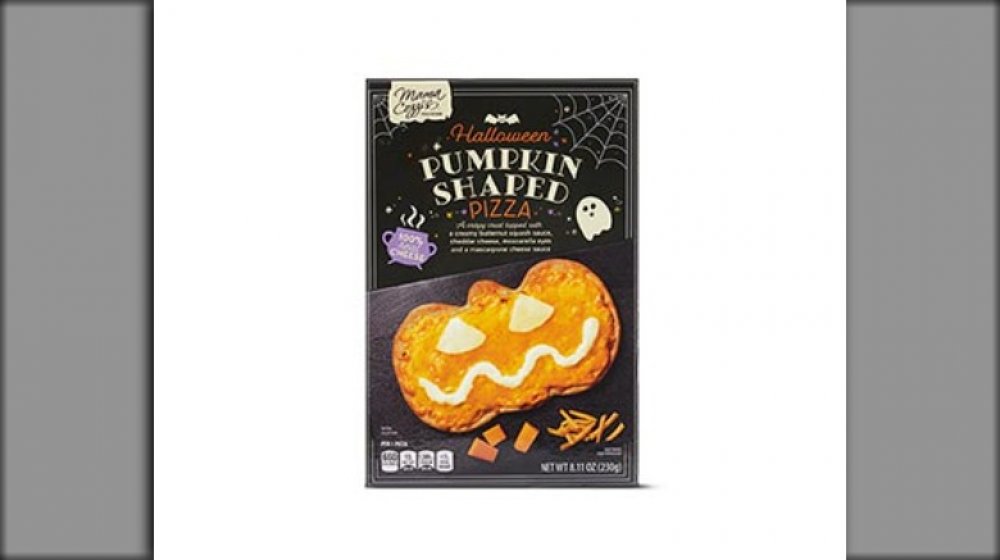 Aldi
Everyone loves pizza, right? Aldi is stocking up on two kinds of pizzas that will surely turn heads as shoppers pass them in the frozen aisle. The first attention-grabbing pizza is one that's actually shaped like a jack-o-lantern. The pumpkin-shaped pizza is made with a butternut squash sauce, cheddar cheese, mozzarella eyes, and a mouth made of mascarpone sauce. It's only $3.99 per pizza and will be available on October 7th (via Taste of Home). 
But if butternut squash isn't your fall flavor of choice, there's another autumnal pie for you to try. It's a thin, sweet potato crust pizza topped with cheese, barbecue sauce, slices of chicken sausage, red onion, and cilantro, according to Insider. Plus, the pizza costs only $4.99, which isn't a bad deal at all. Plus, the fall-inspired flavors certainly sound delicious, if unusual. So, step outside of your comfort zone and give it a try.
Individually-portioned salted caramel cheesecakes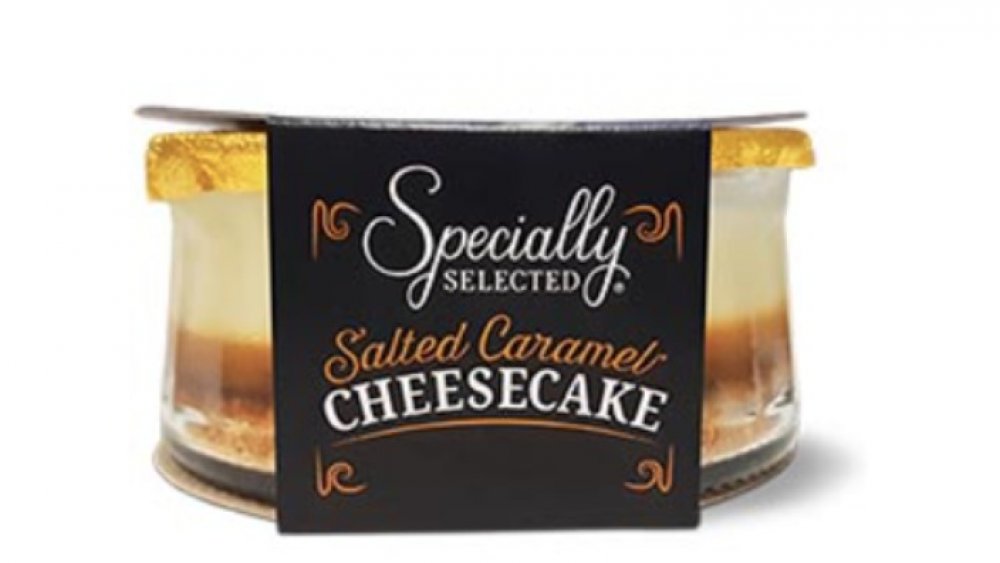 Aldi
October is a month filled with sweet treats, which usually come in the form of mini candy bars or candy corn. But if you're looking for something rich and creamy to indulge in, then search no more. Aldi's individual salted caramel cheesecakes are it. The 3.5-ounce containers are just enough to satisfy your sugar craving without buying a big — and let's be honest — dangerous bag of Halloween candy to keep around the house all month.
Each cheesecake is just $1.99, so you can buy them for the whole family — or it can be your own little secret, a skeleton in the closet, if you will. The cheesecake uses no artificial flavors. It's a pretty traditional cheesecake baked with a graham cracker crust. It's the layer of salted caramel on top that's so deliciously devilish, though. You'll definitely want to have several of these on hand.
Fall-flavored cupcakes mixes everyone will love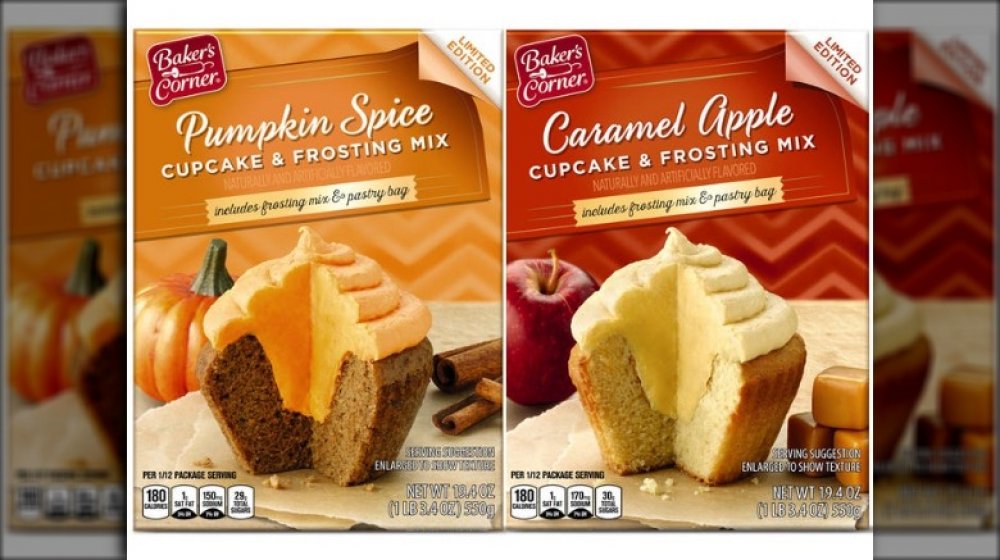 Aldi
If you can't get enough of your favorite fall flavors, then Aldi's cupcake and frosting mixes are perfect for you. They come in two perfectly spiced flavors, including pumpkin spice and caramel apple. Each box includes both the mix and the frosting for just $2.39, which is hard to beat. The kits also include a pastry bag so you can neatly pipe the icing. Plus, you can use the kits to make spooky-looking cupcakes if you get creative with your decorations.
The pumpkin spice cupcake kit comes with orange-colored frosting while the apple caramel cupcake kit includes a white-colored frosting. Both boxes present the cupcakes with a hollow center filled with icing, so these will likely be very sweet treats. So, put on your apron and preheat your oven if you are ready to take a bite out of a homemade baked good. You can also pick up Aldi's pumpkin spice quick bread and muffin mix for just $1.69 if you want to skip the extra sweetness of the frosting.
Cocktail-flavored potato chips for happy hour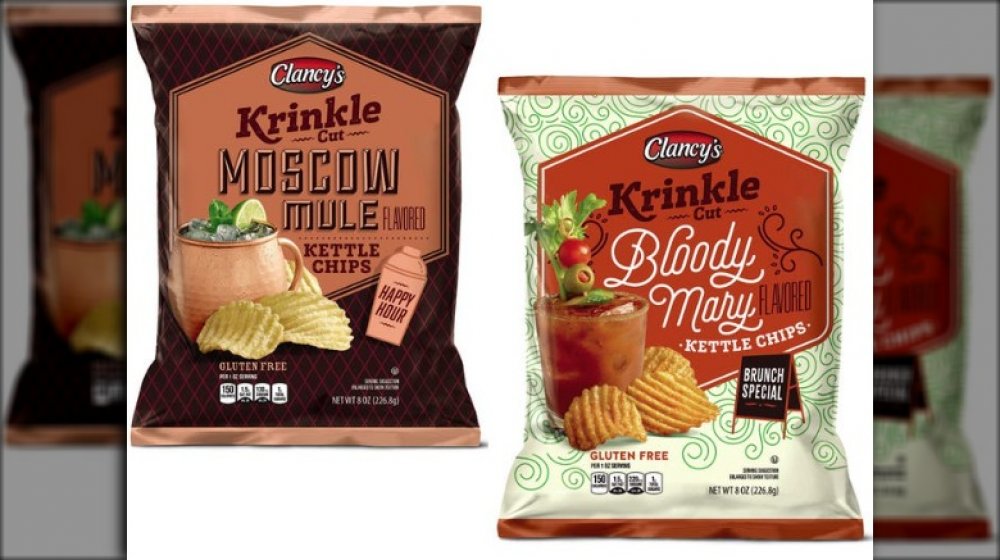 Aldi
The final must-have October find at Aldi are potato chips. The grocer is known to have some pretty killer off-beat flavors, like dill pickle chips. But these new cocktail-inspired flavors are taking Aldi's potato chip game to a whole new level. The options include Bloddy Mary kettle chips and Moscow Mule kettle chips. Both are crinkle-cut and gluten-free, plus they have to have a lot of flavor.
Unfortunately, you'll have to wait a while to pick this exciting item up. The new flavors of potato chips will not be available until October 21st, but they will only be $1.89 per pack, so you'll definitely want to stock up on them when you see these chips. They're sure to be a hit, and the perfect food for munching on after you've had a drink or two at happy hour. Plus, they'd be a delightful and unusual addition to a charcuterie board.