Costco's New Giant Tray Of Baklava Is A Total Steal
Want to eat like a world traveler without having to spend like one? Now you can bring an international flavor to your dining room table for a crazy reasonable price, thanks to Costco. The store is selling a giant tray of five different kinds of baklava for under $10 (via Delish).
Costco may not be known for its refined palate or its international sensibility, but this baklava is a crowd-pleaser. Instagrammer @costcobuys posted pictures with the caption, "Yessss! These delicious Baklava Made Better Mediterranean Baklava dessert trays are back at my Costco! I tried this last year and loved them!" Fellow customers were excited to jump in with comments like, "We used to get a different box of baklava at Costco every year, and then for a couple years, they haven't carried any. I'm glad to see they brought it back," and "I always snag a few of those when they come out, love them!"
What comes in the tray?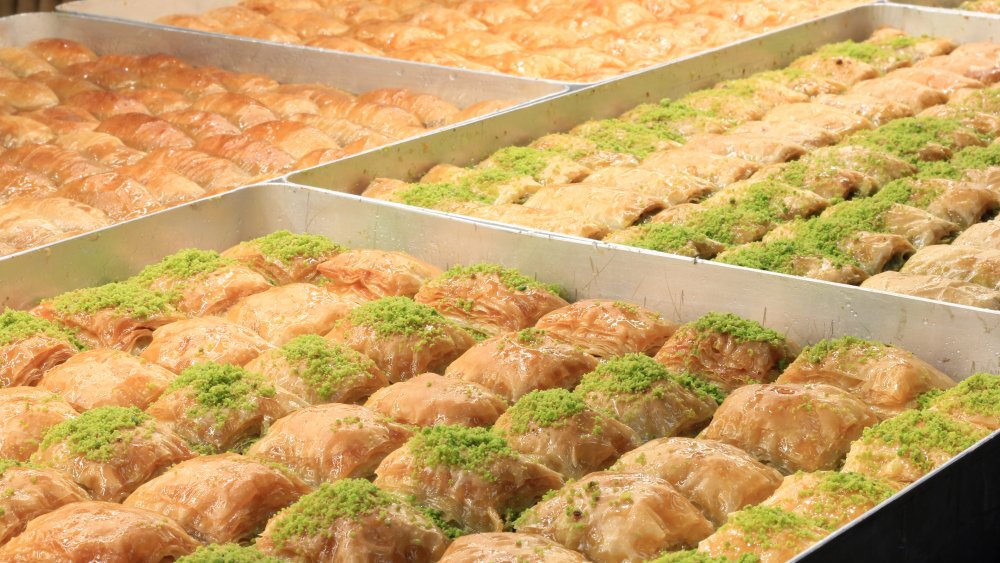 Shutterstock
In each 2.2-pound (or 1 kilogram, in metric terms) tray of baklava, the package shows that you'll get "Bilbol Nest Pistachio," "Bokaj Cashew with Pistachio Sprinkles," "Kitaa Cashew with Pistachio Sprinkles," "Cashew Roll," and "Finger Cashew." So yeah, lots of different, delicious combinations of cashew, pistachio, dough, and syrup. Many different countries claim Baklava as their own including Turkey, Greece, Armenia, and Bulgaria (via Libanais Sweets). These ones, at least according to one commenter, are "MADE İN TURKEY!!"
@costcobuys is always quick to spot when Costco favorites hit the shelves. In the past couple of months, the account spotted the store's new maple pecan lava cakes, Kirkland's new chocolate chip cookies, and broke the news of the return of the food court's chicken bake (via SheKnows), and the store's wine advent calendar (via Eat This, Not That). You might want to follow the account to keep up with the store's most exciting new and returning products, and check your local Costco for some highly rated, super affordable baklava.