This Chain Has The Highest Calorie Entry In The Chicken Sandwich Wars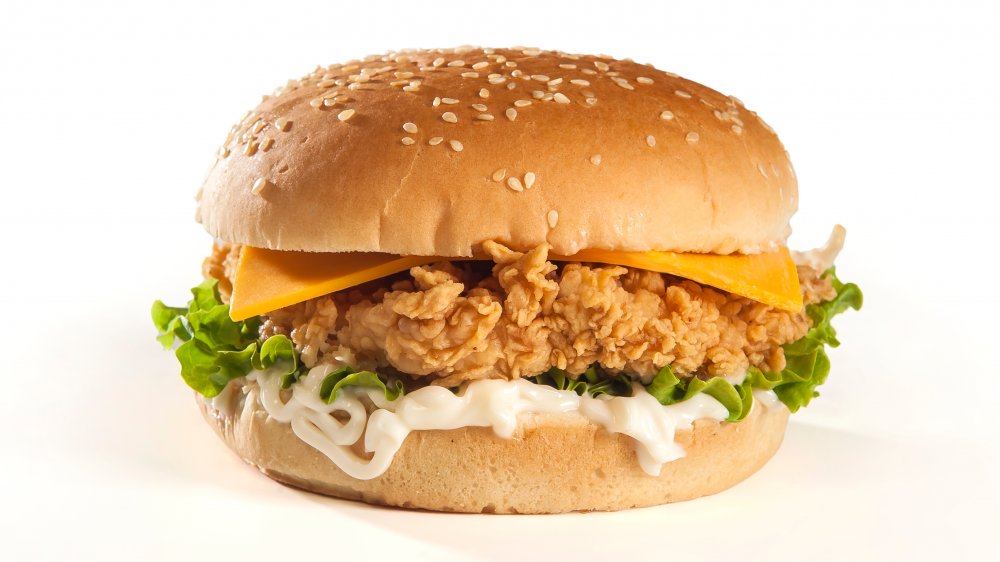 Shutterstock
Fans of fast food know all about the fried chicken sandwich wars that have been tearing the industry apart since the debut of Popeye's ridiculously popular menu item back in the summer of 2019. (Okay, maybe we're being a tad overdramatic, it is just fast food after all.) Since then, chain's like McDonald's, Burger King, and Wendy's have all entered the proverbial arena, and while customers are divided on which sandwich reigns supreme when it comes to flavor, there is one very impartial way to judge these menu items where we are willing to declare an ultimate winner — or loser, depending on how you look at it.
We looked through the nutritional information provided by Chick-fil-A, Popeye's, Wendy's, KFC, McDonald's, and Burger King to figure out which chain offers the fried chicken sandwich with the most calories. While we didn't expect these sandwiches to be exactly healthy, we definitely didn't realize just how many calories are in each one. Next time, we might think twice before adding a side or two onto our fast food order.
If you're trying to consume less calories, avoid Popeyes
Starting with the classic fried chicken sandwich — no fancy add-ons or spicy sauces — the fast food chain selling the fried chicken sandwich with the most amount of calories is Popeyes. According to the company website, their Classic Chicken Sandwich contains a whopping 699 calories. They describe the sandwich as being made with an all white meat chicken breast, marinated in authentic Louisiana seasonings and breaded in a buttermilk coating, fried and served on a toasted buttery brioche bun with pickles and mayonnaise.
If you prefer a spicy version of the fried chicken sandwich, Popeyes' comes in at about the same amount of calories as their classic. The chain's Spicy Chicken Sandwich has literally one more calorie, with 700 total. In this instance, Popeyes is tied for the most amount of calories with Burger King. The Burger King nutritional information lists their Spicy Crispy Chicken Sandwich as containing 700 calories as well.
If you're attempting to really blow the calorie competition out of the water, look no further than Wendy's Spicy Pretzel Bacon Pub. This spicy chicken sandwich comes topped with bacon, beer cheese, honey mustard, pickles, fried onions, and a slice of muenster cheese, all on a pretzel bun. Total number calories for this behemoth? 840. So there you have it. If you're trying to avoid excess calories, steer clear of Popeyes. If you want to pack on some pounds, head straight for Wendy's.