What You Should Know About Wendy's New Chicken Sandwich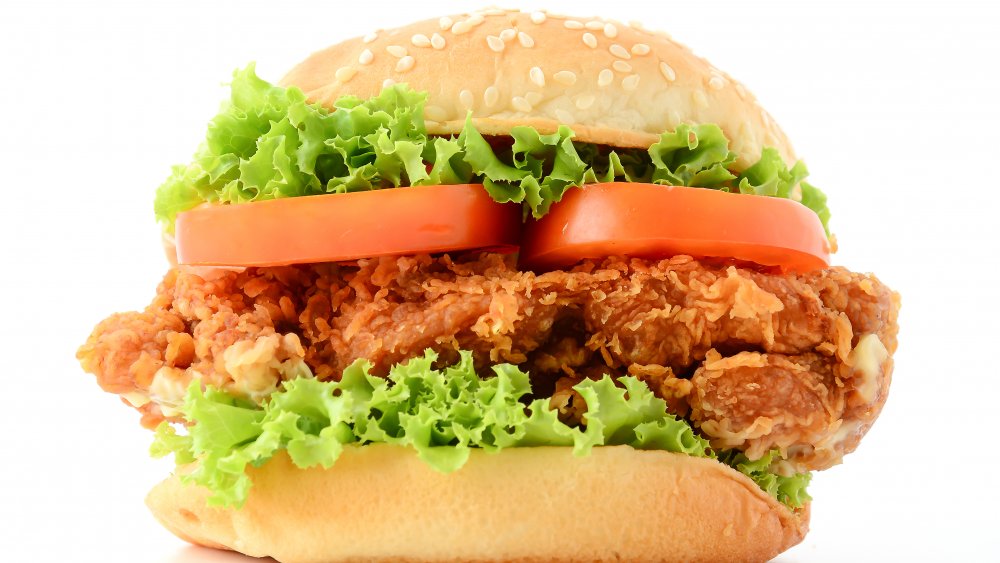 Shutterstock
The latest news in the Chicken Sandwich Wars (the only war we truly never want to see end) is that Wendy's has thrown their hat into the ring... again. Over the summer, Wendy's came in hot with their popular Spicy Crispy Chicken Sandwich (per The Washington Post) and, in September, the fast food giant went way outside the box by adding a chicken version of their famous Pretzel Bacon Pub Sandwich.
Now, according to CNN, Wendy's has introduced a new offering, the Classic Chicken Sandwich, which their website claims is "crispier, juicer, and pickle-ier" than ever before. The Classic Chicken Sandwich is meant to replace Wendy's Homestyle Chicken Sandwich which had been a mainstay on the menu for over a decade. This new and allegedly improved version comes complete with a crispy chicken breast on a toasted bun with lettuce, tomato, mayonnaise, and pickles. What, you were expecting something a little more earth-shattering? You're not alone.
Fans think Wendy's new chicken sandwich is underwhelming
Chicken sandwich fans haven't been shy about sharing their opinion of Wendy's new Classic Chicken Sandwich on social media. Instagram user @poutine_boyz said, "Today Wendy's introduced their new Classic Chicken Sandwich so I just had to try it. Unfortunately my experience was pedestrian compared to the Popeyes and Chick Filet versions... It was trash." Commenters on a YouTube review of the new sandwich weren't entirely impressed either. Many agreed the sandwich does look tasty, but several couldn't get over how un-imaginative the new Classic Chicken Sandwich appears to be. One user said, "Heads up there is nothing new about it. It's just a rebrand and they are adding pickle." Another chimed in with, "this looks boring AF. No points for creativity Wendy's..."
Wendy's has faith in its new-fangled fillet, though. According to CNN, the crispier, juicer chicken will appear on all of the premium sandwiches in Wendy's crispy chicken sandwich lineup, including the Asiago Ranch Chicken Club and the Bacon Jalapeno Chicken Sandwich. Whether you're psyched for this new chicken sandwich offering or skeptical of how "new" it actually is, get in on the hype while you can. The Chicken Sandwich Wars may not actually last forever, especially if October 24th's Chicken Sandwich Peace Summit has anything to say about it.