What Is Milk Bread And What Is It Made Of?
Shutterstock
One sandwich staple from Japan is gaining popularity in the U.S., and it's as pretty as it is tasty. Milk bread, a soft, fluffy bread that can be made into perfectly square loaves, is a must-have at bakeries around Asia (via New York Times). As it starts to appear in more American bakeries and restaurants, demand is growing. "We didn't even think of putting whole loaves on the menu until we started getting a lot of requests," pastry chef Yoshie Shirakawa of New York's Pâtisserie Fouet told Bon Appétit. 
The bread is made from tangzhong, a warm paste made from flour and water that has been traditionally used in China to make soft, springy buns full of air bubbles, the Times explains. For milk bread, however, the tangzhong is made with milk, as the name implies. From there, you make the dough with flour, sugar, yeast, salt, egg, milk, and butter — with just the ingredients any bread maker is used to using, you can make this buttery, airy delight. 
The history of milk bread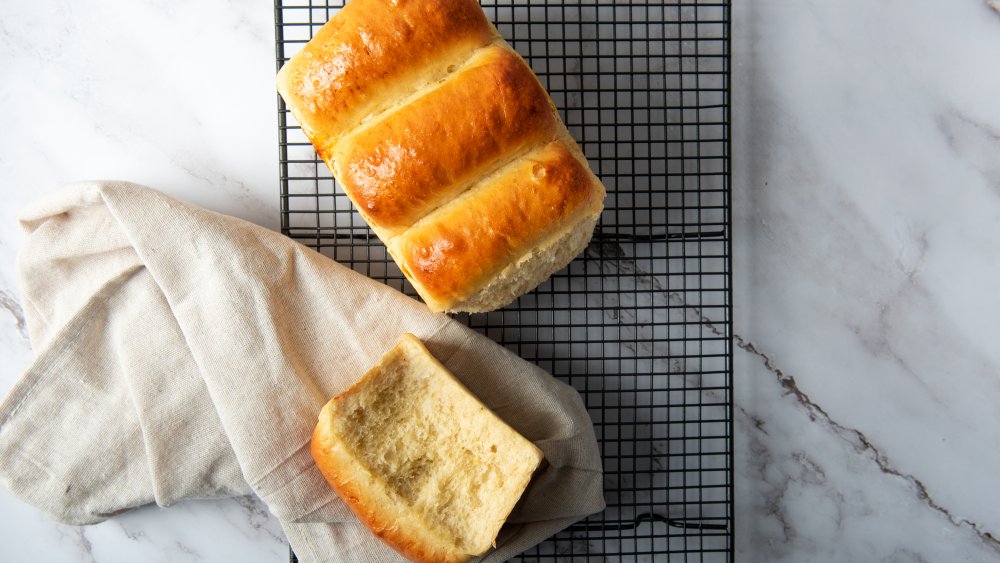 Shutterstock
Annie Sheng, an anthropologist who studies Asian bread at Cornell University, explained to Bon Appétit that, as the legend goes, the bread might have been created by a British baker who opened a bakery in Japan in 1862, but it's hard to say for sure when and where the recipe originated. Eric Rath, the author of several books on the history of Japanese cuisine, added that the bread was considered a snack, leading it to be used for many sweet, desert-like recipes, including an adzuki bean-stuffed bread invented in 1874. During WWII, as rice availability dwindled, the bread started being used as a meal staple. In the 1970s, the bread started being used for Japanese convenience store sandwiches, and by the late 90s/early 00s, milk bread had reached the States.
There are a couple of main ways to prepare milk bread, called shokupan or "food bread" in Japan. Healthy Nibbles explains that the kakushoku style refers to the flat-topped, box-shaped loaves, and Yamagata shokupan refers to the more rounded, "mountain-shaped" loaves. For tips on making your own milk bread, check out Healthy Nibbles' guide.