The New Pebbles Cereal Flavor We Might Get In 2021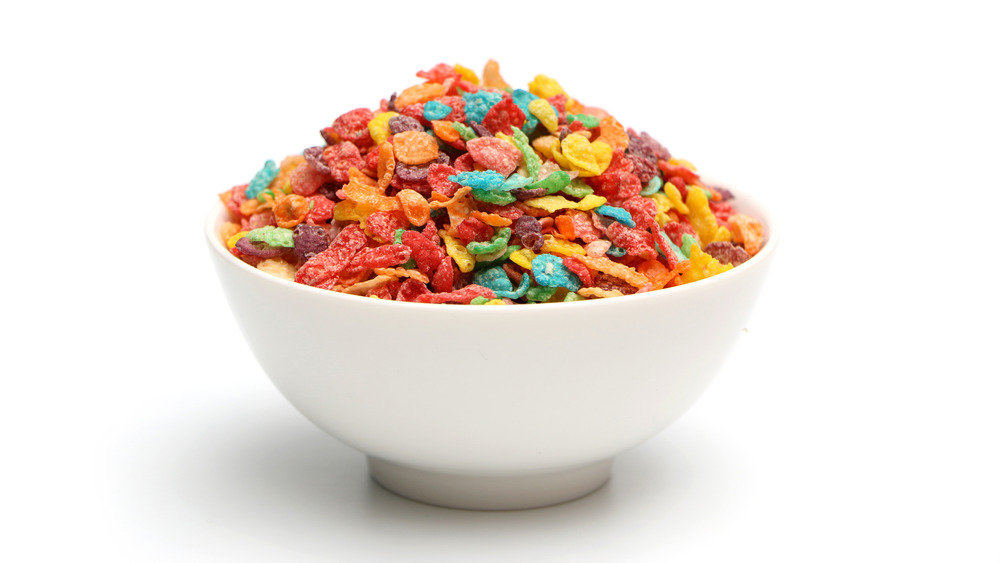 Shutterstock
Whether you're partial to some chocolate first thing in the morning, or more inclined towards the fruit-flavored cereals, you've probably tried at least one kind of Post brand Pebbles. After all, they're a childhood classic (even if your mom made you mix them with a high-fiber cereal). But, with the exception of Marshmallow Fruity Pebbles, the brand doesn't offer much in terms of flavor variation ... until now! According to Instagrammer @markie_devo, Post is launching a new flavor very soon, in honor of the brand's 50th birthday: Birthday Cake Pebbles! (via Instagram).
Other than a picture of the box, which features a pink bow and an illustration of Fred Flintstone holding a slice of pink-frosted birthday cake, we don't know much about this new launch. Everything from the color of the cereal to its exact launch date is still a mystery. All we can assume at this time is that it will have the traditional Pebbles shape and texture, with a sweet birthday cake taste (via Delish).
When you can expect to see Birthday Cake Pebbles on store shelves
According to both @markie_devo and the sneak peek of the Birthday Cake Pebbles cereal box, this new flavor is in celebration of Pebbles' 50th birthday, which would hint that the launch is likely to take place sometime in 2021 (since that will be the official 50th anniversary of the classic breakfast cereal). The box is labeled "Coming Soon!" so hopefully we won't have to wait too long into the new year to see this sweet treat in stores. 
So far, the only inclination we have regarding the flavor of these new Pebbles comes from the 2010 launch of Cupcake Pebbles (via Mr Breakfast). If you don't remember Cupcake Pebbles, they didn't last long but did leave a lasting impression on Pebbles fans. Earlier this year, a Reddit user posted: "Please help me get cupcake pebbles back" (via Reddit). The post earned 39 upvotes and several supportive comments such as "We pray for this every day" and "Let's make it a reality." Hopefully, the new Birthday Cake Pebbles can live up to its cupcake predecessor.