The Big Problem With Dunkin's Tandem Bicycle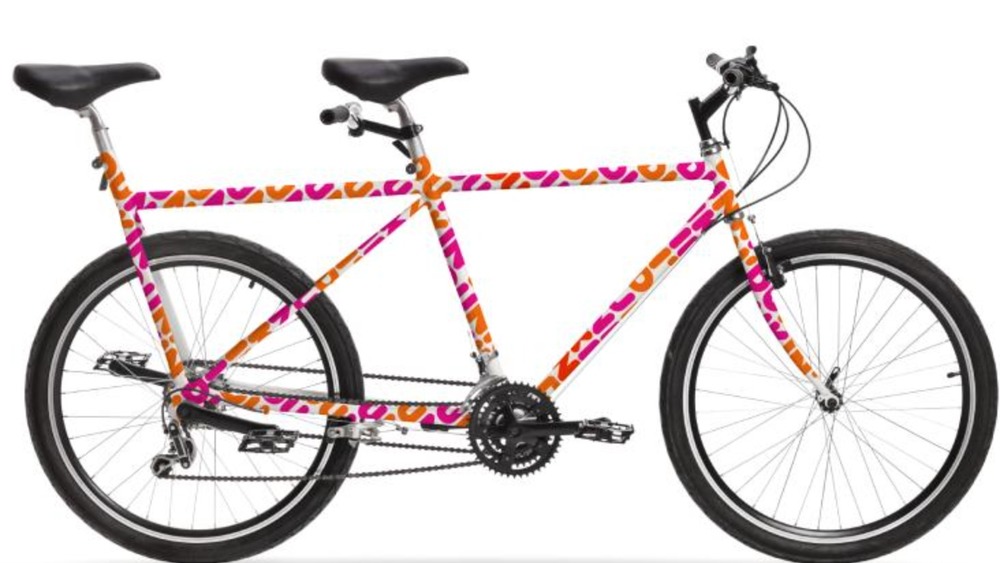 Dunkin'
Twitter's Dunkin' fanatics have added a new product to their holiday wishlist, after the chain released its interesting assortment of holiday merch. "Take me for a long romantic ride on the America Rides on Dunkin's Tandem Bike" wrote one fan."Thinking about Her (the Dunkin Donuts tandem bike)," another daydreamed. "Can't stop thinking about this tandem bike @dunkindonuts emailed me about today. I've never needed anything more," tweeted a third, continuing, "Who wants to be my co-pilot? We'll cruise for caramel swirl iceys."
That's right. Dunkin' just dropped a tandem bike. "Just like the iconic coffee and donut duo, everything is better with a buddy!" says Dunkin' in its description, "Grab your pal and turn your next Dunkin' Run into a Dunkin' RIDE with this insanely fun, limited edition, easy-riding tandem bicycle." The bike will cost you 500 dollars, plus shipping. This is probably why Twitter user willpower36 settled for a hoodie instead. Then again, imagine the possibilities. Or, if you want a tandem bike that actually works, maybe don't. 
Is Dunkin's tandem bike a real thing?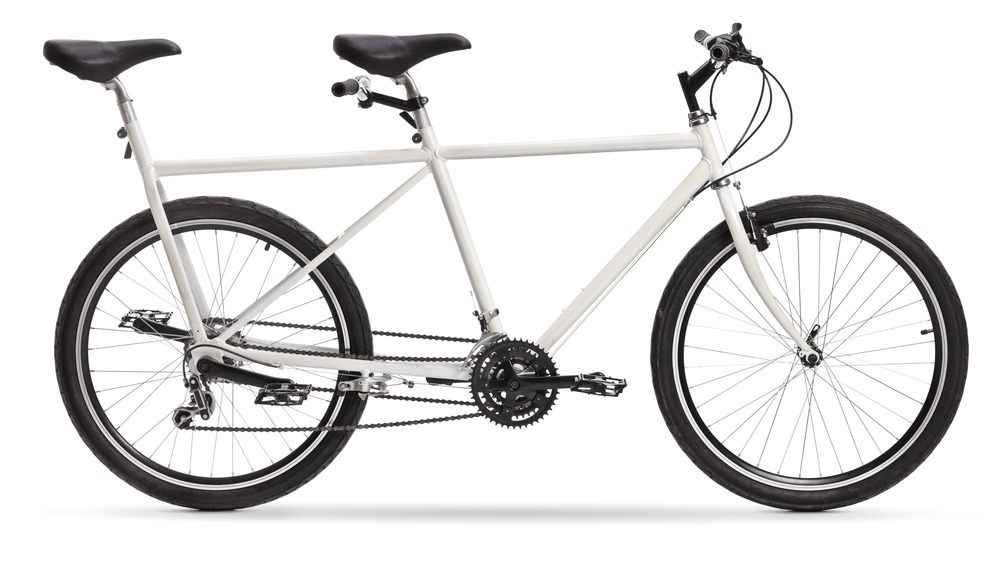 Shutterstock
Notice the similarities between photo A and photo B? Yeah. So did Twitter user ademrudin, who pointed out undeniable similarities between a stock photo and Dunkin Donut's new merchandise. They, in turn, purportedly reached out to the photographer to try and track down the bike in question. "Unfortunately I have no more shots," the photographer replied, "also don't know who built it. I borrowed it from a guy for the shoot." This isn't to say that the bicycle is a fake. Apparently, this particular style of tandem bike is called a "donkey back tandem." You can find a picture of two people riding it on Sheldon Brown.
But, but, but say the bike experts. Look on Dunkin's sales page, complains Bicycling. It's missing specifications. The materials, components, sizes, and weight of the bike in question are mysteriously absent. Furthermore, the author points out, "The rake on the fork is extreme, and combined with the two saddles' positions, it seems like riders may struggle to keep from tipping the bike backwards as they climb on." Gear Junkie has a similar analysis. "Look at those cranks," it exclaims, "They just go right into the axle. It looks like someone — Doctors Frankenstein and Moreau? — machined a unicycle onto the back of a normal bike." Our final verdict? Is it plausible? Yes. Is it real? We dare someone to buy it to find out and report back.