Dunkin's Surprising New Holiday Products You Won't Want To Miss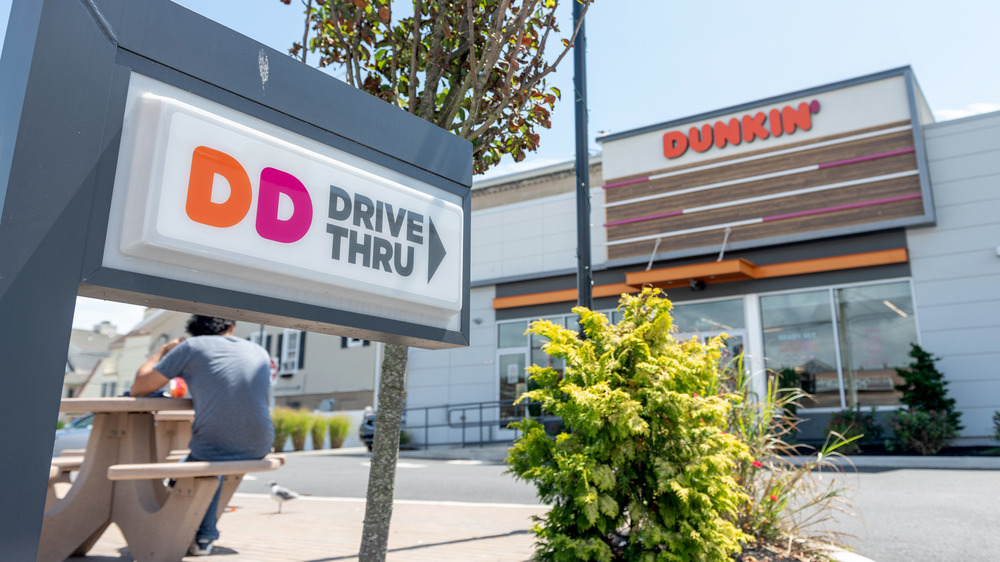 Alexi Rosenfeld/Getty Images
Dunkin' has declared orange and pink to be the new green and red. The doughnut-and-coffee chain will drop some highly anticipated merch this year, so you can stop wondering what to get loved ones over the holidays (via QSR).
It all started today, Thursday, Nov. 12, with a special offer for DD Perks members that Dunkin' announced on Instagram. Members can enter an access code at ShopDunkin.com to order matching sweatshirt and joggers that are covered all over with "Dunkin'" in big, bold orange-and-pink lettering. Last season's version of the crewneck and sweatpants sold out almost immediately.
Once Nov. 17 hits, everyone can get in on the Dunkin' merch. The highlights this year, offered for the first time, are personalized apparel and accessories. Put your name — or your recipient's name — on a cap, shirt, laptop case, or phone case. Sure, you can get a hat or hoodie, but if you really want to impress friends and family with your love of all things Dunkin', then why not get a Dunkin' duvet cover, mini fridge, or tandem bike?
Get the merch, then go to Dunkin' for a holiday treat
Dunkin' will also offer a Keurig mini-brewer that only takes Dunkin' K-Cup pods (just kidding — you can even put Starbucks K-Cups in there), an apron that's sure to inspire homemade doughnut makers, and scrunchies for those whose hair is even a fan. And if your dog loves walkin' to Dunkin', there's a Dunkin' leash.
If you do end up at your local Dunkin', whether via tandem bike or leash, then you may as well pick up some of their holiday treats. 'Tis the season, after all. You won't find the gingerbread or peppermint mocha lattes in March. Speaking of peppermint mocha lattes, Dunkin' is also bringing back some holiday-gift favorites — the metal lunch box, the scarf-and-glove set, and yes, the peppermint mocha latte-scented wrapping paper.
"From functional to just fun, our holiday merch offers everything needed to bring our fans smiles and good cheer, and helps them give joy to their Dunkin' loving family and friends this holiday season," a Dunkin' VP of brand stewardship said. Dunkin' is certainly feeling the joy in 2020. Dunkin' recently told investors that sales were up this year, despite the COVID-19 pandemic and also recently old itself to Inspire Brands, parent company of Arby's and Buffalo Wild Wings, for $8.8 billion (via The Wall Street Journal); a very sweet deal indeed, if you're Dunkin'.