The Specialty Chick-Fil-A Fries You Can't Get Anywhere Else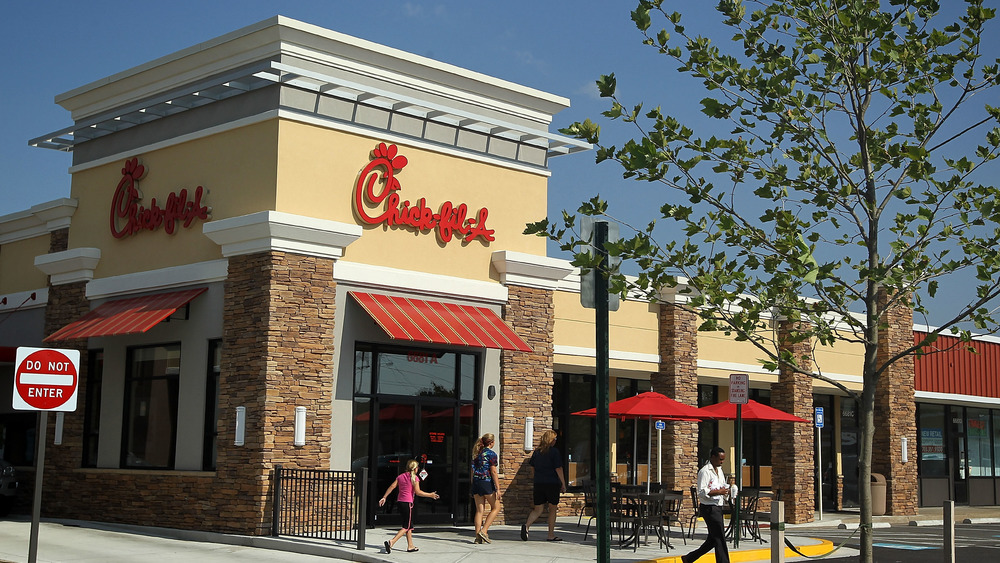 Alex Wong/Getty Images
If you're a fan of waffle fries, then chances are you probably already love Chick-fil-A. The chain's soft, salty, potato side is reportedly the top-selling item on the company's menu, despite their mixed reviews among fast-food french fry fanatics (via Today). If Chick-fil-A's plain old waffle fries don't do it for you, maybe some of their Loaded Southern Waffle Fries are what you need. As shown in a Yelp photo, these specialty fries are topped with bacon, a signature pimento cheese sauce, Chick-fil-A's famous nuggets, and drizzled with a creamy cilantro-lime sauce. 
It all sounds pretty delicious, but here's the thing. The Loaded Southern Waffle Fries are only available at a handful of locations, and literally nowhere else. They are a signature item offered at special Truett's Chick-fil-A restaurants. These distinct and unique locations are "dedicated to the life and legacy of Truett Cathy," the chain's founder. The company says these locations "not only offer a specialty Chick-fil-A menu but also allow customers to learn Truett's story through family heirlooms, photos and quotes displayed on the walls."
The Chick-fil-A menu you never knew you wanted
Loaded Southern Waffle Fries aren't the only specialty menu items you can get at the Truett's Chick-fil-A locations. In addition to the full range of classic Chick-fil-A menu offerings, these locations also serve up appetizers, entrée items, and home-style sides that you can't get anywhere else. 
Some of the unique offerings include Battered Pickles served with Cilantro-Lime dipping sauce, additional sandwich options like a Hot Brown and a Grilled Cheese, and a larger breakfast selection that includes pancakes, waffles, and omelets. As for those home-style sides, some of the hearty options include fried okra, green beans, sweet potato soufflé, and collard greens. If that's got your mouth watering, then it's time to plan a trip down to Georgia. There are three Truett's Chick-fil-A locations, all located within about an hour or less drive from the Atlanta metro area.