The Specialty Chick-Fil-A Pickle That You Can't Get Anywhere Else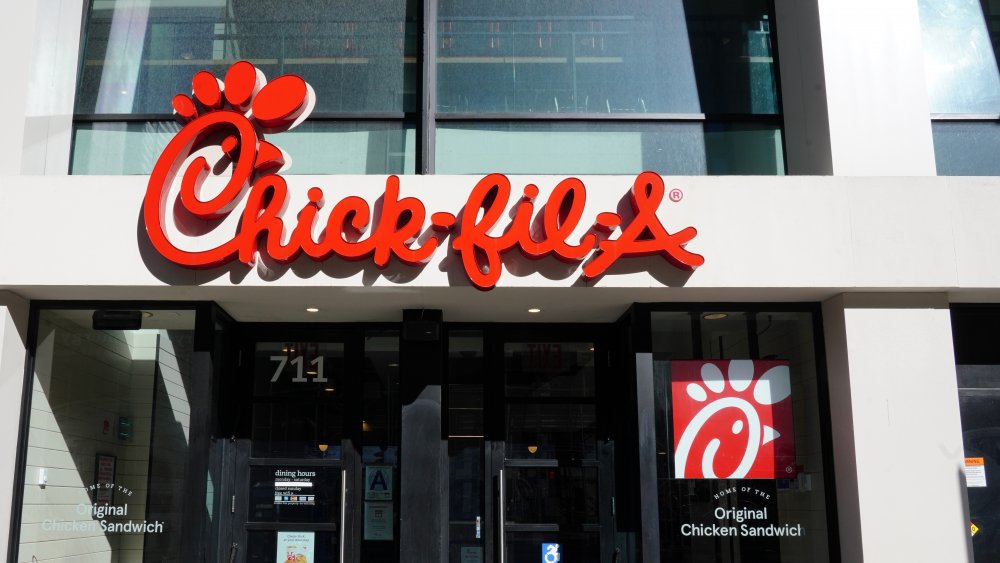 Cindy Ord/Getty Images
We would be devastated if Chick-fil-A ever began messing with their beloved chicken sandwich, which is why we were thrilled to learn they've found other outlets for their creativity like putting a crispy, fried spin on pickles. Yes, Chick-fil-A offers battered pickles and, well, we'll give you a few moments to collect yourself.
Before you get too excited, though, you should know, you can't find these sour, crunchy treats at just any old Chick-fil-A. According to their website, the fast-food chain is keeping this specialty item close to the vest by only making it available at locations known as Truett's Chick-fil-A restaurants, of which only three exist in the entire country! A road trip for Chick-fil-A battered pickles doesn't seem totally unreasonable, does it? Before we hit the road in pursuit of Chick-fil-A's fried pickle perfection let's delve into the details about this delicacy and see what it's all about.
Chick-fil-A's battered pickles are only found in Georgia
Truett's Chick-fil-A restaurants came into existence in 2017 and there are currently three locations, all based in Georgia. Loyalists recognize the Truett Cathy name as the founder of Chick-fil-A. He opened his first restaurant, The Dwarf House, in 1946 and it's still open today, with a specialty menu all its own. In 1967, Cathy opened his first Chick-fil-A in Georgia and the business eventually grew into the largest fast-food chicken restaurant chain in the county (per Chick-fil-A). Cathy passed away in 2014 and in 2017, the company began opening Truett's Chick-fil-A restaurants decorated with Cathy family heirlooms and photos honoring the Chick-fil-A story. Truett's Chick-fil-A customers can enjoy dine-in, counter, or drive-thru service and have access to a specialty menu, including those coveted battered pickles.
A Facebook post featuring the pickles shows they're covered in a thin, even coating of batter and fried to a light golden brown. They look to be accompanied by ranch dipping sauce but, don't be fooled – these battered pickles deserve something better. The post revealed the pickles are served with a special, signature cilantro-lime sauce. Of course, we have to assume the pickles are the same as the ones found on Chick-fil-A's sandwiches, which come from a farm in Wisconsin aptly named Paradise Farms, according to the restaurant's website. We can only hope those near a Truett's Chick-fil-A are enjoying their battered pickle paradise. Meanwhile, we'll continue to get by on waffle fries.