Ina Garten Is Hosting A 'Micro Thanksgiving' This Year, Here's How
Thanksgiving will look different for most of us this year as we all attempt to avoid traveling and large gatherings. If you still need a game plan for the big day, look no further than Ina Garten's Instagram. Garten's Food Network show Barefoot Contessa has been on the air for 26 seasons (per IMDb) and viewers love her for her no-nonsense recipes that still manage to result in elegant-looking meals. She gives us confidence, she gives us hope, and through the magic of social media, she's also giving us ideas for how to pull off a scaled-down feast this year.
Ina Garten kicked off her inspiring series of recipes on November 16 with an Instagram post saying, "I'm cooking a week of SIDES for a Micro Thanksgiving this year, balancing dishes that are crunchy, creamy, savory, and sweet to go with my favorite (small!) roast turkey recipe. It may be a different Thanksgiving this year but it will still be celebratory and delicious!!" Wherever Ina goes, we'll follow. So, let's see how she's making her Micro Thanksgiving happen.
Ina Garten includes three vegetable sides in her Micro Thanksgiving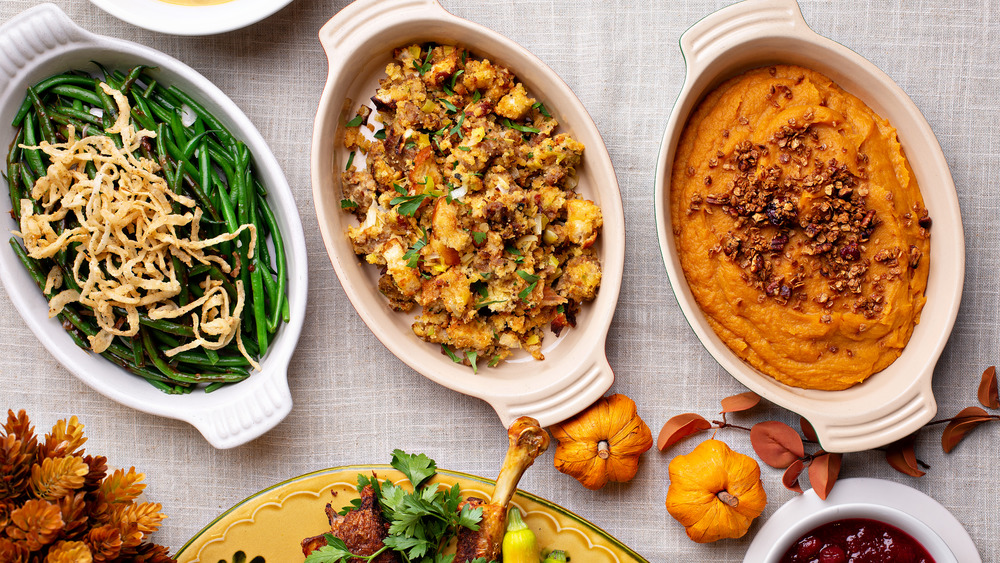 Shutterstock
Thanksgiving is nothing without the side dishes and Ina Garten has all the vegetable side recipes small-scale Thanksgiving might require. The meal plan she's sharing post-by-post on Instagram starts with Haricots Verts with Hazelnuts and Dill. The haricots verts (aka French string beans) are blanched and sauteed in butter before being topped with roasted hazelnuts and fragrant dill (per Food Network). Sounds like things are off to a good start, right?
Next, Ina moves on to a little sweet heat with Chipotle Smashed Sweet Potatoes. In her post, Garten says, "It's a classic but with a chipotle and maple twist." Aside from maple syrup and canned chipotle peppers, the only other ingredients in this simple recipe are sweet potatoes, milk, cream, butter, salt, and pepper; roast the potatoes until tender, then just mash them together with the remaining ingredients.
So — let's recap. Something green? Check. Sweet potatoes? Check. Regular potatoes? Yep! Just because it's a Micro Thanksgiving, that doesn't mean Ina's about to shortchange anyone on starch. Her lineup includes a Potato-Fennel Gratin which her site says is just thinly sliced potatoes mixed with sauteed onion and fennel, baked in a sauce of cream and Gruyere cheese. Ina notes in her post that this dish can be made ahead of time and baked before dinner. As the Barefoot Contessa says, "How easy is that?"
Ina Garten's Micro Thanksgiving is complete with stuffing and a small turkey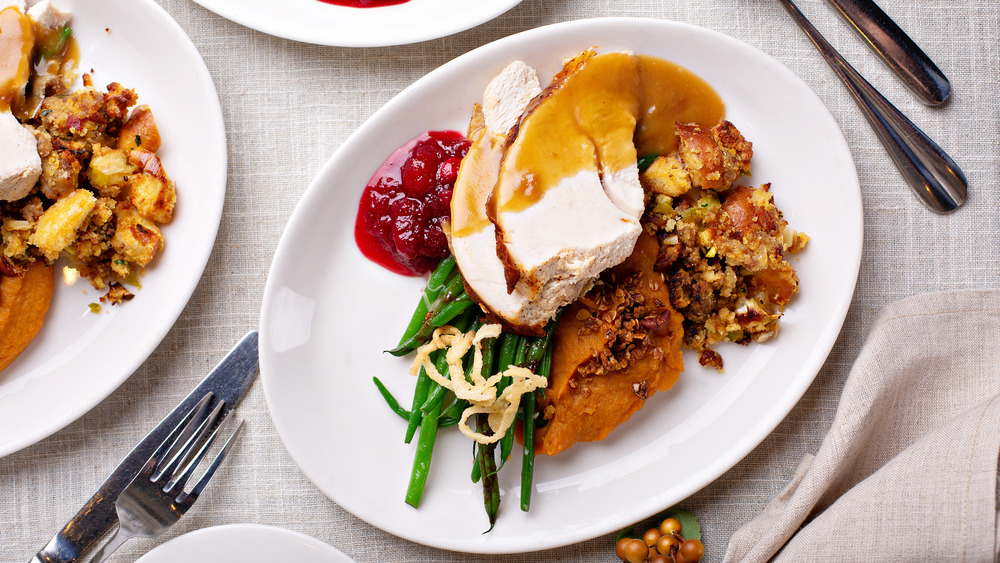 Shutterstock
Micro or not, you just can't have Thanksgiving without stuffing and turkey — as long as they're cooked separately. As Ina explained in an Instagram post for her Herb and Apple Bread Pudding, "Instead of stuffing the turkey, which requires you to cook it for more time which can dry out a turkey, this savory bread pudding bakes separately," she explains. Many folks love to eat stuffing but just as many hate to cook it, and this recipe does have more than a few ingredients and steps. However, Ina points out this dish can also be made ahead of time for convenience.
Prepping ahead leaves plenty of time to roast a small turkey. Garten's post of her beautiful bird noted, "Instead of cooking a massive bird this year, I'm roasting an 8 pound turkey, which is just right for 4 people." Garten's recipe for Make-Ahead Roast Turkey seasons the bird with thyme, lemon, onion, and butter and only takes 1.5 hours to cook. Smaller turkeys are in high demand this year, so be sure to plan ahead.
Overall, this micro feast seems totally doable. If you're concerned about serving a smaller than usual meal, just remember these words of wisdom Food & Wine shared from the Barefoot Contessa: "People have more fun if they don't eat so much they have to be taken home in an ambulance." Apply that to your at-home family affair this holiday and you'll be just fine.