Why You Can't See Buddy Valastro's Hand Injury In Buddy Vs. Christmas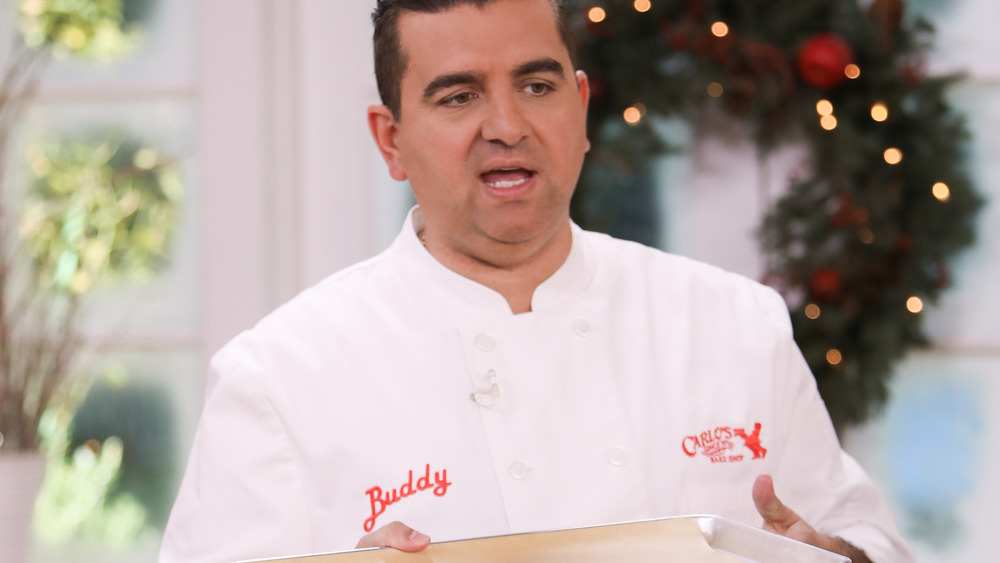 Paul Archuleta/Getty Images
Outside of reruns, we hadn't seen Buddy Valastro on TV since a horrific accident left him without the full use of his right hand. Then Buddy vs. Christmas premiered with the first of four episodes, Sunday, November 22 on the Food Network. This new show seems to be based on the premise that Valastro is bored with competing against other bakers, so he takes on expert makers in completely different fields — a Broadway set designer in one episode, a glassblower in another. A promo video on YouTube shows he and his team building a 13-foot-tall gingerbread house with lumber, gingerbread, and a lot of icing. Valastro gets on a lift so he can put the final touches on the peak of the roof, and his right hand is working as well as ever. For fans who have been following the aftermath of Buddy Valastro's injury on his Instagram account, his appearance on Buddy vs. Christmas might be a little jarring.
Valastro and his dominant hand were in full form on Buddy vs. Christmas because the show wrapped up filming one week before the September 2020 accident (via Distractify). More than two months before the debut of Buddy vs. Christmas, Valastro was trying to fix a pinsetter at his home bowling alley when his right hand became trapped in the machine and a blunt rod impaled the hand multiple times (via Today). He's had three surgeries since, and he can barely hold a fork or button his pants (via People).
Buddy Valastro's next TV show will tell the story of his injury
The shooting schedule for Buddy vs. Christmas was fortunate, given the timing of Valastro's injury. But wasn't it difficult for Valastro and his competition to get into the Christmas spirit during the summer months? It turns out, this kind of timing isn't unusual for holiday shows. Fans of The Great British Bake Off, which airs in the U.S. as The Great British Baking Show, were thrown off by the show's Christmas special in 2018. Everyone on the show was bundled in layers and scarves, but the outdoor setting in the background — the green trees and grass — made it clear to viewers the show was filmed in the summertime (via Metro). We need to tune in to see if the producers of Buddy vs. Christmas go for the fake snow, as GBBO did in 2018.
Buddy Valastro fans hope the Cake Boss can return to his elite level of baking after he recovers. Less than two weeks after his injury, Valastro posted photos on Instagram that showed him icing a cake with his left hand. "He will bake again, even if he has to use his left hand. Trust me," his wife Lisa Valastro said at the time (via People).
The next new show featuring Valastro was shot after the accident and tells the story of the injury and his recovery. TLC will air the two-hour special Buddy Valastro: Road to Recovery on December 23.