Denny's Fans Won't Want To Miss This Free Pancake Deal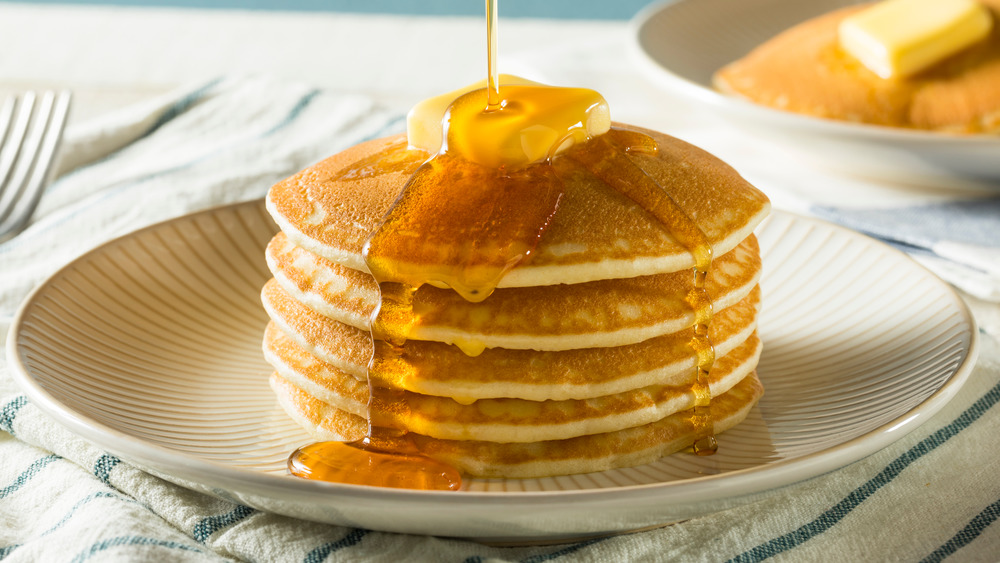 Shutterstock
The holiday season is in full swing, and with all the shopping, decorating, and baking you've surely been doing, don't you think you deserve some pancakes? Well Denny's thinks you do and, according to Delish, they're now offering free pancakes with qualifying online orders. The deal is in honor of Cyber Monday and it lasts all week long — from November 30th through December 6th.
All you have to do to earn your free flapjacks is use Denny's website or the Denny's mobile app to place an order totaling a minimum of $10 (before the tip and service fee), enter the code "PANCAKES", and you'll be rewarded with a free two-count stack of buttermilk pancakes. Might we suggest an Original Grand Slam to help you meet that $10 minimum? Sure, it already comes with two pancakes, but you can never have too many, right? Besides, Denny's pancakes are known to be some of the best out there.
Denny's pancakes are some of the best around
There's no doubt Denny's knows their way around a griddle — their buttermilk pancakes even managed to hold their own against IHOP's famous pancakes in Spoon University's taste test. The criteria was based on important pancake characteristics like taste, the balance of fluff versus chew, "pizzazz", and the level of "golden-brownness". Denny's pancakes excelled, beating a place literally named for their pancakes. How can you pass up the chance to get some of these winning flapjacks for free?
Generous as it is, Denny's is not stopping at free pancakes. To further sweeten up your holiday season, the famous diner is also offering free delivery, day or night, through December 20th. According to the Denny's website, orders just have to be placed online or through their mobile app in order to be eligible with a $5 minimum purchase required. With everything left to buy and do to get ready for the holidays, at least you know you can treat yourself for cheap at Denny's.