These Chocolatey Drops At Costco Make Hot Cocoa A Snap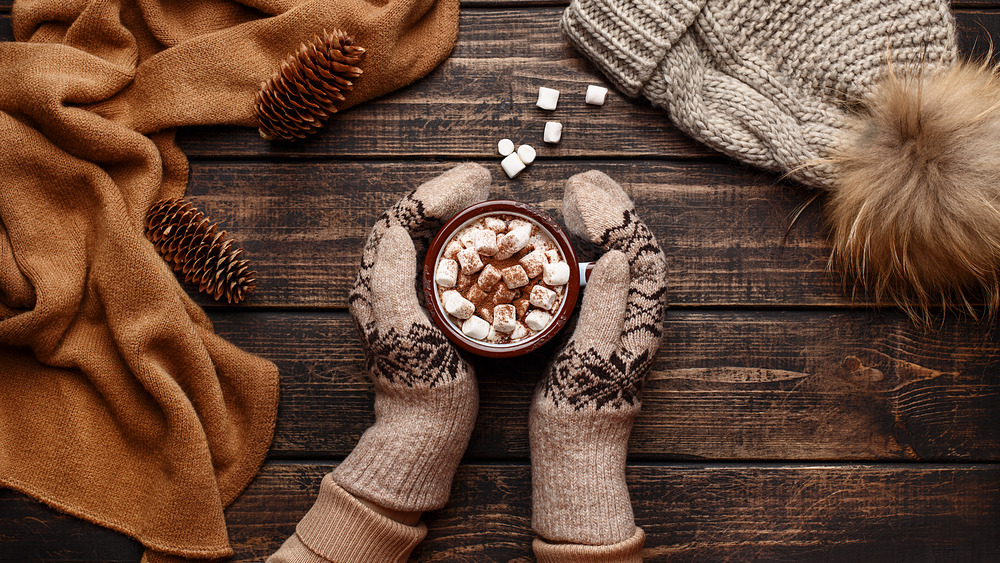 Shutterstock
Remember when Costco helped introduce us to hot chocolate bombs — those chocolate-covered spheres of cocoa mix that dissolve in liquid — and TikTok, Instagram, and everyone in between couldn't get their hands on a mug fast enough? Well, according to Delish, Costco is reinventing the wonderful world of hot chocolate for us yet again with their new hot chocolate drops.
The Belgian chocolatiers at Deavas created these convenient teardrop-shaped pieces of chocolate, and to enjoy them, you simply have to pop a few into a mug with warm milk (surely water or a milk substitute would work fine too, though). Taste of Home says you need just five chocolate drops per 10 ounces of liquid; the chocolate melts, and in just seconds, you have a smooth, creamy cup of hot chocolate.
Of course, nothing's stopping you from just eating these chocolate drops like candy — they are made of authentic Belgian dark chocolate, after all. But, really, since when has making hot chocolate been this easy?
Costco's hot chocolate drops have an online following already
It seems fans online are loving the idea of using Costco's chocolate drops to produce cozy cups of hot chocolate. When Instagrammer @totallythebombdotcom posted about them with the caption, "Costco is selling Hot Cocoa Drops so you can make the perfect cup of hot cocoa!", followers were quick to tag friends and post comments. @officialsleepinboujee exclaimed, "Omg! ... looks soooo yummy!" and the Costco Fans group on Facebook offered a similar sentiment, saying, "Let me tell you something....these are so good! I need to buy more for the fall and winter season before they run out!!!"
While we're sure these Deavas brand hot chocolate drops from Costco make a delicious cup of hot chocolate all on their own, a touch of booze and a fistful of marshmallows might not be a bad idea. Or, if you're feeling particularly ritzy, perhaps you should stir in a spoonful of peanut butter or salted butter? It's up to you, but we're just glad we can rely on Costco for this oh-so-convenient way to make hot cocoa. What else were we supposed to drink alongside their enormous tray of Christmas cookies?