Mini-Frittatas Recipe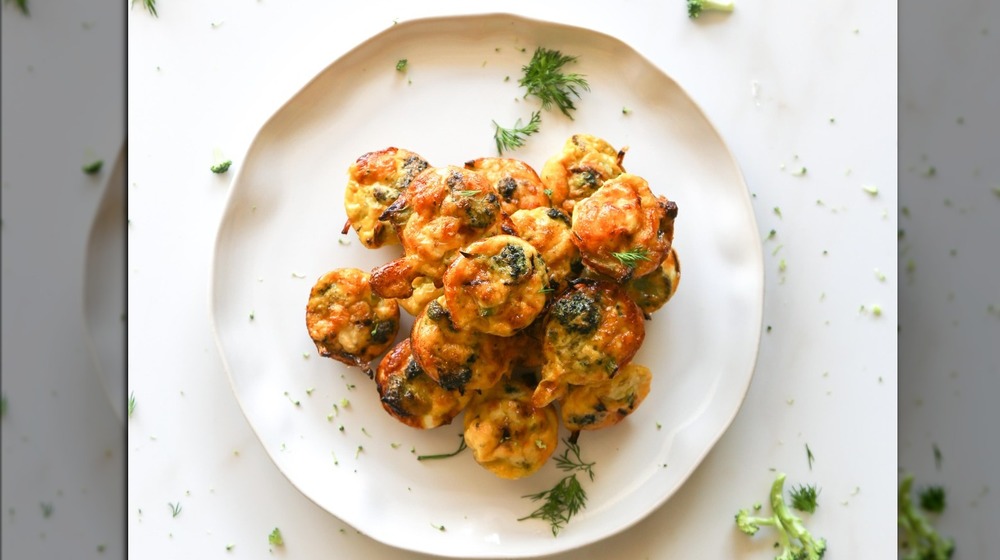 Maren Epstein/Mashed
Home cooks, you are going to love this versatile, diet-conscious recipe brought to Mashed by professional chef Maren Epstein, who blogs at Eating Works. Introducing mini frittatas, made with broccoli and Pecorino cheese, which can be prepared at any time of day and for a variety of occasions. "I love making these frittatas when I'm hosting a big brunch," Epstein told us, adding, "They're the perfect bite-sized portion for a crowd, and you can make tons of them at a time easily." She also told Mashed, "I have served these for breakfast, lunch, and as an appetizer. A recipe like this is so versatile that it really can go with almost any meal."
While this recipe is a go-to for Epstein when she enjoys brunch with family and friends, she also notes, "These frittatas are perfect for anyone on a diet where they are watching their carb intake." Plus, the recipe is easy, accessible, and only requires a few simple ingredients to come together quickly.
Prep the broccoli for your mini frittatas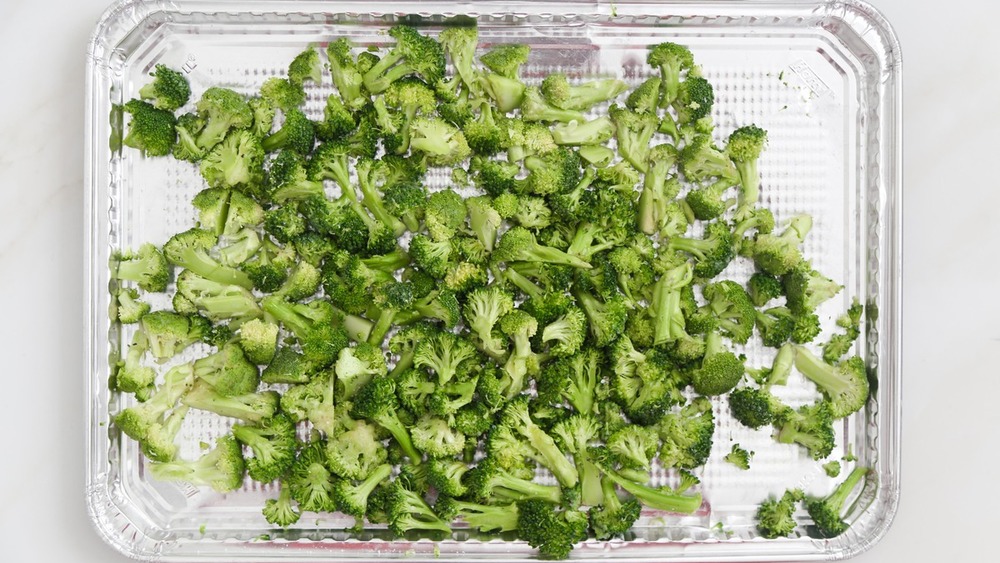 Maren Epstein/Mashed
You're going to love that for this mini frittatas recipe, Epstein notes, "I like using fresh broccoli, but frozen would work too." So, if you have some of the frozen stuff on hand, go for it! She adds, "Frozen broccoli is great to use when you're preparing these in a hurry." So, to either fresh or frozen veggies chopped into bite-sized pieces, you'll add 2 tablespoons of butter, salt, and pepper. Then, massage the ingredients into the broccoli. Wait, what? 
Epstein clarifies, "'Massage the ingredients into the broccoli' is just a fancy way to say you'll work the butter, salt, and pepper into the broccoli with your fingers hard enough to break down some of the cellulose. This will help the butter penetrate the broccoli to ensure that it doesn't burn in the oven. Massaging the broccoli will also intensify the flavor. It's not much different from massaging kale, a preparation technique that every foodie has heard of by now."
Meanwhile, the healthy eating advocate also told Mashed, "I use butter in this recipe because the milk solids are easier to digest. I also just like the way it tastes. You can use olive oil or coconut oil for this recipe as well."
Build the smokiness of your mini frittatas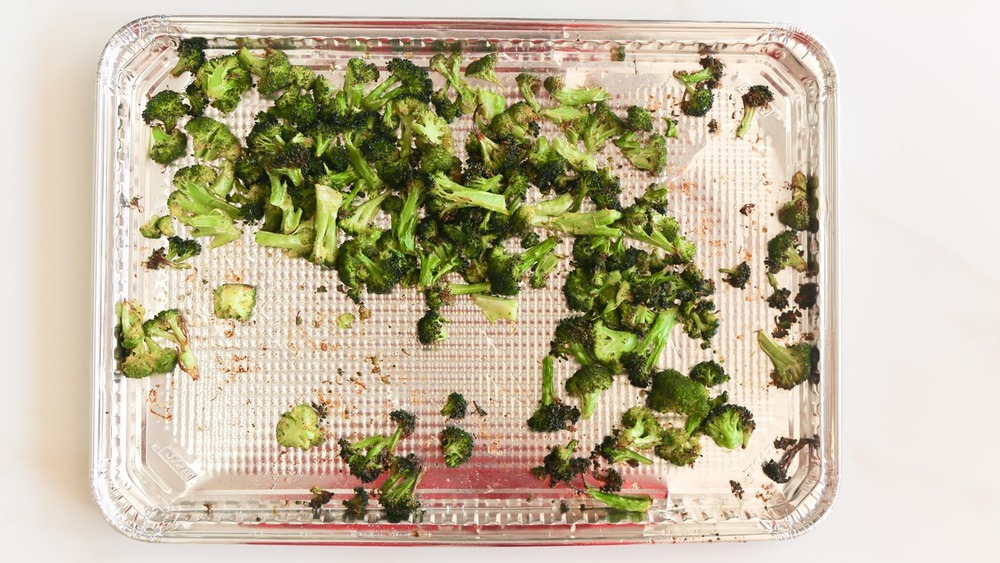 Maren Epstein/Mashed
Next, add your "massaged" and probably thoroughly relaxed broccoli to a 325-degree Fahrenheit oven for 15 to 20 minutes. We asked Epstein why she roasts the broccoli before combining it with the other ingredients for the frittatas: "I roast the broccoli first to build natural smokey flavor into the frittata," she told us, adding, "If you were to just put the broccoli without cooking it first, the flavor would be pretty flat." We are convinced! Just be sure to flip your broccoli and cook the other side for about 10 minutes.
Once your broccoli has roasted, go ahead and turn up the oven temperature to 350 degrees Fahrenheit. But while the roasting is going on is the perfect time to tend to your onions, which will also build flavor for these savory mini frittatas.
Caramelize the onion for your mini frittatas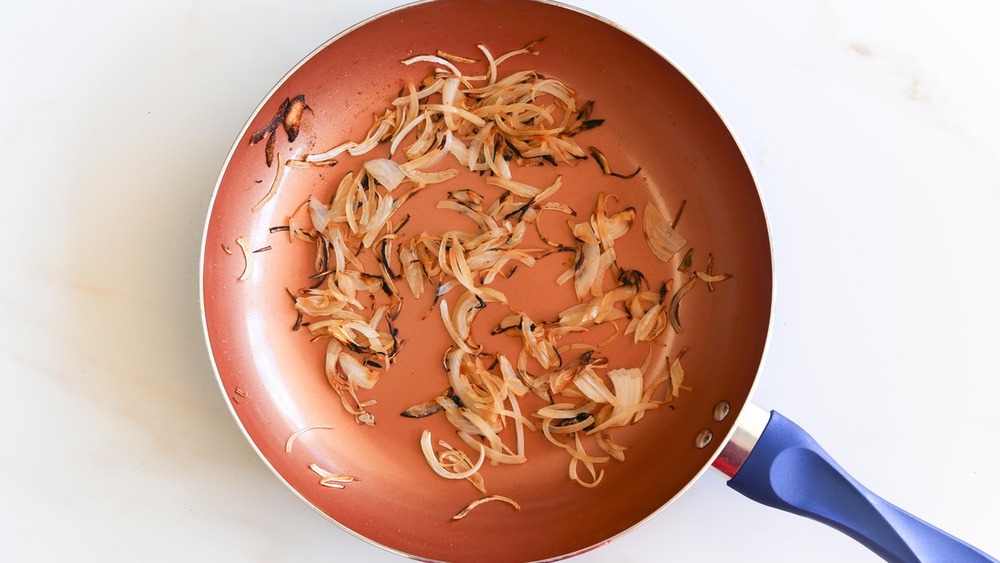 Maren Epstein/Mashed
You'll now heat 2 tablespoons of butter in a skillet and chop half of an onion. Then, sauté the aromatic for about 20 minutes, stirring every so often. The goal is to caramelize the onions. Heed Epstein's advice when she says, "My tips for not burning onions is to be patient and watch them very closely. Make sure to use a generous amount of fat — in this case, butter. Also, remember to cook them over a medium to low heat, and stir them often." 
She adds, "Never leave them alone for too long, or they will burn. You'll know they're caramelized when they're soft, brown, and taste sweet."
Prepare your egg mixture for mini frittatas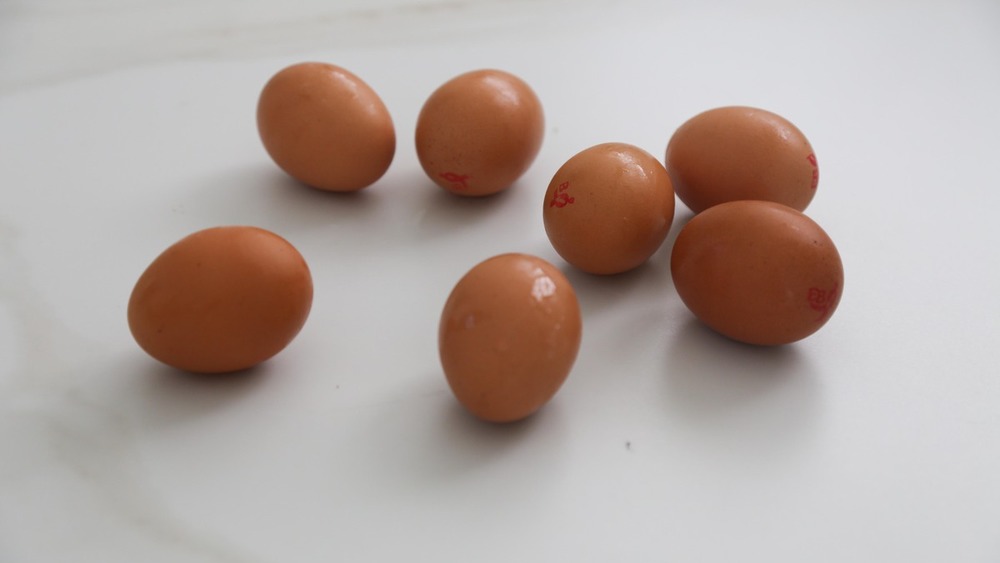 Maren Epstein/Mashed
Your broccoli is finishing up in the oven, and of course, you are keeping a close eye on those onions. Meanwhile, you can combine seven with a half cup of Pecorino cheese for your mini frittatas.
"I'm a bit of a food snob so I wouldn't use an egg substitute but I don't see why egg beaters wouldn't work here," Epstein notes. She also told Mashed about her choice of cheese for this recipe: "I love the sharp kick of flavor Pecorino cheese adds to this frittata. It's a salty cheese that works perfectly to bring out the flavor of the eggs." If you aren't a fan of Pecorino, however, the chef notes, "You could also use Parmesan."
Combine all the mini frittatas ingredients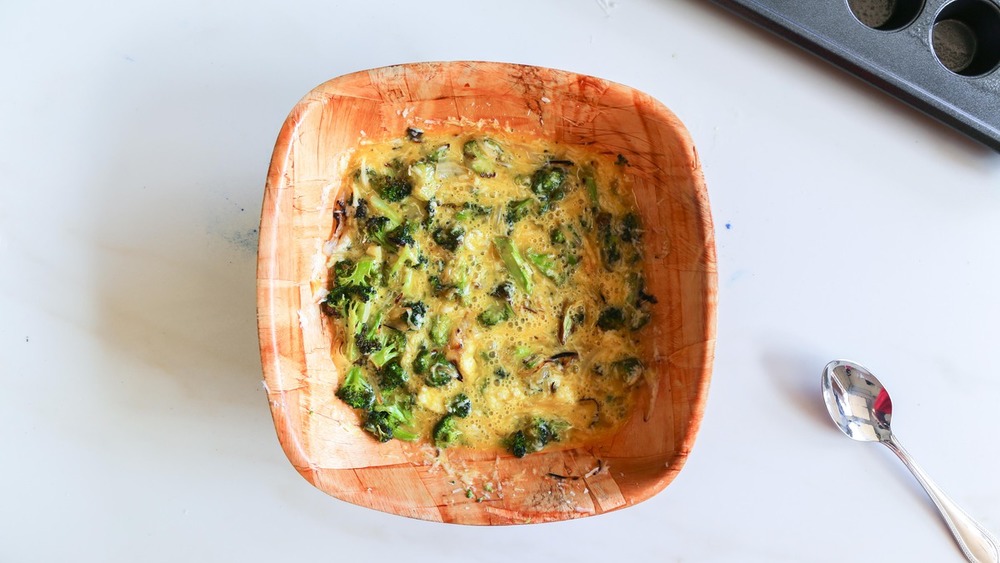 Maren Epstein/Mashed
Once your broccoli and onion have cooled for your mini frittatas, you can combine the flavor-packed veggies with the egg and cheese mixture. Then, use butter or oil to grease mini muffin tins. Spoon an equal amount of the combination into each tin, and bake the frittatas for about 12 minutes. You will know your frittatas are done when the center is firm and the edges are browned. 
Just be sure to let the frittatas cool a bit before removing them gently so they don't break apart — especially if you are serving these up for a get-together, since presentation is so important!
Serve up a delicious meal of mini frittatas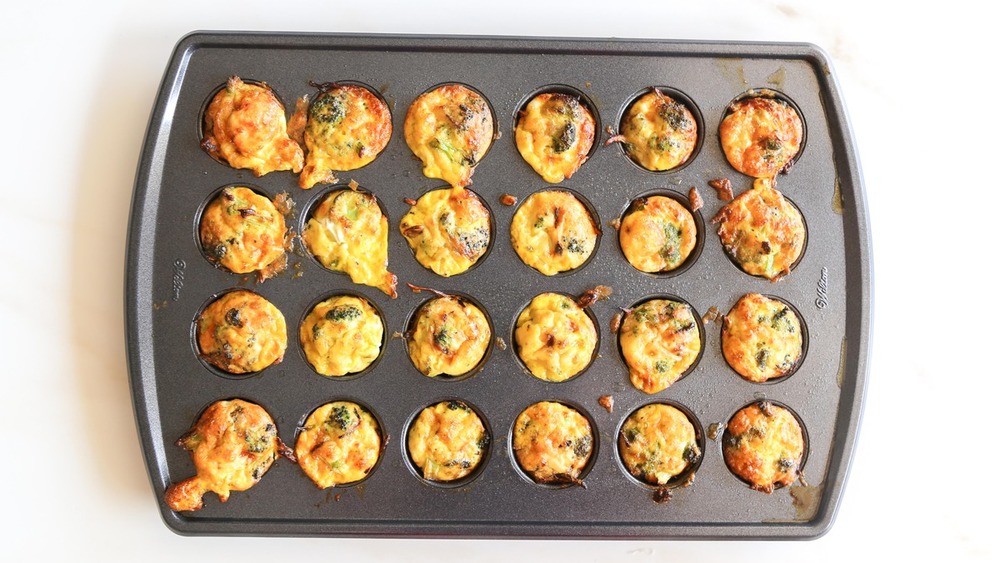 Maren Epstein/Mashed
Epstein has several suggestions for how this fast and yummy mini frittatas recipe can be complemented by other items on a brunch menu. "I like serving these with a warm salad," she told us, elaborating, "I throw an arugula salad right into the skillet for 90 seconds and drizzle it with dressing. You can also serve the frittatas alongside traditional breakfast foods like bagels, muffins, and cereal."
The recipe's creator also advises, "Serve this dish with ketchup or tomato sauce." Oh, and of course, she tells home cooks, "Enjoy!"
Mini-Frittatas Recipe
Home cooks, you are going to love this versatile, diet-conscious recipe brought to Mashed by professional chef Maren Epstein.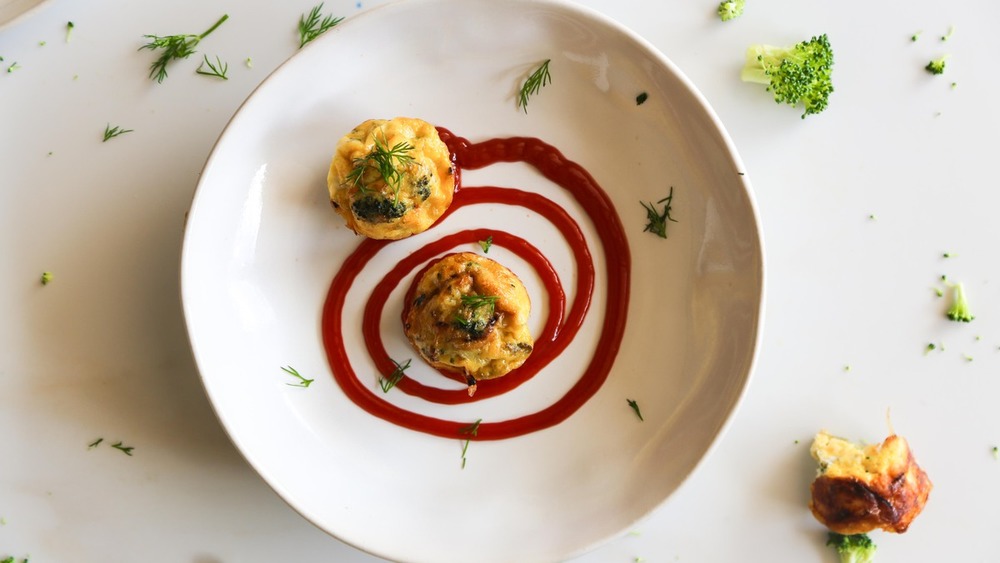 Ingredients
3 cups broccoli florets, bite-sized
4 tablespoons butter, divided
½ onion, saute sliced
7 eggs, beaten
½ cup Pecorino cheese, grated
Directions
Set one oven rack on the highest setting and the other in the middle of the oven. Preheat the oven to 325 degrees Fahrenheit. In a bowl, combine broccoli florets with half of the melted butter, salt, and pepper. Massage the ingredients into the broccoli. Load them onto a sheet tray evenly spaced. Roast on the middle rack for 15 to 20 minutes, then flip them. Cook for another 10 minutes or until they start to turn golden brown. Once done, raise the temp on the oven to 350 degrees.
Heat butter in a medium skillet. Add onions and ¼ tsp sea salt. Sauté the onions by stirring them occasionally until they are caramelized (golden brown). This should take about 20 minutes.
Meanwhile, combine the eggs and cheese into a bowl. Use butter or olive oil to grease the nonstick muffin tin. Once the broccoli and onions cool off, combine them with the eggs and cheese. Spoon the mixture into each muffin tin.
Bake for 12 minutes or until the center of the egg muffins are firm and the edges are golden brown.
Remove from the oven and let cool. Use an offset spatula or knife to gently remove the muffins from the tin.
Nutrition
| | |
| --- | --- |
| Calories per Serving | 49 |
| Total Fat | 3.9 g |
| Saturated Fat | 2.1 g |
| Trans Fat | 0.1 g |
| Cholesterol | 54.6 mg |
| | |
| --- | --- |
| Total Carbohydrates | 0.9 g |
| Dietary Fiber | 0.0 g |
| Total Sugars | 0.2 g |
| Sodium | 60.0 mg |
| Protein | 2.8 g |