Low-Carb Meal Ideas You Can Make In 15 Minutes Or Less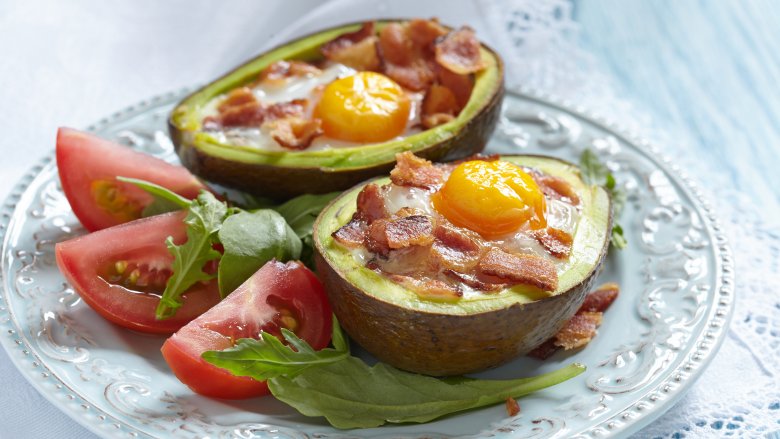 Shutterstock
Most of us have tried some sort of a low-carb diet in the past. Whether it's a ketogenic plan, South Beach, LCHF, or Atkins, the one thing we probably all have in common is running out of ideas for what to make for our meals. Especially when we're in a hurry. 
I've gone on and off some kind of low-carb meal plan for years. Throughout that time, I've put together some tried and true recipes that are delicious and satisfying enough to help me stick to my plan. Here, I've collected some of my best meal ideas that can be prepared on the fly.
Chicken burrito bowl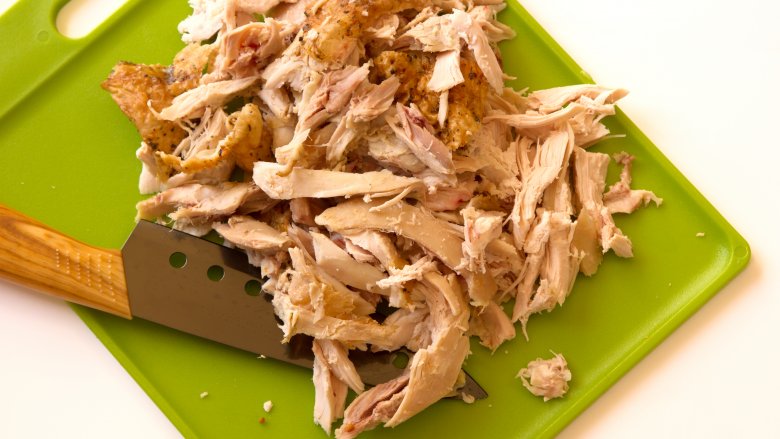 Shutterstock
This is my go-to, late-night, low-carb meal I make when I have been going all day, and just need a satisfying meal in minutes.
Grab a large handful of shredded rotisserie chicken, and stir some of your favorite jarred or fresh salsa into it in a bowl. Top with shredded cheddar cheese, and pop in the microwave a minute or two, depending on your unit. Remove carefully from the microwave, and top with diced avocado, sliced scallions, and a dollop of sour cream. If you're being a little more lenient with your daily carb count, stir in a tablespoon or two of black beans before microwaving.
Shrimp salad wraps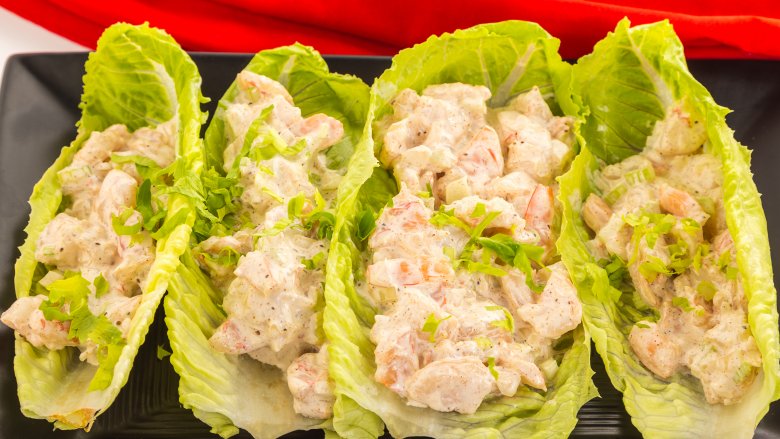 Shutterstock
Salad wraps are a great method that works equally well with pre-cooked chicken, canned tuna, or leftover fish like salmon.
Chop your cooked shrimp, stirring in some diced celery and onion. Mix it with a generous amount of your favorite mayonnaise. Meanwhile, line large lettuce leaves, like romaine lettuce, Boston lettuce, or even collard green leaves with slices of fresh avocado. Spoon the shrimp salad into the lettuce, and wrap it up. This is a great one to pack up for taking on the road.
High-fiber cracker pizzas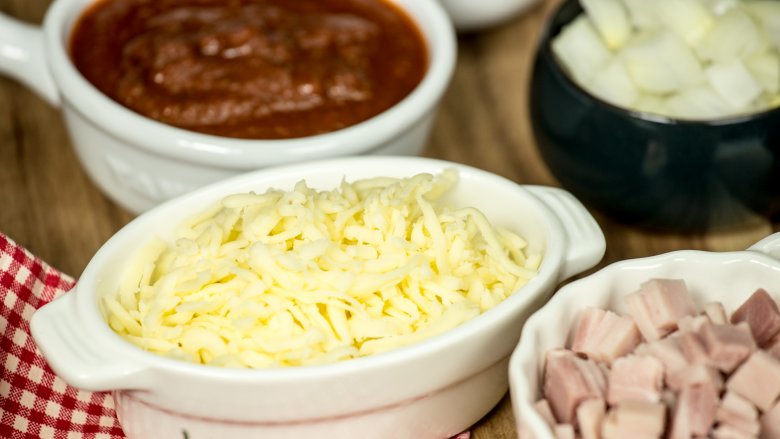 Shutterstock
High-fiber crackers are a great solution for people on a low-carb diet who are craving the crunch of a cracker, but can't sacrifice the carbs. On their own, they taste like eating dried cardboard (let's just be real), but with the addition of some flavor, they get the job done nicely. Use them to eat guacamole or other low-carb dips, or do what I do — top them with marinara, mozzarella cheese, and pepperoni, and heat them in the oven or microwave for quick and easy, low-carb pizzas. Watch how many you consume though, to make sure they fit into your carb count for the day. The ones I buy clock in at two net carbs per piece.
Chicken parm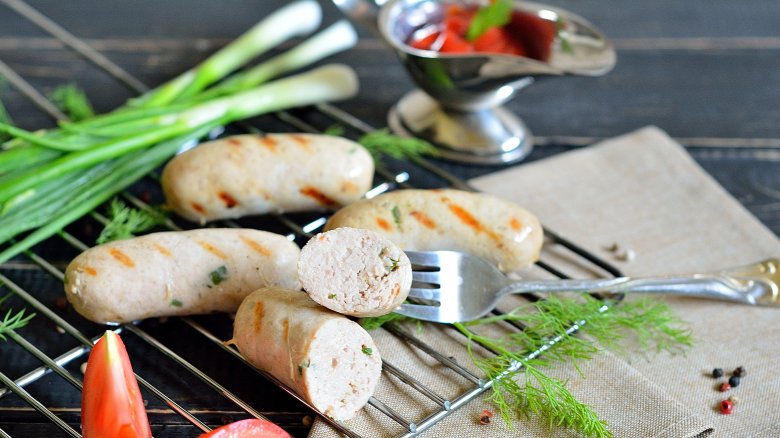 Shutterstock
I am obsessed with the Coleman Italian chicken meatballs and sausages that I find in my local grocery store, and even at Costco. They are ultra low in carbs, and packaged fully cooked, making them a quick and easy snack or meal.
Take either the meatballs or sausage, or a combination, and cut into bite-sized pieces. Cover with your favorite tomato sauce, and a handful of shredded mozzarella, or slices of fresh mozzarella. Heat in the microwave until hot and melted. I also like this with leftover steamed or sauteed veggies like squash, spinach, or broccoli.
Cauliflower fried rice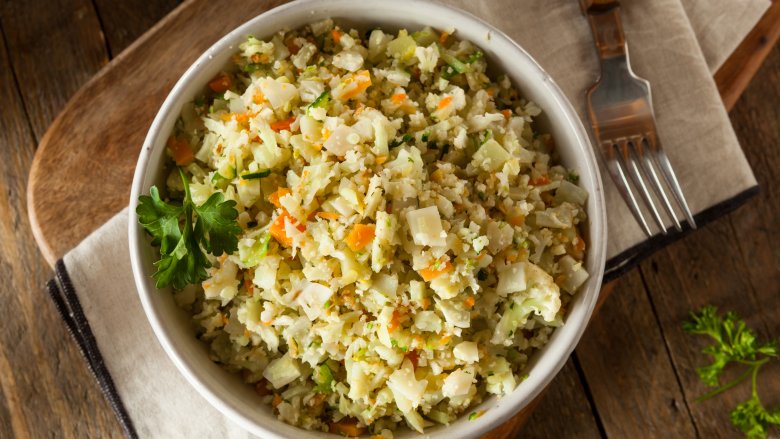 Shutterstock
Cauliflower is all the rage in low-carb cookery, finding its way into pizza crusts, taco shells, and "rice" dishes. You used to have to break down an entire head of cauliflower yourself to utilize it, but now it is pretty easy to find "riced" cauliflower in the freezer or even fresh produce section of your market.
Sautee the riced cauliflower granules along with some diced onion in butter or coconut oil. Stir in any other veggies you may want to add, like chopped carrots or bell peppers, as well as some soy sauce and a dash of sesame oil for flavor. Make a well in the middle of the hot pan, and add some whisked egg. Stir the egg quickly into the rest of the pan, allowing the egg to scramble as you stir. Top with sliced scallions and crumbled cashews or peanuts.
Poached eggs in tomato sauce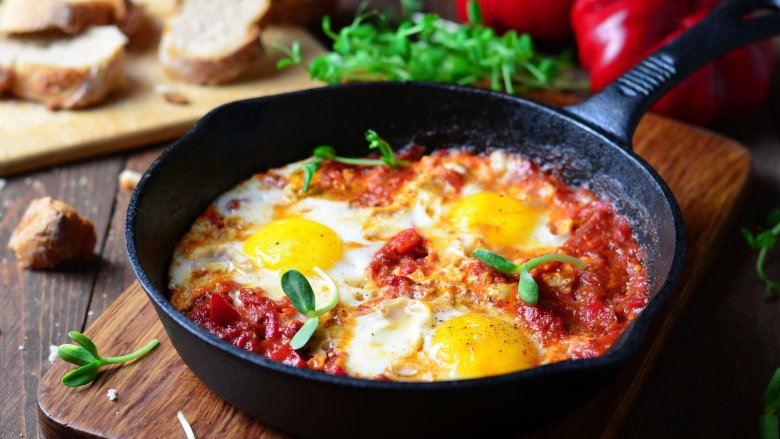 Shutterstock
I love this one so much, I crave it even when I'm not on a low-carb diet.
In a large saute pan, steam some fresh spinach or broccoli, or any veggie you like. As the vegetables become tender, add your favorite jarred tomato sauce into the pan, and allow it to become hot. Create some nests in the mixture, and crack fresh eggs into them. Cover, and allow to cook a couple of minutes until the eggs are set. Cover the whole mixture with shredded mozzarella and Parmesan cheese, and cover again just until the cheese melts. Transfer to a bowl, and eat while it's still hot. Yum.
Greek salad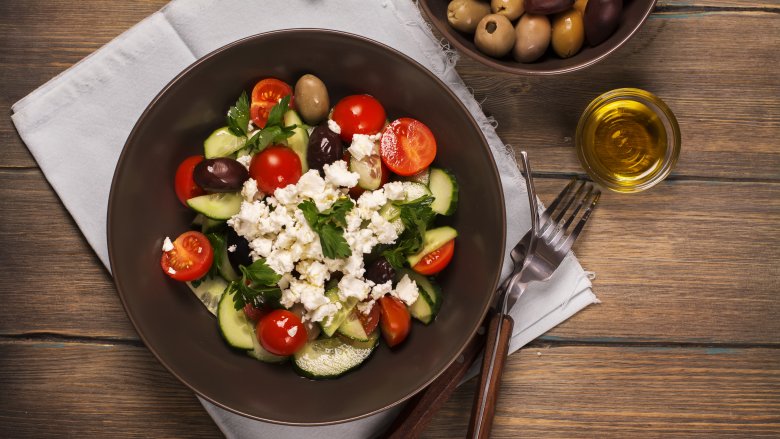 Shutterstock
I'm lucky enough to live near not one, but two Greek diners that make amazing food. Most often, though, it's the Greek salad I crave, and it's pretty easy to whip up at home.
Mix your favorite chopped, green lettuce with thinly sliced red onion, chopped tomatoes, cucumber chunks, kalamata olives, and loads of crumbled feta cheese. Now slather on the Greek dressing — and don't skimp here, because it's what makes this recipe dynamite. I make mine with two parts olive oil to one part red wine vinegar (you want the dressing to be very acidic.) Add to that salt, pepper, and crushed oregano, and maybe a squeeze of fresh lemon. The Greek salad is delish on its own, but even more filling when you top it with shredded chicken, leftover steak, or even a big scoop of tuna.
Bacon and egg muffins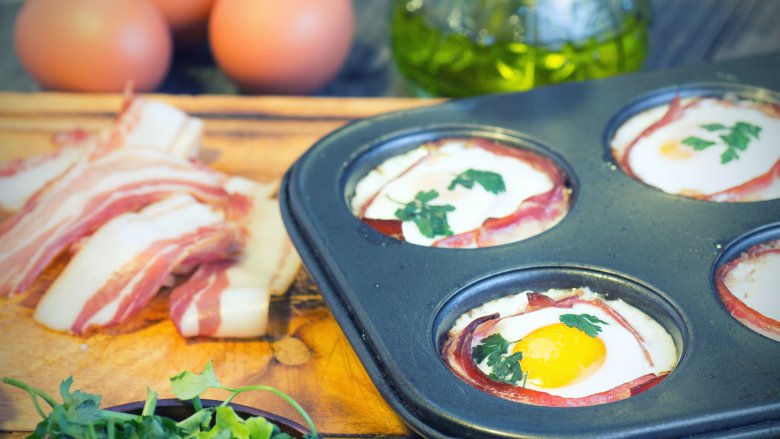 Shutterstock
These little egg muffins are a great low-carb recipe to master, because they're fantastic straight out of the oven, and equally as delicious if you reheat them later in the week. You could even make a huge batch and freeze them. Get as creative as you want with the veggie filling.
Spray a regular sized muffin tin with non-stick cooking spray. Line each muffin tin with two slices of bacon or prosciutto, so they overlap into little cups. Drop in about a spoonful of veggies like spinach, or any leftover steamed vegetables of your choice. Fill the cups a little more than halfway up with egg that you've whisked with a dash of heavy cream and salt and pepper. Pop them in a 400 degrees Fahrenheit oven for about ten minutes, adding a pinch of shredded cheese on top of each one in the last few minutes.
Cheeseburger stir-fry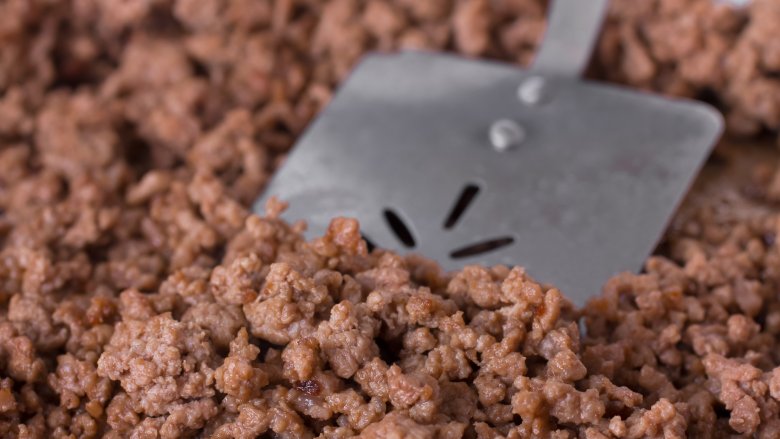 Shutterstock
This was one of the very first low-carb meals I prepared all those years ago when I was new to the low-carb craze. I still love it today.
Brown some ground beef in a saute pan. Depending on the meat you use, you may need to drain off some grease. Season the meat well, and toss in some American cheese slices. Stir until the cheese melts. Serve topped with chopped raw onion, tomatoes, and  plenty of dill pickles. I also like a drizzle of deli mustard on top. If you happen to have any leftover bacon, crumble some of that on top as well.
Chicken Caesar wraps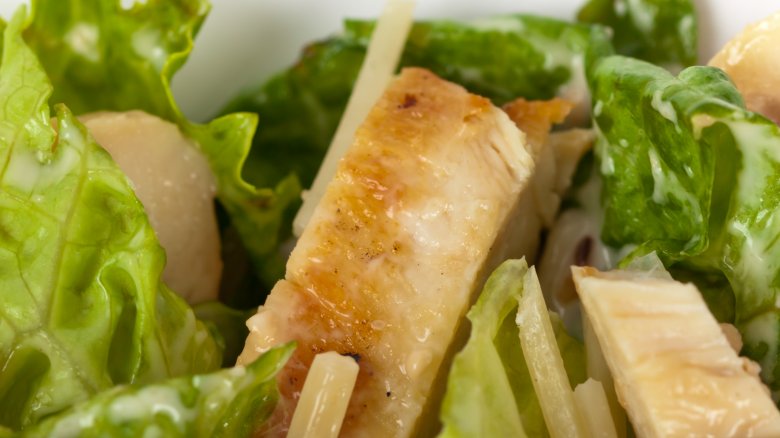 Shutterstock
Sure, you may miss the croutons, but if you have a deliciously decadent Caesar dressing and real parmigiano reggiano to use, you won't find these wraps to be lacking in flavor.
Toss shredded rotisserie chicken with a generous portion of your favorite bottled Caesar dressing. Use a vegetable peeler to shave healthy slices of parmigiano reggiano into the chicken, and give it a stir. Spoon into crisp, fresh slices of romaine lettuce. Add thinly sliced onion or diced tomatoes into the mix, if you like.
Cheesesteak stir-fry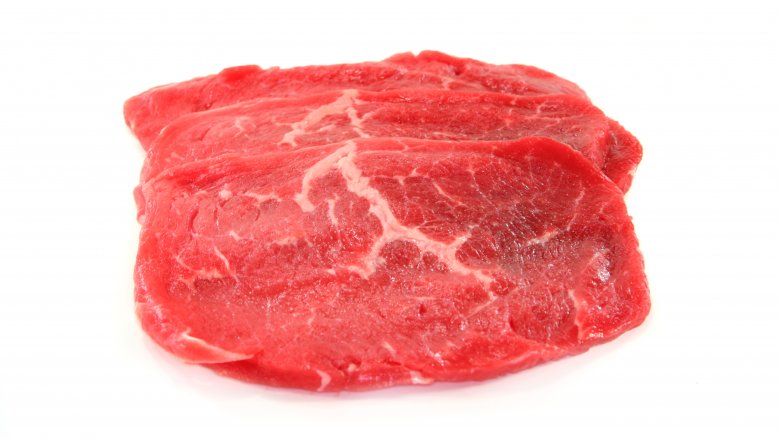 Shutterstock
I have a monthly organic meat delivery plan, and they always seem to include multiple packages of those paper-thin, minute steaks that cook up in a jiffy. You can find them easily in your grocery store's frozen section. I like to start out frying up some onions and bell peppers, and might even throw in some spinach or broccoli rabe, like they do in many of my favorite Philadelphia cheesesteak joints. I add the minute steak to the pan until it's just cooked through, season it with salt and pepper, and melt some American or provolone cheese on top.
Pickle subs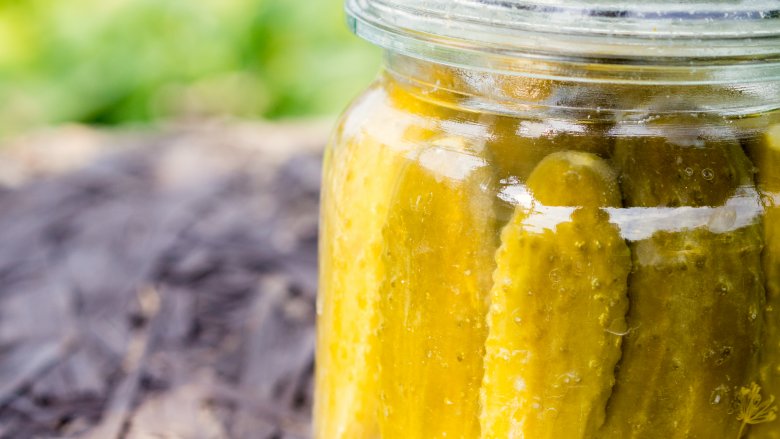 Shutterstock
I find this recipe to work best with sturdier, half sour pickles, but choose your favorite kind.
Take a whole pickle and slice it lengthwise. Scoop the seeds out, leaving you with a pickle boat. Now, use the pickles like a hoagie roll, and layer them with your favorite cold cuts. I like mine with provolone cheese and salami, but any combo will work. Eat each half by itself, or sandwich them together for another great lunch or car food idea. I also love to eat pickle boats stuffed with tuna or chicken salad.
Buffalo chicken celery sticks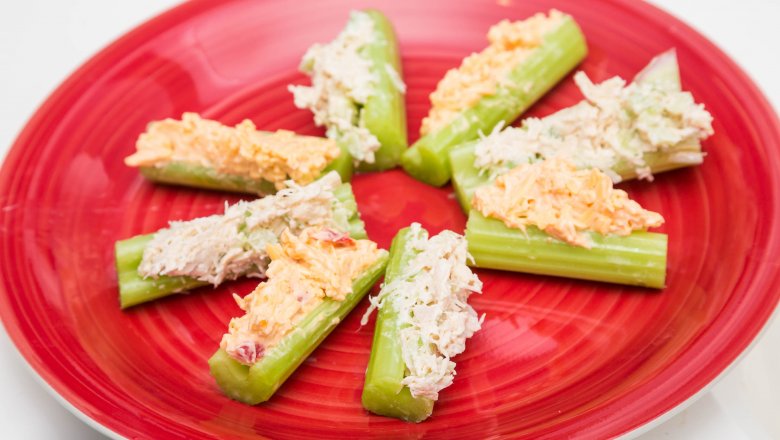 Shutterstock
Celery sticks may not sound like much of a meal to you, but when you stuff them with cheesy and tangy Buffalo chicken, they make for a satisfying lunch or dinner.
Toss shredded rotisserie chicken with mayo and your favorite hot sauce. Stir in crumbled blue cheese and chopped scallions, then stuff the mixture inside large, sturdy celery sticks. Drizzle the top with additional blue cheese dressing. If you want to take this one for lunch, pack the chicken mixture separately, and use the celery sticks to scoop up the Buffalo chicken like a big, edible spoon.
Zoodles with lemon cream sauce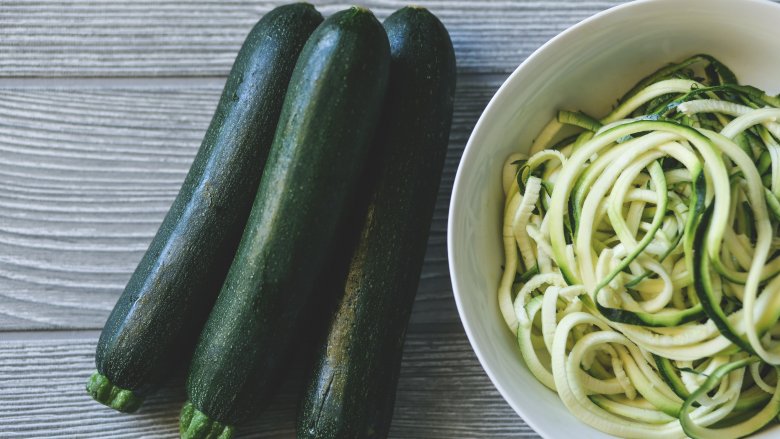 Shutterstock
I'm insane about the spiralized veggies available in my supermarket's convenience case. This recipe goes best with zucchini zoodles, which is especially great because it cooks up in minutes, and is super-low in carbs.
I use my own take on Ina Garten's lemon cream sauce. Ina says it takes up to 20 minutes to cook, but I've made it countless times and find it's done in less than half that time. Start by sauteing some minced garlic, and add your heavy cream. Add fresh lemon juice, as well as fresh lemon zest, salt, and pepper. Bring the mixture to a boil, and add your zoodles. Cover for just a minute or two to steam the zucchini. Remove the cover, and cook a few minutes more to allow the sauce to thicken. Absolutely scrumptious on its own, or throw in some grated Parmesan, cooked shrimp, or leftover chicken.
Smoked salmon cucumber boats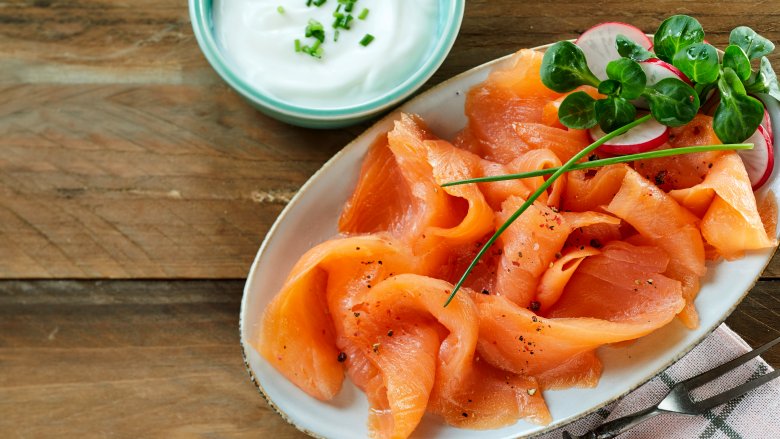 Shutterstock
This one is my lunch most days of the week. I make my own tzatziki sauce myself using Greek yogurt, chopped cucumber, a squeeze of lemon, and fresh dill, but you could absolutely use a store-bought variety that's low in sugar.
Using baby cucumbers or sections of English cucumbers, slice the cucumbers down the middle lengthwise, and scoop out the seeds. Fill the boats with tzatziki sauce, and top generously with slices of smoked salmon. This would also be terrific with leftover cooked salmon.
Shrimp and veggie curry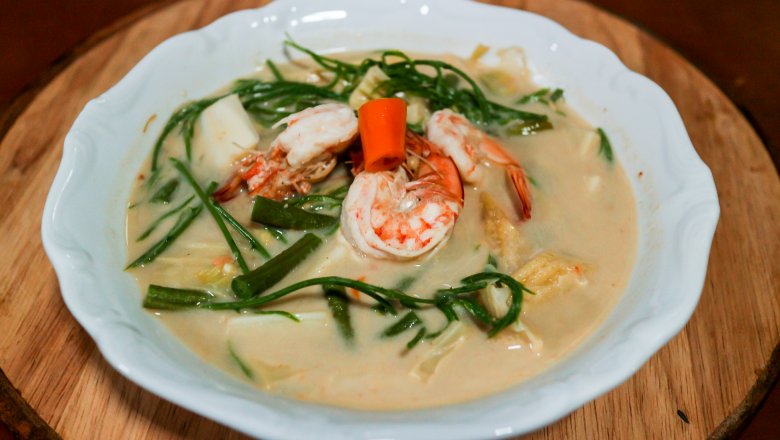 Shutterstock
Shrimp is my go-to in so many quick-cooking, low-carb recipes, because it cooks up in just minutes. I always have a bag of frozen shrimp on hand. It thaws quickly too — just soak the amount you need in cold water until thawed, and cook immediately.
This one is a weekly meal for me. In a large saute pan, steam your choice of vegetables. Add shrimp to the pan, and sprinkle everything generously with curry powder. Add canned coconut milk (the carton stuff will be too watery). Bring to a boil, then turn the heat down and simmer, covered, for just a few minutes... you don't want to overcook the shrimp. Eat as it is, or top with diced avocado, cilantro leaves, or hot sauce.
Breakfast sausage taco bowl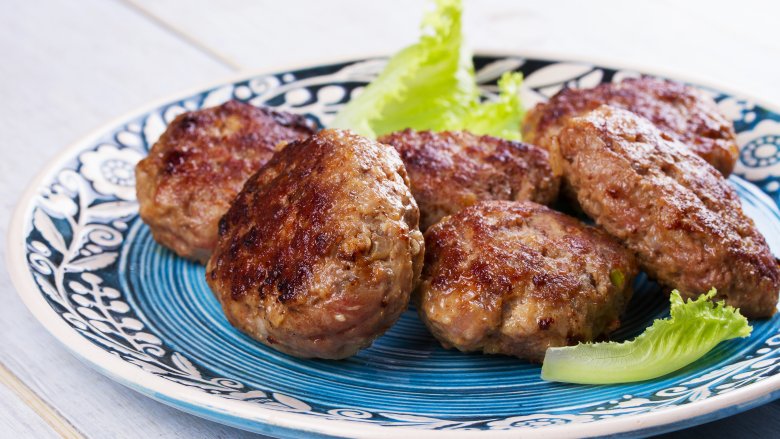 Shutterstock
I keep pre-cooked, frozen sausage patties in my freezer all the time, and this recipe works well with pork, beef, or turkey sausage.
On a microwave-safe plate, heat the frozen sausages according to package directions. Carefully remove the plate from the microwave, and top the sausage with shredded cheddar or monterey jack cheese. As you do this, use your microwave to "poach" an egg, by placing the egg in a ramekin, mug, or bowl, along with water, covering it with a small dish, and heating it for about a minute. When the egg is done, place it on top of your sausage, and heap the dish with your favorite taco toppings like diced avocado, salsa, more cheese, and cilantro.
Keto muffin sandwiches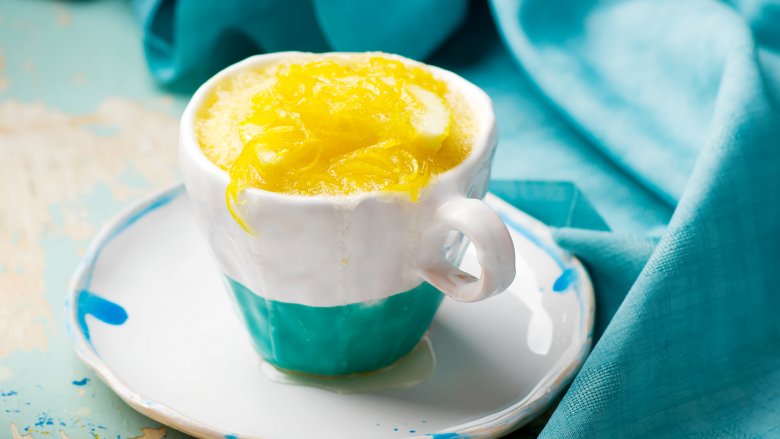 Shutterstock
There are lots of recipes out there for low-carb "bread," and this is the fastest and most versatile one that I use the most often. It can be made sweet with the addition of your preferred low-carb sweetener, or bulked up with the addition of shredded cheese.
Stir together one egg, two teaspoons of coconut flour, and a pinch each of baking soda and salt. Transfer to a greased ramekin or mug, and microwave for about a minute. Allow to cool slightly, slice in half, and pile high with your favorite cold cuts and cheeses. I love mine with a smear of olive tapenade as well, for a low-carb, muffaletta sandwich.