These Trendy Hot Cocoa Bombs Are Perfect For SpongeBob Fans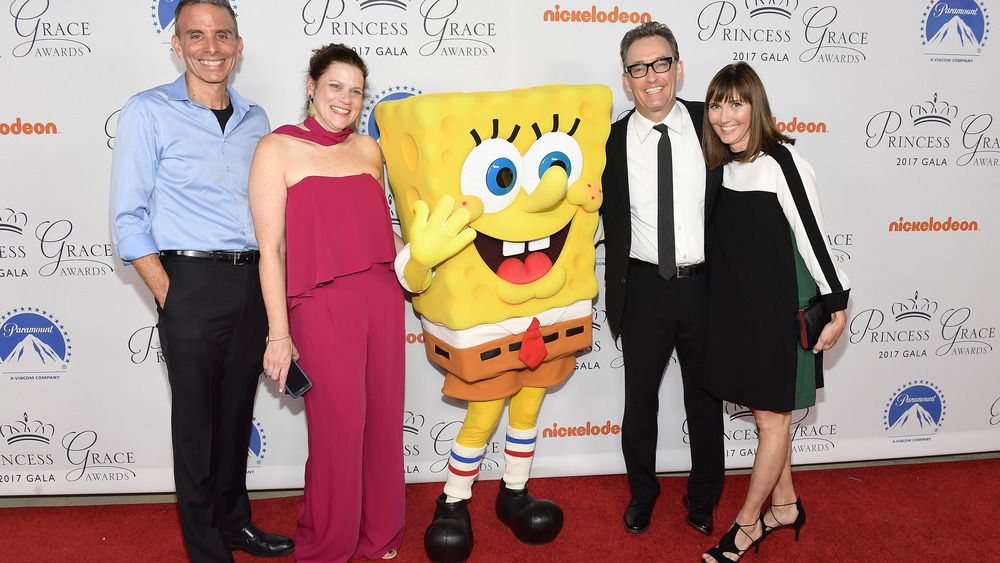 Matt Winkelmeyer/Getty Images
We may receive a commission on purchases made from links.
Who lives in a pineapple under the sea? If you answered Spongebob SquarePants then we have the latest and greatest holiday cheer that you will want to get your hands on. Hot cocoa bombs are all the talk on social media and are quickly becoming the "it" food trend to close out 2020. According to USA Today, we first noticed them popping up in early November on TikTok and they quickly snowballed into 28.5 million videos tagged with #hotchocolatebombs, and then another 13.2 million tagged with #hotcocoabombs.
Most recently, we saw the trend enter the Star Wars universe when Galerie Candy unveiled their Baby Yoda hot chocolate bomb as the second season of The Mandalorian rolled out. But what exactly are these chocolatey bombs? Per Next Pittsburgh, hot cocoa bombs are just what they sound like, a ball of chocolate with a marshmallow surprise in the middle that is revealed after you place it in hot milk and the chocolate melts, leaving you with an awesome winter beverage and a sweet edible surprise. The Baby Yoda hot chocolate bomb revealed a cute little marshmallow shaped Baby Yoda head that was almost too cute to eat — we did say almost. Well, put the milk on the stove because Galerie Candy recently unveiled another one of these hot cocoa bombs just in time for those last-minute stocking stuffers, and this one will leave Spongebob SquarePants fans yelling "CHOCOLATEEEEEE!"   
Spongebob hot cocoa bombs reveal a pineapple marshmallow
Galerie's new SpongeBob SquarePants hot chocolate bomb is nothing short of spectacular fun and when all of that lovely chocolate dissolves into your milk, it leaves behind a yellow and green pineapple marshmallow, which also happens to be what SpongeBob lives under. A perfect homage, if you ask us. So, where can you get this novelty? The last time we visited Galerie's website, the SpongeBob SquarePants hot chocolate magic, which they have listed for $4.99, was out of stock. So, we quickly did a search on Amazon and found one seller who was offering this treat for $8.90 with no guarantee it would arrive before Christmas. According to Best Products, some fans of these trendy and delicious hot chocolate bombs have spotted SpongeBob hot chocolate bombs at Kroger, so keep your eyes peeled the next time you are at the grocery store chain.
However, if you are bursting at the seams in anticipation, wanting to try one of the hot chocolate bombs, Galerie Candy also offers a Paw Patrol version and an LOL hot chocolate magic melt that both look equally fun and yummy.