How Sam's Club Is Making Holiday Shopping A Little Easier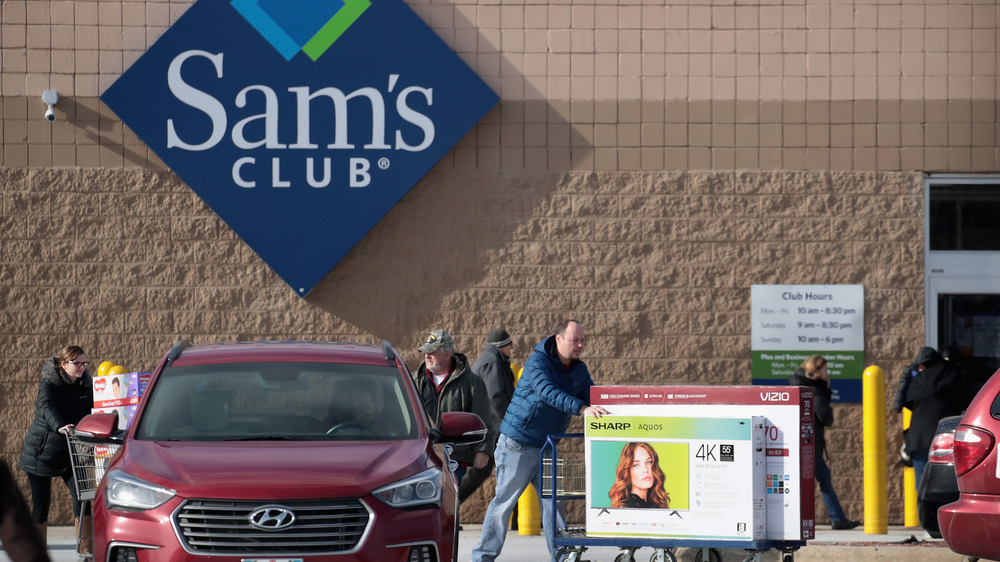 Scott Olson/Getty Images
For those practical shoppers who take convenience to the next level by buying in bulk, shopping wholesale just got even easier. According to Chron.com, Sam's Club is now offering curbside pickup to all members. This covert shopping strategy lets you order all of your grocery needs and holiday gifts from an app, while a Sam's Club team member does the shopping for you. Better yet, there's no minimum purchase required, meaning you can swing by, pick up your 20 rolls of toilet paper, and be on your merry way!
As card-carrying members already know, Sam's Club is a Walmart-owned store that requires a membership to purchase bulk items at a discount. Previously, the curbside pickup was only offered to the VIPs of discount shopping, Plus members. Now, for a limited time, every member has access to curbside pickup, but Plus members still receive a royal perk: they can pick up their orders three hours earlier than the rest, starting at 7 a.m., Monday through Saturday. Ready to hit the club?
Sam's Clubbing it Curbside
First things first, you'll need one of those coveted Sam's Club cards to get it on this deal. As previously mentioned, there are two memberships available, Club and Plus, and for the time being, both will give you access to this expeditious means of shopping that is perfect for anyone who is socially distancing, impatient, shy, or just has a lot of items yet to check off on their holiday to-do list. Once your membership is secured, you can cross off your entire gift list by adding "In Club" items to your virtual cart. Alternatively, you can also place your order in the Sam's Club app, and your order will be ready in as little as four hours (via Chron.com), which is great news for last-minute holiday shoppers!
According to Sam's Club, when your items are ready, they will send you an alert notifying you it's time to hop in your car and come on down. Park in a designated "Pickup" spot at the club, and use the app or text to check-in. Here's the fun part: You can stay in your car, and a Sam's Club member will load your groceries for you! That means the club can be going up on a Tuesday, without you ever having to undo your safety belt, leaving you more time to find a place to hide that Lakeside Bungalow Playhouse until Christmas morning.