Easy Shrimp Taco Recipe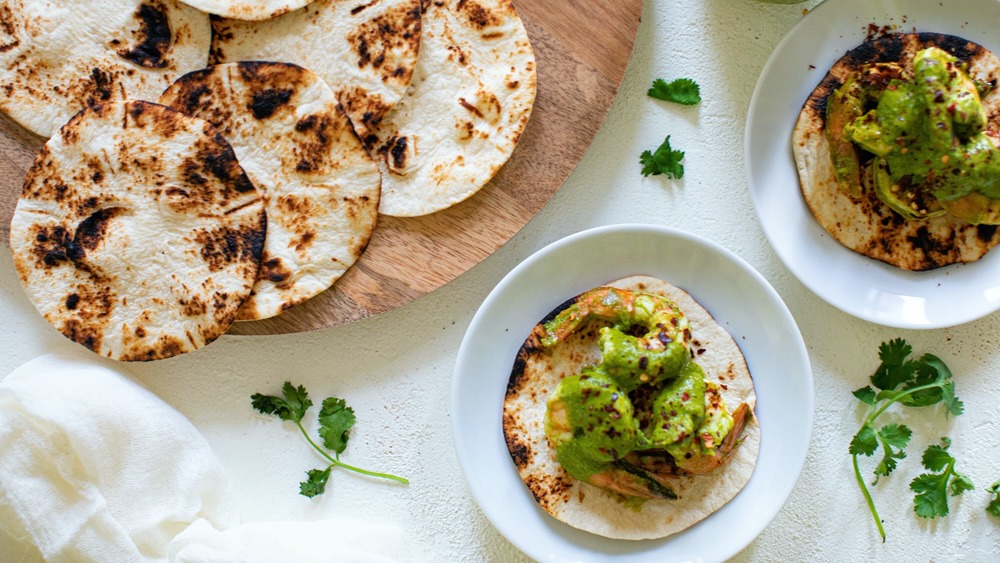 Shanika Graham-White/Mashed
Tacos are the perfect crowd-pleaser for family events, small group gatherings, or even a small date night. And according to life-style blogger and recipe developer Shanika Graham-White, from Orchids and Sweet Tea, shrimp tacos are easier thank you think. Plus they make for a versatile meal. Mashed discussed Graham-White's delicious and doable shrimp taco recipe and got her expert details on how to please your party, your family, or simply yourself.
"This recipe works great during the spring and summer months," said Graham-White, "and makes for the best weeknight meals or perhaps some kind of fun gathering."
Indeed, it's no secret taco night is everyone's favorite night, and instead of returning to the same ground beef, salsa, and shredded cheese (which can be undoubtedly delicious), Graham-White offers this recipe as an opportunity to elevate family taco night. Read on to learn more about Graham-White's tender shrimp tacos.
Gather the ingredients for your easy shrimp tacos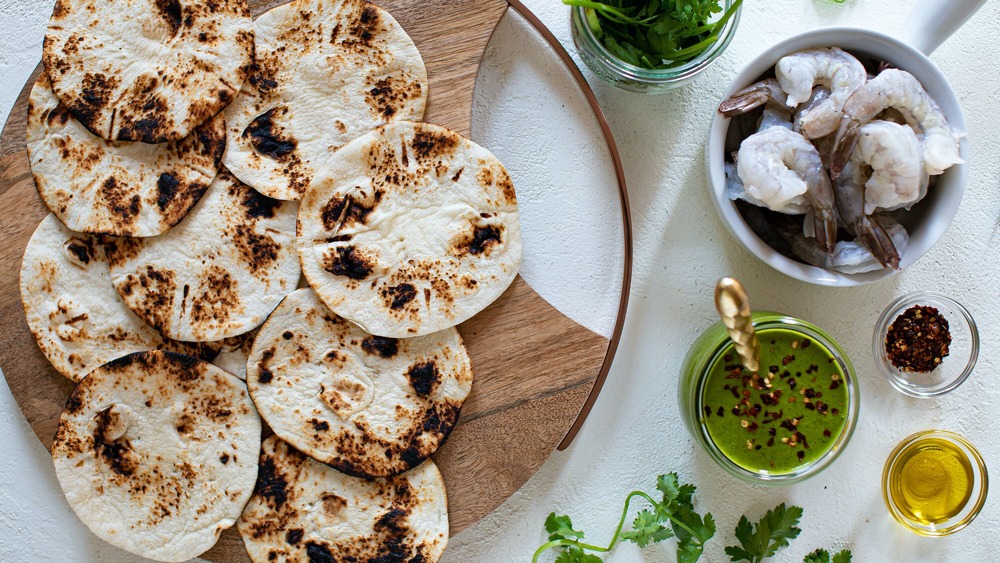 Shanika Graham-White/Mashed
For Graham-White's recipe, you'll need ingredients for the creamy chimichurri sauce, shrimp, and tortillas for the tacos. Graham-White notes that for the chimichurri sauce, not all home chefs will love cilantro. In fact, some people might hate it. Graham-White told us people who hate cilantro can "absolutely" avoid the supposedly soapy garnish. "They can use basil instead," said Graham-White.
The creamy chimichurri sauce in Graham-White's shrimp tacos does not actually have cream in it or any other dairy product. "The creaminess comes from blending the ingredients on high for a few minutes along with the larger amounts of the parsley and cilantro leaves," she notes. "However, people can add 1/2 of an avocado in for extra creaminess as an option."
It's time to cook the shrimp for your shrimp soft tacos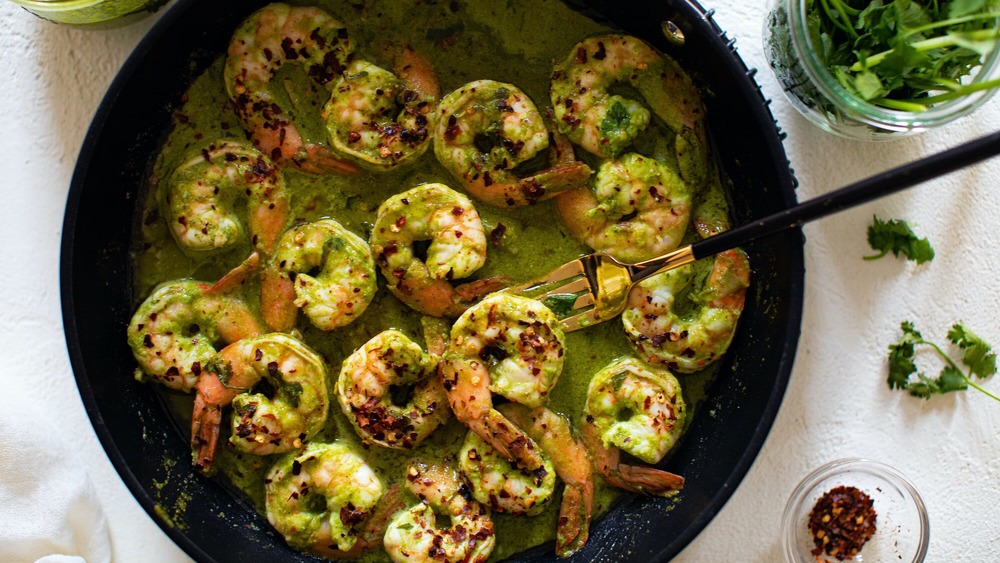 Shanika Graham-White/Mashed
After making the chimichurri sauce it's time to cook the shrimp. Novice seafood cooks may be nervous about cooking shrimp, but don't be discouraged. Graham-White has ensured us the process is fast and easy.
"I always ensure that the entire tail is bright pink and the shrimp has hardened up a bit," says Graham-White. "Usually, the standard size smaller or jumbo shrimp cook pretty fast."
These rules change just a bit depending on the size of shrimp you're using. 
"If someone uses colossal shrimp, I definitely recommend cooking each side 2-3 minutes longer and using the same rule of thumb," Graham-White tells us.
After cooking the shrimp, you'll want to toss the now pink seafood with the creamy chimichurri sauce, and then let the combination sit for 5 to 10 minutes so the shrimp can appropriately marinate. This is key to locking in the sauce's vegetal, slightly acidic flavor.
Char the tortillas to prep the shrimp taco assembly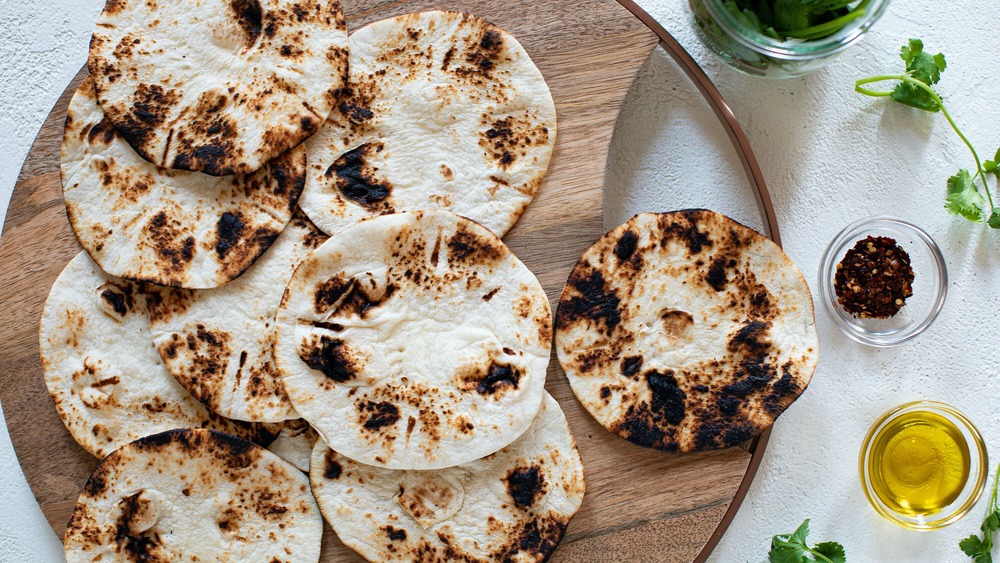 Shanika Graham-White/Mashed
For these shrimp tacos, Graham-White recommends using flour tortillas and freshly charring them yourself. She prefers flour tortillas to corn but notes that "people can use either or," depending on preference. She also says that if folks have homemade tortillas, they shouldn't hesitate to use those either.
Home chefs can either char the tortillas in the oven or directly on a gas stove burner. It's worth noting the stove method is just a bit harder than sliding the tortillas directly into the oven, but the payoff can be a delicious char.
Graham-White says, "I've tried the stove-charring on a gas stove which creates the best char. I always recommend using tongs and flipping every 2 to 3 seconds to avoid burning or a fire, of course. I've never had any cleanup issues since the flour tortillas don't really create a mess."
Assemble and serve the shrimp tacos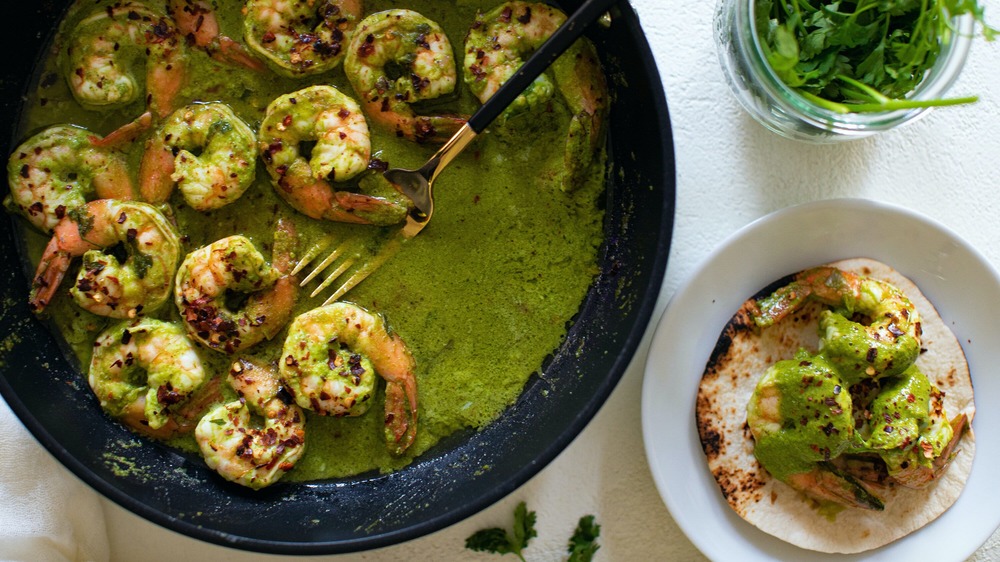 Shanika Graham-White/Mashed
The last and most important step for this easy shrimp taco recipe is assembly. You'll want to place a few shrimp on a freshly charred tortilla, making sure to spoon on the smooth chimichurri sauce along with the shrimp. Feel free to garnish with finely chopped red onion and hot red pepper flakes, or Graham-White suggests, "People can feel free to add greens or tomatoes as extra toppings if they'd like." 
This recipe is easy to make safely, but Graham-White reminds home chefs not to leave shrimp out for too long uneaten — though it's not likely there will be leftovers anyway.
"I recommend ensuring that the shrimp are eaten within two hours if left out," notes Graham-White, adding that in summer heat of above 90 degrees Fahrenheit, shrimp should not be left out unrefrigerated for more than one hour, at most.
Easy Shrimp Taco Recipe
Try this easy shrimp taco recipe as an opportunity to elevate family taco night. Everyone in your crew is going to love it.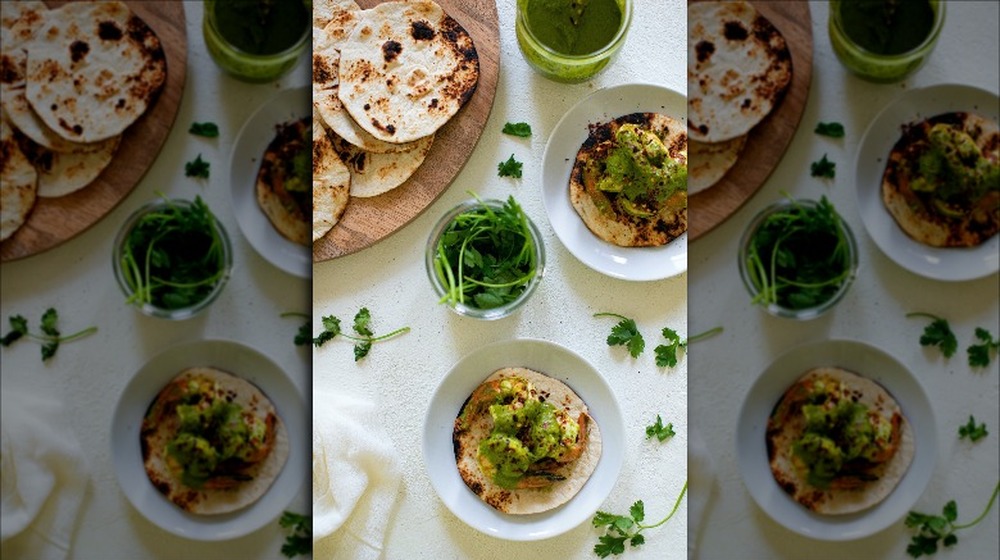 Ingredients
2 cups fresh Italian flat-leaf parsley leaves, stems removed
½ cup fresh cilantro leaves, stems removed
¼ cup fresh oregano leaves, stems removed
⅓ cup roughly chopped red onion
3 garlic cloves, peeled and minced
1 teaspoon red pepper flakes (plus more for garnish)
½ cup extra virgin olive oil and 2 Tablespoons
¼ cup red wine vinegar and 1 Tablespoon
3 Tablespoons fresh lemon juice
1 teaspoon salt and black pepper, to taste
1 lb. raw jumbo shrimp, deveined
8-10 soft flour tortillas
Optional Ingredients
chopped red onion, for garnish
Directions
Preheat the oven to 350 degrees Fahrenheit.
To make the creamy chimichurri sauce, add the parsley, oregano, cilantro, onion, and garlic to a high-powered blender, and blend until herbs are broken down.
Add the red pepper flakes, olive oil, vinegar, and lemon juice and blend again until smooth, about 30 seconds to 1 minute. Season with salt and black pepper to taste. Once creamy, remove from blender, store in a sealed container, and refrigerate leftovers for up to three days.
Place shrimp in a medium-sized bowl and pour ½ cup of chimichurri sauce over shrimp. Toss to coat and let shrimp marinate for 5-10 minutes.
In a medium-sized skillet set over medium-high heat, sauté the shrimp until they turn pink, about 3-4 minutes, turning them once to cook both sides evenly. Remove from heat.
Meanwhile, turn off oven (still empty) once heated and let tortillas warm for 2 minutes. Remove from oven.
To serve, assemble tacos by placing tortilla onto plate, adding a spoonful of chimichurri shrimp, and garnishing with red pepper flakes and finely chopped onions, if preferred.
Nutrition
| | |
| --- | --- |
| Calories per Serving | 682 |
| Total Fat | 37.0 g |
| Saturated Fat | 5.5 g |
| Trans Fat | 0.0 g |
| Cholesterol | 142.9 mg |
| | |
| --- | --- |
| Total Carbohydrates | 62.8 g |
| Dietary Fiber | 5.5 g |
| Total Sugars | 4.3 g |
| Sodium | 1,481.4 mg |
| Protein | 25.9 g |